No golfer can tame Augusta National. It's a matter of controlling the controllables, and one of the legends of the game tells us why the Sunday is like no other day in the sport, writes GARY LEMKE.
When Gary Player stands over his tee shot as one of three honorary starters at this year's Masters, the great golfer will have a few butterflies in the stomach. Which might come as a bit of a surprise to those who think there's ice running through those veins.
After all, Player is one of the most decorated of all Masters champions – the fourth most number of Green Jackets, most consecutive cuts made, second-most cuts made, third-most top 10s and third-most top-25 finishes.
'When there are millions of people watching you [on TV], it doesn't matter who you are, you want to make sure you hit it down the middle,' he said while spending some time back in South Africa over the summer.
Player will again join his great mate Jack Nicklaus and 'newbie' Tom Watson as honorary starters at this year's opening Major at Augusta National. 'Tom's a youngster [72], so he'll be way ahead of us down the fairway but I'll definitely out-drive Jack!' he laughs.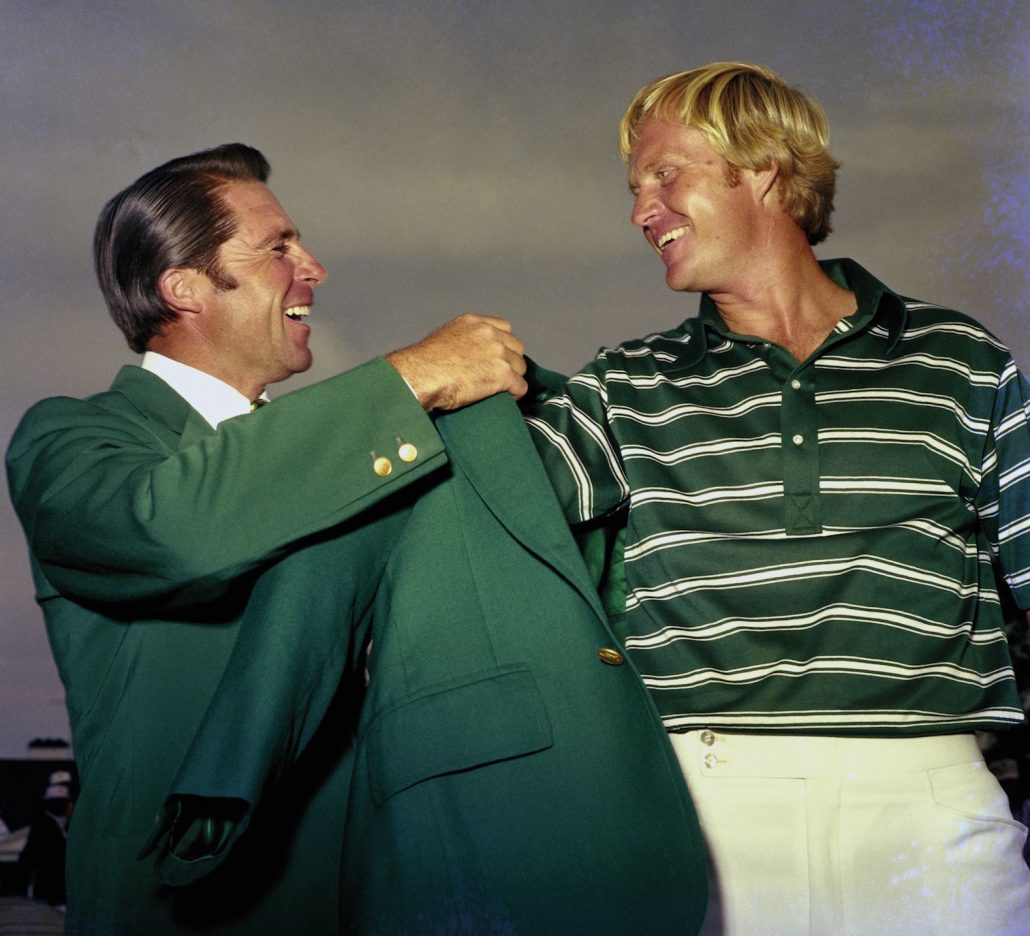 Masters week is always special, no matter what involvement you have. Player, who is now 86, but routinely matches par – he shot 75 with a cold putter at Steenberg Golf Club on the day I shared his company – wants to be at Augusta National when he's a centurion. 'I want to be there and hit the ball down the middle off that tee. That's when I'll say, "I've done it!"'
Longevity has been his calling card and Player has certainly stood the test of time. 'Most people are dead before they get to my age,' he said. 'Here I am, still playing golf several times a week, averaging 72 a round, eating healthily, in the gym every day of my life and living every minute of my life. When my dear wife of 64 years [Vivienne] passed away last year I received messages from presidents, prime ministers, the Royal family, friends and strangers and was overwhelmed at the outpouring of love. I have a family of 40 and am blessed.'
But it's golf where Player has become a household name around the globe. And Augusta National is close to his heart. He knows every blade of perfectly manicured grass as if it was a hair on the back of his hand. Which is why he is able to talk about why Augusta, especially on the Sunday, reduces grown men to quivering wrecks.
Much is made about 'The Masters only starts on the Sunday back nine', and indeed that's when the drama pulls millions of viewers closer to their televisions. But it starts long before then. In fact, some famous meltdowns have happened off the 1st tee on the Sunday.
In 2007 Australia's Stuart Appleby held a one-stroke lead heading into Sunday. He blocked his tee shot into the pines beside the 1st fairway, took double-bogey six, and slipped to a three-over 75. In 2011 Rory McIlroy held a four-shot lead into the final round and immediately started leaking shots, hitting his approach at the 1st too long and making bogey. Greg Norman led by six shots with 18 to go and lost to Nick Faldo in 1996, Jeff Maggert was two ahead with one round to play in 2003 and finished fifth.
Even then world No 1 Dustin Johnson, who would go on to win by five largely untroubled shots at the 2020 Masters which was held behind closed doors due to the Covid pandemic, admitted later to feeling nerves. 'I had come down to have some coffee and my breakfast, and I had a really hard time eating. I barely ate anything.' With only members and guests on the course, he still felt the occasion as he pulled a 3-wood from his bag. 'I was really nervous on the 1st tee,' Johnson said later. 'Obviously I've got the 54-hole lead at The Masters for the first time. I mean, I was feelin' it.'
He two-putted for a calming par, before going on to shoot a joint-best final-round 68 and win his first Green Jacket. It wouldn't have been such plain sailing with a crowd, though, as will be the case this April.
Player is qualified to talk. In 1978 he won his third Masters with a Sunday 64, trailing Hubert Green by seven shots as he stood on the 1st tee and then making seven birdies over the final 10 holes. 'One of the things I am, is an eternal optimist,' Player told a barely-believing media at the time. 'I was playing excellent golf and I hadn't made any putts. But you have to keep on aiming at them.'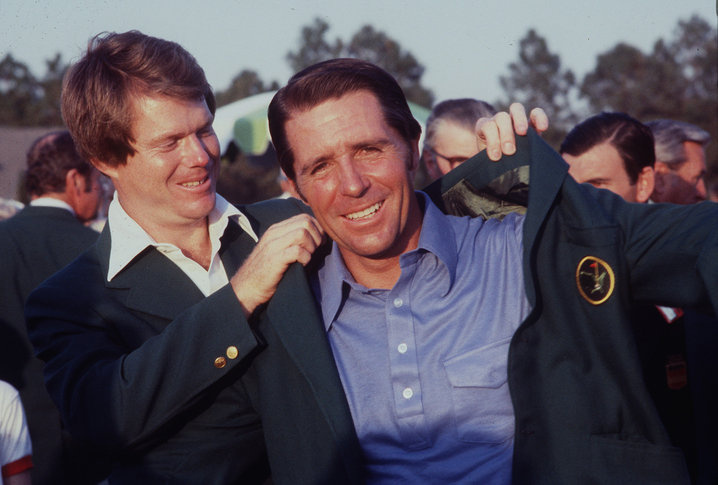 Now, 44 years later, he still believes that anything can happen on a Masters Sunday.
'The thing about Augusta is that the atmosphere is always electric. The people there know what's at stake. They're educated to have seen so much happen over the years. For example, I was seven behind in 1978 and won. In 1959 Art Wall was six behind Stan Leonard and Arnold Palmer and won. Numerous guys have been five, six behind and won. Jack Burke [eight], myself, Art, Nick Faldo [six], Fuzzy Zoeller [six] and our own Charl Schwartzel [four].
'Every golfer, especially the tournament leader heading into that Masters final round, knows the golf course is a sleeping giant. It is a mousetrap with a piece of cheese. And if you nibble incorrectly it zaps you, it's so fractional. On the 4th hole, for example. If you miss the green by 10 feet to the right, you can't get up and down, you just can't. But, if you miss the green 20 feet to the left, you can get up and down. So it's a golf course you can never explain to the average man in the street.
'Augusta is very different to any other golf course and obviously, the pressure is enormous. You know that if you win it, you've made it forever. And then, heading into that final round, it's what crosses your mind. If you're inclined to worry about history and have appreciation of the game, it's immense pressure. When I play there my mind goes back to Bobby Jones, who was a great gentleman, and maybe the best golfer who ever lived. He played golf with a walking stick! And President Eisenhower, who was so dynamic in fighting for the freedom which we enjoy today.
'You appreciate all that. You appreciate at the start of the tournament how it was built and now 54 holes later, here I am in contention to win this great tournament. You see the public and you are humbled by it. When Arnold, Jack and myself walked, there was a standing ovation on every green and every fairway. Those are the things you never forget. All that goes through the mind, but the big word that comes into my mind is appreciation – and the love of the people and the joy of playing this wonderful game of golf that you can play forever.
'When you lead the Masters you know that this course is a monster and it gets you on edge. And you know that it's so easy to make three bogeys in a row and it's also so easy to make three birdies in a row. So it puts you on edge.
'I started to get irritable very early in my final round, which is a good thing. Tiger and Lee Trevino were the same. In fact, most top players get irritable, but they hide it very, very intelligently. It's because you know that if you're not focused, only one shot can make everything unravel. One bad shot is all it can take. What other tournaments have that kind of effect?
'So Augusta National is an arena, more than a golf course, and it makes you feel as though you're a bullfighter. You're like that matador with a bull charging at you. Either he goes by, or he gets you, so you had better be wide awake, you had better be 100% focused.
'I would start meditating the night before the final round. I always did that, preparing myself for the things that would go my way and the adversities I would encounter in those final 18 holes. There will always be both, and it's how you handle that, but you need to be prepared. So it's a complex situation. On the final day of The Masters you arrive and everybody is so enthusiastic and people come in their droves to see how things are going to turn out.
'The golf course itself is so manicured.' As if to emphasis the point Player picks up a piece of isolated kikuyu grass near the 11th green at Steenberg and says,
'Look how many roots this has, 20? This encroaches everywhere.
'The bunkers are raked, the greenery that you see, the flowers, the trees … they are just unbelievable … and they put dye in the water. It's a paradise.
'You have to set yourself up by playing the front nine well. Those nine holes have never got the coverage to the extent of the back nine. You set yourself up to pounce and you know that if you don't, you ain't going to make it. So, from a leader's perspective, or someone chasing, there's so much going on.
'As for the holes, 7 is really tough, as is the par-three 6th hole with the Sunday flag placed back right on top of the shelf. How do you explain to anyone that you can take a very good putter among amateur golfers, let's say a scratch handicap. I'll put the flag on the green but I'll also place the ball and the best that golfer can do will be to three-putt every hole.'
Which is why The Masters is never over until it's truly over. Earlier this year Louis Oosthuizen, who has consistently been South Africa's finest golfer at the Majors over the past decade, also told us the importance of being in the right place on those slippery Augusta greens. 'My brother is a 6- or 7-handicap,' he said. 'And I can assure you that if I put his ball in the middle of every green with those Sunday pin placements and asked him to putt from there, with the greens running at tournament speed, he wouldn't break 90.'
In 2016, we all watched in disbelief when Ernie Els six-putted at the 1st hole on his way to making an opening 80. Afterwards, he opened up about his public meltdown, having missed the green with his approach but chipping up to have a three-footer for par.
'I couldn't get the putter back,' the four-time Major champion said. 'I was standing there, I've got a three-footer, I've made thousands of three-footers, and I just couldn't take it back.' He missed and then did so again from distances of three feet, 10 inches, 11 inches and two feet. 'And then I just kind of lost count after, I mean, the whole day was a grind,' he said. 'I tried to fight. I'm hitting the ball half-decent, and I can't make it from two feet.'
Which is a story that anyone who has been in contention for that famed Green Jacket will be able to confirm. The Masters is a test unlike anything else golf can throw at the very best the game can produce. 
ALSO READ: 22 Facts about The Masters you may not know
– This article first appeared in the April 2022 issue of Compleat Golfer magazine. Subscribe here!