Perhaps this is not the best place to make a couple of confessions but I'm quite sure that a number of you will be able to relate.
Many years ago I used to be one of those irritating people. I'd stand by the water cooler in the workplace and practice my golf swing. Work on my inter-locking grip and then arrow one down the middle of the fairway. As one does. I'm still not sure what I was trying to achieve.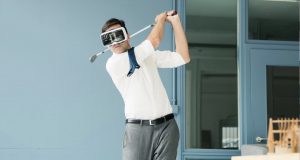 The chairman of the company saw this and a little while later he called me into his big office. I honestly thought I was going to be fired, because not long before that I had done something that didn't present the company in a good light. I won't confess what it was on these pages.
'You look like a golfer,' he told me. 'How would you like to partner me in the company golf day at Durban Country Club?' Young, bulletproof and supple, I jumped at the chance. A free round of golf at one of the world's most delightful courses.
The night before the event I went big. And for a 20-something that means that the party starts when the clock strikes 12.
Rule No 1: Never miss your tee-off time. I didn't – but I only had time for a beer-induced nap and a shower before setting off to the grand venue. I also stuck to tradition and was suitably dressed, although the munching of tic tacs was an obvious giveaway.
No matter. Playing off a 16, I stuck to my tried and tested approach of not wasting a good shot on the driving range, or with more than one practice swing on the tee box. Struck the drive where the mower goes, played my second to about 20 feet and cosied up to gimme range with the birdie putt.
The chairman was impressed. And so was I.
The 2nd hole has a beautiful view from the tee box but is a tricky par three. Same thing, don't waste any good shots with practice swings and found myself putting for birdie, missing by not too far. Par-par start. By now the hangover was kicking in. At around the same time the chairman took me to one side as we headed towards the majestic par-five 3rd hole. 'At last I've been given a good partner,' he said softly. 'I think you must come on more of these golf days with me.'
You know what happened next.
Suffice to say, my luck ran out. I lost a ball on the 3rd, having hit a poor drive and then trying to swing myself out of my shoes with the second, and lost a few more along the way as the round progressed, painfully.
The famous Prince of Wales 13th is a very short par three and has obviously seen plenty of holes-in-one. I 'ringed' the hole without even being on the green.

I do recall the chairman and I didn't speak much on the back nine. However, I did par the 18th to nicely bookend the round, but we weren't anywhere near the prizes and the company chairman obviously found a new partner going forward. There were no cellphones in those days but even if there were, I certainly wouldn't have received a missed call from him.
That was also the time I stopped hitting imaginary balls, with an imaginary club while standing next to the water cooler. This game of golf can be truly humbling. But we love it.
– This column first appeared in the September 2023 issue of Compleat Golfer magazine.