We've now arrived at the point where the men's Official World Golf Ranking means absolutely nothing. Zilch.
However, it's still being used as a springboard for players to enter the Majors, while some sponsors still attach a whole lot of significance to it when looking at their annual budgets.
Those who are regular readers of this column will know that I don't want to say 'I told you so,' but, I told you so.
While there are some who reckon there's a cosy relationship between the major Tours and the LIV Series, with compromise being reached in many areas, that's not reflected in the rankings.
I was among those at the outset who argued that LIV golfers couldn't be compared with players on the more established Tours when it came to attaching World Ranking points, but at the same time – for over a year – I have argued that LIV has done more to split golf than unite or grow it, as was the initial default explanation for those who defected to it.
We are now at the stage, foreseen over a year ago, where someone like Louis Oosthuizen sits at 369th in the world, according to the Official World Golf Ranking. Do me a favour. By the time you read this he has probably slipped even further down the ladder and this being a player who ended 2021 at No 10 in the world and then signed off 2022 ranked No 50, and only because of a good week at Leopard Creek at the end of last year.
Sitting below him are fellow LIV golfers, Charl Schwartzel (383rd), Shaun Norris (396th), Justin Harding (429th) and Branden Grace (529th). This has become a bit of a stuck record, for February's column was headlined 'Meaningless Rankings'. Nothing has changed, except for the fact that the bare numbers highlight the farce that the men's golf ranking has become.
Until the solution is found in golf's boardrooms, I'd say scrap ranking points entirely. Or, find some way that there's an independent assessment done, like boxing did so well before every splinter organisation added to the alphabet soup. And when the organisations were at loggerheads, Ring magazine's rankings became the most credable.
Perhaps something similar should be found for golf.
Cameron Smith is LIV's highest-ranked golfer at No 12, while it took winning The PGA Championship this year for Brooks Koepka to be able to hold on to No 15 in the world. But, given the complicated structure of the rankings, they're also going to start plummeting, like Oosthuizen and Grace have.
Only two LIV golfers are now in the world's top 50 – the aforementioned Major champions Smith and Koepka, who would more realistically be inside the top 10 – while Joaquin Niemann has slid to 54th. Former world No 1 Dustin Johnson sits at 110th, while Bryson DeChambeau (remember him?) is at 123.
All of which is why, if you ask any sports person, 'Would you prefer to be world champion/Grand Slam champion/Olympic champion or ranked No 1 in the world,' they'd go for the title. Rugby is a similar example. Rankings mean nothing – winning the Webb Ellis Cup is everything. But here's where men's golf finds itself. Don't say I didn't tell you.
– This column first appeared in the October 2023 issue of Compleat Golfer magazine.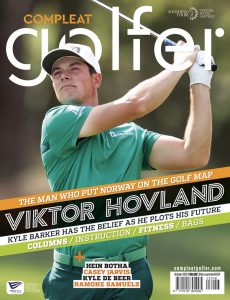 Photo: Christian Petersen/Getty Images