The traditionalist in me says that for an event to really capture the imagination and be of added meaning, it should be held every four years, not every two.
Think of football, rugby and cricket's World Cups. They're held every four years – as are the Olympic Games, Paralympics and the Commonwealth Games. Sailing's America's Cup is held every four years, and it remains the oldest trophy in sport. The British & Irish Lions also tour every four years, and it's 12 years between visits to New Zealand, Australia or South Africa.
Golf, however, is different. I would prefer to see the Ryder Cup, Solheim Cup and Presidents Cup staged every four years, but those who make the decisions obviously don't hold that view and nor, I suspect, do you, the reader.
As much as I bolt the door leading into the TV room when the Ryder Cup comes round, I have often thought how much extra significance it would have if the tournament fitted into the four-year cycle. It would allow for 'four more years of hurt' for the losing team.  It would make for the buildup to be so much more hyped, more stories of dreams being fulfilled and the promise of mending broken hearts. More drama, is probably what I'm trying to say.
However, in general conversation, I have yet to find anyone who agrees with me when it comes to golf's Ryder Cup, Solheim Cup and Presidents Cup. It seems the vast majority don't want the tournaments to be spaced out each across four years. I suspect even football's Arsene Wenger, the acclaimed manager of Arsenal over two decades, disagrees with the four-year cycles because he is actively campaigning to get the Fifa World Cup held every two years.
Perhaps it's the nature of a sped-up world, one in which long-form reading has become a thing of the past and the current generation seem to have their literary and intellectual thirsts quenched by 280-character 'opinions' on Twitter and a 30-second TikTok video.
I did warn you, I'm old-fashioned.
Even Dale Hayes is crying out for more. 'I don't know about you but I thoroughly enjoyed the Solheim Cup. I watched it wall-to-wall over the three days, while I only checked in on the Tour Championship scores from time to time. The ladies are fun to watch, they looked good and they played superb golf. It was a tight contest, so was incredibly exciting right to the end,' he wrote in his weekly letter.
Although I'm on my own here with this 'four years has more meaning than two years' argument, there's nothing I can disagree with when it comes to what Hayes says. I find the PGA Tour's season-ending Tour Championship scoring format absolutely ridiculous and I have no shame in saying that I didn't watch a shot hit. A tournament should be all about that particular event, not one in which someone can finish a number of shots back over 72 holes but then actually win the event because they have been given a handicap scoring advantage going into the event.
Yes, old-fashioned thinking, I know.
But the Solheim Cup is good for the women's game and that's good for the entire sport of golf. Hayes says the ladies 'are fun to watch, they looked good and they played superb golf'. If that helps them grow the game, so be it. In fact, if staging the Ryder Cup, Presidents Cup and Solheim Cup every two years and not every four years helps grow the game, that's the most important thing.
However, please don't let me see someone pushing the argument that these team tournaments need to be held more frequently than they are. Two years is the absolute limit to my levels of tolerance, because I firmly believe that absence makes the heart grow fonder. Yes, I'm an old-fashioned grump.
– This article first appeared in the October 2021 issue of Compleat Golfer magazine. Subscribe here!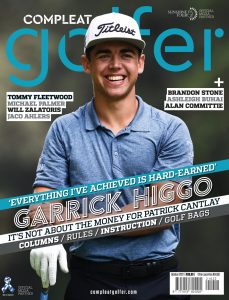 Photo: Maddie Meyer/Getty Images