It's fitting that the 150th Open Championship will be at the Old Course at St Andrews.
After more than two years under Covid-19 lockdown restrictions, a record crowd of 290,000 will walk through the gates at the Old Course at St Andrews, to watch the 150th Open Championship.
It's rather fitting that the record crowd will be achieved at what is often called the Home of Golf. How do we know it will be an Open Championship record, surpassing the 237,750 who watched Shane Lowry sprint to victory at Royal Portrush in 2019?
Well, an unprecedented demand to attend this historic milestone for The Open led to more than 1.3-million applications in the ticket ballot and has resulted in the highest number of general admission tickets being issued to fans.
A record 80,000 spectators will also attend the four practice days, eclipsing the 61,000 who attended those days in 2019 at Royal Portrush.
Two-time winner at St Andrews, the 15-time Major champion Tiger Woods, withdrew from the US Open at Brookline in June in the hope of preparing his battered body for The Open.
'I previously informed the USGA that I will not be competing at the US Open as my body needs more time to get stronger for Major championship golf,' Woods said on social media. 'I do hope and plan to be ready to play in Ireland at the JP McManus Pro-Am and at The Open. I'm excited to get back out there soon!'
Woods, now 46 and trying to mount yet another comeback from injury, competed at The Masters and The PGA Championship earlier this year. At Augusta he made the cut, but shot 78 on the third and fourth days. In Tulsa he was clearly struggling with pain in his right leg. Woods fought back from an opening 74 to shoot a second round of 69 and make the cut with a shot to spare, but then laboured to a 79 on Saturday, his worst score ever in the tournament, and then withdrew.
Here are some thoughts on the St Andrews experience from leading pros heading into the 150th Open.
TIGER WOODS
'It's the best, playing at St Andrews is literally the best. It's like going back in time. And to play at the Home of Golf and to have won two Opens there, it's one of the greatest walks coming up 18, to see the whole town there. Every great player who has ever played the game has played St Andrews – you can't say that about any other golf course. It's been around that long and every great champion has played it.'
RORY McILROY
'If you want to win an Open Championship, you know there's only one place that stands out where you'd want to win, and that's at St Andrews at the Old Course. The number of great players who have won there, the history of the place, the atmosphere, the feeling. There's just such a nostalgic feel you get when you walk on to the 1st tee. It's the perfect venue to win an Open Championship. Honestly, I'd like to see The Open played at St Andrews every year if it could be, but I understand why the R&A brings it to different courses. It's definitely my favourite Open venue by a long way.'
SEVE BALLESTEROS
Ballesteros famously triumphed at St Andrews in 1984, with his final putt sparking one of the most iconic celebrations in sporting history. Looking back on that victory in the official film of the 119th Open in 1990, he said: 'St Andrews is unique in golf and it has very good feelings, especially for me because I have such nice memories from 1984 and it's something I don't think I'll ever forget.'
PETER THOMSON
In the official film of the 99th Open in 1970, Thomson can be seen discussing St Andrews with fellow great Gary Player. 'This is real golf, this is where it all started,' said Thomson – a five-time champion. 'And all golf courses, really, are imitations of this one. And there's hardly any that measure up anywhere near it.'
JACK NICKLAUS
That Championship in 1970 yielded the first of two St Andrews Open triumphs for Nicklaus, who famously went on to say: 'If you're gonna be a player who's gonna be remembered, you must win at St Andrews. I can't think of a course I'd rather win at, and my wish has come true.' Some 30 years later in 2000, he said: 'I had a love affair with St Andrews from the first time I saw it.'
NICK FALDO
Faldo twice won The Open at Muirfield, in 1987 and 1992, but his victory at the Old Course in 1990 was particularly significant. 'To win at St Andrews is special. It's the Home of Golf and there's something special about that town. And if you could have one choice, yeah, you want to win one there.'
PHIL MICKELSON
Mickelson, the 2013 winner, is another who holds St Andrews in the highest esteem. 'With this being the Home of Golf, you can't help but feel emotion and feel this sense of spirituality come over you as you play this course, knowing that this is where the game began.'
UNIQUE FEATURES OF THE OLD COURSE
GREENS
One unique feature of the Old Course is its shared greens. Most golf courses in the world consist of 18 separate putting surfaces, but not the Old Course. There are just 11 greens here and they are huge. In fact, on average, the shared greens at the Old Course measure a mammoth 22 000 square feet.
BUNKERS
There are 112 bunkers scattered all over the legendary course and to add a taunting element, most of them are named. With names like Coffin and Hell, it's no surprise that players will want to avoid these bunkers that are essentially a one-stroke penalty. Perhaps the most famous bunker on the course is the Road bunker, which sits beside the 17th green.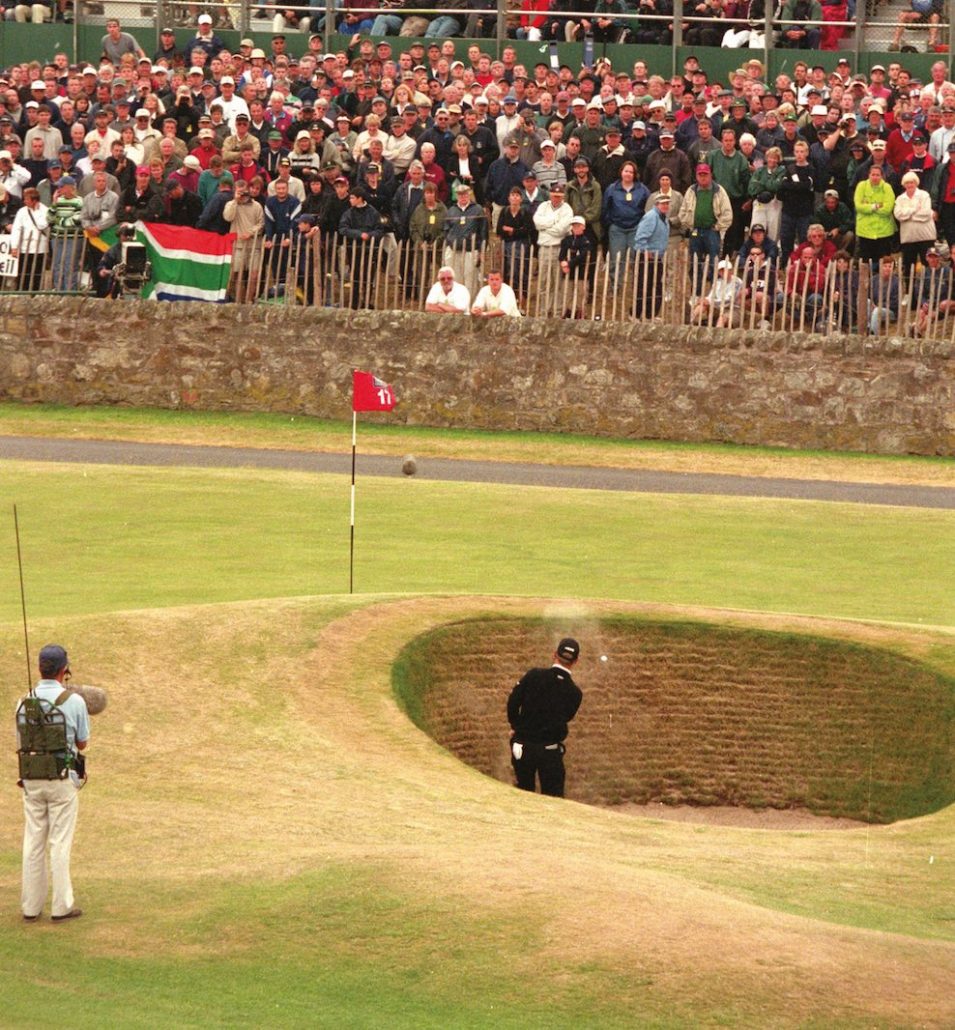 It has been the site of many shattered dreams. Most recently, David Duval, trailing Tiger Woods by three shots in 2000, found the Road bunker. As he hacked and chopped his way through the deep pot bunker, he saw his slight chance of an Open victory get buried beneath the sand. He eventually took a drop and an eight on the hole. There are hundreds of similar stories. Even Jack Nicklaus hasn't escaped the disasters these bunkers present. At the infamous Hell bunker on the 14th, he carded a 10 in 1995, chopping away and finally tossing his club when he eventually escaped.
ST ANDREWS HEROES
(Last five Open Championships played at the Old Course)
1995
This Open was significant because it was the first that Tiger Woods played in, and the last the Arnold Palmer played in, getting to have his farewell at St Andrews. John Daly beat Costantino Rocca in a four-hole playoff to win the title.
2000
Winning the 2000 Open was Tiger Woods' second consecutive Major. He would win the next two as well for four consecutive Major victories over two years – the 'Tiger Slam'. He didn't hit a single bunker the entire tournament, shot in the 60s all four rounds, won by eight strokes, and set an Open Championship record of 19 under par. The winner took home £500 000.
2005
This was Jack Nicklaus' last Open and like Arnold Palmer, he finished on the Old Course. It was also Woods' 10th Major and the fourth one he had won by five or more strokes. The winner's share of the prize money was £720 000.
2010
On the 150th anniversary of the first Open Championship, Louis Oosthuizen played consistently well, winning The Open title by shooting a 16-under-par 272 for victory by seven strokes. Rory McIlroy shot 63 in the opening round. The winner's share of the prize money was £850 000 (about R16-million).
2015
In the 144th playing of the Open Championship, Zach Johnson emerged triumphant from a three-man playoff. The tournament finished on Monday due to the extremely high winds that arose during Saturday's round. Johnson defeated Louis Oosthuizen and Marc Leishman in a four-hole playoff. Johnson won £1.15m.
ALSO READ: The Open Championship in numbers
– This article first appeared in the July 2022 issue of Compleat Golfer magazine. Subscribe here!