Veteran Jaco Ahlers has stopped chasing perfection to concentrate on winning, writes MICHAEL VLISMAS.
The most liberating moment for veteran Sunshine Tour professional Jaco Ahlers was when he realised that in this game, perfect is not the goal. It was that moment when he stopped trying to create the most beautiful swing, and did what he does best – just make a score.
With nine professional victories on the Sunshine Tour, playing privileges on the Asian Tour and stints on the European Tour, Ahlers is very much a golfer comfortable in his own skin and well aware of what works for him.
'I've never been the prettiest golfer in the world. I know what I can do and what my strengths and weaknesses are,' he says.
'When I came out on Tour it used to bug me. Everybody wants to look good swing-wise. I'd say it's kind of a self-imposed pressure we put on ourselves. But the older and more experienced I became, the less I wanted to be perfect. I realised that you don't have to be perfect. All you have to do is make the perfect score. You've got to find your way of making a score, and of getting the ball in the hole. That's it.'
Ahlers seems to have made a habit of peaking at exactly the right time, no matter his form in the season. When the big events roll around, he always seems to be in the mix.
This was nowhere more evident than in 2014 when he secured a debut at the prestigious Nedbank Golf Challenge at Sun City. Ahlers won the Cape Town Open in a playoff with Ross McGowan and Hennie Otto to claim the 30th and final spot in the field for 'Africa's Major' that year.
The Cape Town Open was only the second victory of his professional career, but it opened the door for a place in one of the most exclusive fields in world golf at the time, where he joined three Major winners, three former world No 1s, five European Ryder Cup players and three past Nedbank champions at Gary Player Country Club that year.
A year later, Ahlers earned another big pay day when he won the Investec Cup and R3.5-million – his share of the R10-million bonus pool – as well as his tournament winnings of R163 400.
The mere fact his first four professional victories all came in playoffs should be enough of an indication that this is a man who knows what he needs to do under pressure, and has no problem delivering.
And yet it wasn't always so.
'I crapped myself when I started playing on Tour and was standing on a tee box with guys I had watched on TV,' he says. 'I had to get used to that. I was watching players like Ernie Els, Retief Goosen, Des Terblanche, Hennie Otto and Darren Fichardt, to name just a few. They were incredible golfers who were playing overseas and I was following them on TV. Now, suddenly, I was teeing it up with them. It took me a while to realise they're normal human beings and that I just have to try to beat them.
'It probably took me a year or two to find my feet. In that sense I wish I'd turned professional earlier than I did, at the age of 23, to maybe offset some of those learning years I went through. Nowadays the top amateurs have all the right coaches and mental and physical conditioning, so when they turn pro they're immediately ready for it. In my day I was still playing amateur golf out of my dad's wallet. In fact my dad caddied for me.
'I'd say one of the big things that struck me early on was that the camaraderie between the players on the Sunshine Tour is really good. I started on Tour at a time when it wasn't frowned upon to go and have a drink after your round. A lot of the guys were really accommodating of the rookie on Tour. They try to make you feel comfortable out here if you're new, and most of the pros are friends with each other.'
Although the dynamic has changed in the sense of today's young professionals being more focused on fitness and healthy lifestyles, Ahlers has resisted the urge to change who he is.
'Sure, it's different now. The youngsters are now all into fitness and they have that athlete mindset. Back in the day it was a case of just peg it up and go. You had a few guys, like Chris Williams and Steve van Vuuren, who were fit and into hitting thousands of balls on the range. But I think I've always been more of a feel golfer. I was that type of golfer, and I lost it a bit in the quest for a perfect swing or to also try to become an athlete, or in chasing TrackMan numbers all the time. I just realised that I'm not that type of guy, and never have been. I've always been a little overweight and a bigger guy, and I've never swung it that quickly. Maybe I realised that too late.'
Ahlers admits that his late realisations of a few things about himself and his golf could be a result of him having grown up in a small and rural community. He literally grew up in the Kruger National Park.
'I lived in Skukuza for the first 18 years of my life. My dad was head of procurement for the park and we lived right next to Skukuza Golf Club. My dad was a founder member of the club and my grandfather helped build the clubhouse. So golf was always a part of my life. I used to caddie for my dad and started playing when I was 10. My whole family plays golf.
'But it was like living in a bubble. We used to get so complacent about the animals in the park. We lived in the staff village and there was no fence around that. There were so many times when it would get dark and we'd still be out kicking a rugby ball or something, and my dad would shout at us and remind us there were lions about. I went to Skukuza Primary School and played all the sports there – rugby, cricket, golf, swimming and athletics. I think my first taste of kind of the outside world was when I went to Nelspruit High School.
'And then travelling the world was a real eye-opener. My first golf trip overseas was in 2009 for The Open Championship. It was a great childhood and a heck of a nice way to grow up. But it was secluded.'
It's those realisations that Ahlers says make him feel like he's still got much more to achieve in the game.
'In a sense, I feel a bit like I've underachieved in my career because of what I know now. I wish I'd started my pro career earlier and learned those lessons earlier. Growing up in Skukuza, I didn't get the exposure to play against better players. I played provincials for Mpumalanga, but it was in the B Division. I didn't get the kind of exposure today's amateurs get. So, in a sense, I feel I haven't achieved what I wanted to achieve. I've played in Europe a bit but haven't kept a card. Now I have an Asian Tour card but there is no Tour on the go there.'
The Asian Tour situation, brought on by Covid-19, brings up a familiar theme for Ahlers. As much as he's found a way to peak when it matters, he's also had some bad luck at times.
'This year, for The Open, I was supposed to go to Italy for my 10 days of isolation, but then on my exit test I tested positive with no symptoms. So I had all these health protocols to go through at The Open which made that week pretty terrible and I missed the cut. It was the same when I played my first World Golf Championships event at the Bridgestone Invitational in 2018. Five weeks before the tournament I broke my elbow. And a few years ago I cracked a rib while water-skiing three weeks before the South African Open. I seem to have had a bit of bad luck like that over the years. But you also never know what's around the corner in this game. Look at Daniel van Tonder and how he's taken the chances he got and is doing so well now.'
Ahlers turns 40 next year, and there is no sense that his ambition is waning.
'You always want to play on a bigger Tour. The Sunshine Tour is great, but I've never viewed the Sunshine Tour as a career Tour. It's a stepping stone. But then again, at my age and with two young kids at home, you also have other priorities to consider. I enjoy family life. I actually never thought I would be a family guy. But when I'm back home in George I like taking the kids to school and doing those things.'
He's also expanded his business interests.
'I started a company in May this year, JERC Holdings. We distribute a hydration electrolyte product called Dynaforce and I'm busy expanding that. We've only been going for a few months but it's showing promise. We're distributing at pharmacies and doctors can prescribe it as a hydration product for flu or diarrhoea.
'I studied management and business and dabbled in hotel management. But to be honest, if I wasn't a golfer I'm not sure what else I would've done. There were times I thought of doing something else, but golf has always been the main thing for me.'
Much like the realisations that came later in his life, there is the sense that Ahlers still has a lot more to offer in the game of golf.
SUNSHINE TOUR BEST FINISHES
2009: Vodacom Business – Erinvale (1st)
2012: Telkom PGA Championship (T2nd), ISPS Handa Matchplay Champs (T2nd)
2013: Platinum Classic (T2nd)
2014: Vodacom Origins of Golf – Wild Coast (T2nd), Lion of Africa Cape Town Open (1st)
2015: Investec Cup (1st), Investec Cup (Bonus) (1st)
2016: KCM Zambia Open (1st), Sun Wild Coast Sun Challenge (1st), Vodacom Origins of Golf – Euphoria (1st)
2017: Vodacom Origins of Golf – Arabella (T2nd)
2018: Dimension Data Pro-Am (1st), Zanaco Masters (T2nd)
2019: King's Cup (1st), Vodacom Origins of Golf – Selborne (1st)
2020: Vodacom Championship Reloaded (T2nd)
2021: Serengeti Pro-Am Invitational (2nd), SunBet Challenge – Sun City (T2nd), VOG De Zalze (T2nd)
– This article first appeared in the October 2021 issue of Compleat Golfer magazine. Subscribe here!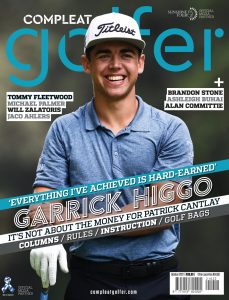 Photo: Carl Fourie/Gallo Images