The one thing that every DP World Tour player experiences every season is airports. So I thought I'd write a little something about some of the best and worst airports I've seen around the world.
Full disclosure: I'm writing this column from an airport chair in Hong Kong, which has quite easily become one of my favourites of all time. The airport, that is.
This airport has everything a traveller could ask for. There's a Sky Bar overlooking the entire airport, allowing travellers to sip on a cocktail while watching planes take off every 90 seconds. There are play areas littered all over the terminal to help tire out young kids before their flights, helping parents from all over the globe. There are also PlayStations allowing the younger adults a welcome distraction. And the restaurants. They vary from McDonald's to Gordon Ramsays, giving you the chance to indulge in a hearty meal before your flight. All in all, I think it's the best airport I've been to. And I've been to a few.
On the other side of the scale is the old terminal in Jeddah, Saudi Arabia. I'd never seen a terminal so overcrowded. There were thousands of people, many of whom were sleeping on the tiled floor, leaving only the tiniest of walkways for people to use to get to their boarding gates. There was a very apparent lack of aircon, too, making it nbearably hot and humid, since we were in a desert. There was one little cafe, which had no food and room-temperature drinks, so no saving the experience there. They have recently opened their new airport, which is a more typical Middle East airport experience. To call it state-of-the-art would be somewhat of an understatement. It's safe to say I'm glad the old terminal won't be seeing me anytime soon.
One of the cooler airports I recently visited was Skukuza 'International' Airport in the heart of the Kruger National Park. Renovated a few years ago, the airport fits into its surroundings perfectly. The quaint, thatch-roofed building is by far and away the most efficient airport I've ever been to. In fact, from the time our wheels touched down to when we got into our vehicle outside was no longer that 10 minutes. Gosh, I wish that was the case every week.
Having travelled the world, and experienced so many airports, I need to constantly remind myself of the blessing that is travelling. Being able to see the world is a perk of my job I often overlook.  What can I say, sometimes I just wish I could teleport to my destination. It would save a lot of time to say the very least. 
– This article first appeared in the November 2023 issue of Compleat Golfer magazine.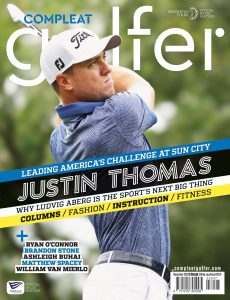 Photo: Getty Images