Golf is such an individual sport but every two years we get to watch and experience the thrill of a team event with the Solheim Cup and Ryder Cup.
This year we were in for an extra treat as they were played back-to-back, with Europe hosting teams for both weeks. They usually alternate every year but due to Covid-19 they have ended up being staged in the same year.
For the events to go back to being played on alternate years, the Solheim Cup will be played two years in a row, this year in Spain and next year in Virginia (US). This has thrown a curveball for the LPGA and LET as the qualification process is normally over two years but the 2024 Solheim Cup qualification will now only be over 10 months, not giving players much time to play their way onto the teams.
Some of my fondest memories in golf are from when I represented Gauteng and South Africa at team events as an amateur. At my first Interprovincial representing Gauteng I was just 12 and we played at Humewood Golf Club. It was my first trip away from my parents and in a team environment. Since I was the youngest, I was nicknamed 'kleintjie' and 'Smashley' – a name that still sticks to this day with my friends.
I had to go through orientation which was all fun, harmless stuff from loading the golf bags in the cars to cleaning golf shoes and making the senior players tea and coffee. Maybe that's why to this day I am told I make a good cup of tea.
I have too many great memories from my team days to write about but I was fortunate enough to be part of a strong Gauteng team that won five Interprovincials and one of the best achievements in my career was winning the 2016 World Amateur Team Championship in South Africa with Stacy Bregman and Kelli Shean.
It was great being on successful teams but the best part was the lifelong friendships I formed. Another great part of playing team events is always having someone to lean on. Everyone has each other's back and you are playing for more than just yourself which gives the tournament a different feeling.
I miss those days and wish players like myself who aren't European or American could get to experience that again. There used to be the Lexus Cup which was the Rest of the World vs Asia, but this still allowed the USA and European players to play on the Rest of the World team.
We have often said this event should return but should exclude Europe and USA, and that way it would give players not from those countries the thrill of experiencing team golf again.
– This column first appeared in the October 2023 issue of Compleat Golfer magazine.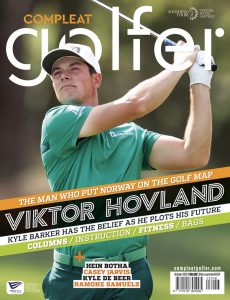 Photo: Paul Kane/Getty Images