I've had a quiet few weeks. I was supposed to play at the Walmart Arkansas Championship and The Ascendant but I had to withdraw because an old back injury flared up about two months ago.
I was advised to take five to six weeks off just to let it settle and I ended up having to have cortisone injections in my back. Hopefully it will ease and I'll be ready to play again at the end of the season.
This time last year I also had to have the injections for my back. I started to feel it build up recently so I messaged the doctor, who's a South African guy, which is quite nice, when I was in Cincinnati at my last tournament.
I told him it was flaring up again, and that the injections worked last year so could we do it again. So we scheduled it and then with us moving house, my back just went 'no thank you'. It was bad, I couldn't move for five days.
Luckily I'd had the injections scheduled and they took about a week to work. Last week I had no pain for the first time in six weeks. It's just wear and tear, and the travel aggravates it. We're dealing with it and it's definitely getting better. I've been working with my trainer, having physio and resting my back.
I have a full-time physio who travels with us. I've been working with her for about five years and it's the best thing I've ever done in my career. It gives you consistency. There were times last year, when this first appeared, that I wouldn't have been able to play if it wasn't for her. When I won the Women's British Open I was being treated every other day and had to play strapped up. I actually played strapped up for about three months last year before we figured out what the issue was. Without my physio I wouldn't have been able to play quite a few tournaments; she gets me through a lot, especially as I'm getting older!
It's a herniated disc and we all have them, but with what we do and the pressure we put on it, it just makes it a little bit worse than it should be.
I'm not too stressed about it, though, because I feel like we know what we did last time worked. I feel confident that with the injections and the right treatment, it will come right.
So I've had some forced rest, which has been quite nice to be honest. I was starting to feel a bit burnt out. I was running on empty, emotionally and physically. I think it was a way of my body telling me, 'Hey, you need to shut it down.' We've done so much travel this year and I put so much pressure on myself over the European stretch, wanting to play well. I'm hoping it's going to be a blessing in disguise. It's just been a way for me to push the reset button and I'll be able to finish this season off strong.
It's also been quite nice to just be able to be in the new house and just enjoy it. One of my friends told me that it's been many years of hard work so just enjoy your reward.
– This column first appeared in the November 2023 issue of Compleat Golfer magazine.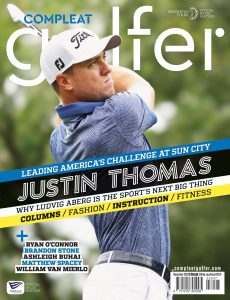 Photo: Charlie Crowhurst/Getty Images