Will Zalatoris is an unlikely hero. Tall, skinny and frail-looking, he appears a little out of place in a game that is focusing ever more on strength and size. But don't let that fool you because, as SIMON HILL writes, what Zalatoris lacks in muscle he more than makes up for in grit and determination.
If you ask Will Zalatoris, he'll tell you he started playing golf when his mom was six months pregnant with him. It's the running joke in the family.
Swinging around a baby bump can cement some bad habits, and she still blames her unborn son for her over-the-top swing.
Officially, he began playing around the age of three or four, when his father, Richard, would bring him out on weekends to California Golf Club, where he was a member. As Will got older, they'd play a few holes together after Richard, a solid 15-handicapper, had finished his Saturday morning game.
Growing up, Zalatoris could be described as your typical sporty all-rounder, dabbling in soccer, basketball and baseball. The latter he played until the relatively late age of 14. Golf, though, always occupied a unique place and from early on it was clear he had potential, which is why his father insisted he get proper coaching.
Looking back, Zalatoris speaks fondly of his time at the Jim McLean Golf School, where coach Greg Copeland began to groove and hone the seven-year-old's swing and outlook on the game.
'He'd give me free balls to practise with and always tried to make things fun,' Zalatoris told Mike McGraw's 'Better Than I Found It' podcast. 'We'd play games, like trying to land balls on top of nets or chip off the double-storey and see how far you could run the ball along the wooden fence.'
The bond between father and son remains strong and you'll often find them playing together on weeks when he's not travelling. To this day, Richard has never been to one of his golf lessons – golf, for them, has always been about just having fun.
'He paid for a lot of them but prides himself on the fact he's never been to one,' laughs Zalatoris. 'It's always been my thing.'
The credit for Zalatoris' sporting and athletic prowess must go to his mother, Catherine, who, in her younger years, was a track and field athlete at the University of Oregon.
'The joke I always tell people is my mom will play two or three times a year and break 90. My dad plays three or four times a week and can barely do it,' he says.
And while his father instilled in him a deep love and passion for the game, it's his mother who gave him the fierce, competitive nature that's required at top level.
'I would say she's the strongest person I've ever met. She still runs and works out five days a week. And to have a sport psychologist in the family is kinda cool.'
Despite being born in San Francisco, Zalatoris is a staunch Texan, having moved to Dallas when he was nine.
'It was probably one of the best things that ever happened to me,' he says matter-of-factly. The family joined Bent Tree Country Club where, under the guidance of David Price (a pupil of Harvey Penick), the slight 11-year-old began to flourish. He recalls the one-hour lessons with Price often stretching to two and a half hours because 'we were working on something and we just had to get it down'. The two remain close to this day; Zalatoris considers him a second father.
With great courses and relatively good weather year-round, Texas is a hotbed of golfing talent and scouts from all over the country are always keeping an eye out for the next potential Jordan Spieth, who also happens to be a childhood friend. Zalatoris recalls a round where 14-year-old Jordan broke the 15-year course record at Bent Tree, shooting 63 – including 29 on the front nine.
'We weren't even old enough to drive carts,' he laughs.
Like Spieth, Zalatoris would have appeared on the radar pretty early on. Qualifying for five US Junior Amateurs in six years – the first when he was just 12 – will certainly get you noticed. Despite being wet behind the ears back then, competing against guys much older than him gave him a sense of belief and a feeling he belonged.
From the end of freshman year to the start of his senior year, Zalatoris grew by a whopping 28cm (he's now well over six feet tall). The changes to his body threw his game into disarray and he experienced his first real dip in form. However, by 2014, as he prepared to head off to college, he'd steadied the ship, was crowned the US Junior Amateur champion and, with a new coach by his side, was playing some of the best golf of his short career.
As an only child who attended a Christian high school, Zalatoris admits to leading a sheltered existence before arriving at Arnold Palmer's alma mater, Wake Forest University in North Carolina, to study psychology (Webb Simpson, Curtis Strange, Bill and Jay Haas are also alumni).
'I needed to turn into an adult,' he admits. 'I had to get an education and then become a professional.'
Safe to say, his four-year stint there under veteran coach Jerry Haas was time well spent and, in 2017, he made the US Walker Cup side that trounced Great Britain and Ireland 19-7, their heaviest defeat in 20 years. In a team boasting the likes of Collin Morikawa, Cameron Champ and Scottie Scheffler, Zalatoris could hold his head high, winning three of his four matches over the two days. He considers it the greatest experience of his career to date and still travels with his team duffel bag.
From the highs of 2017, when he won the ACC Player of the Year, to the harsh realities of professional golf; 2018 was rough. Monday qualifiers were a common theme and while he earned six starts on the PGA Tour – including a US Open debut where he got pooped on by a bird – it was a baptism of fire. When he couldn't secure a PGA Tour start, he attempted to qualify for the Korn Ferry Tour, which, as it turns out, was harder than expected. He could only get a single start from 18 attempts. The honeymoon was over.
They say it takes a village. In Zalatoris' case it was new coaches Josh Gregory and Troy Denton who took on the task of turning around a deflated youngster with a cold putter. Gregory is the performance golf coach based at Maridoe Golf Club who helped Patrick Reed to his 2018 Masters win. Denton is the head professional there.
'Troy really is the one I give a lot of credit to for turning me around,' says Zalatoris. 'He has the highest EQ of any golf coach I've ever been around. He knows what to say. How to say it. And when to say it.'
In 2020 the breakthrough finally came: a one-stroke win at the TPC Colorado Championship at Heron Lakes on the Korn Ferry Tour. And it was to get even better – he tied for sixth at the 2020 US Open, finished runner-up at the 2021 Masters and tie-eighth at the 2021 PGA Championship.
Having recorded eight top-10s and a little over $3.5-million on the PGA Tour so far this season, the Happy Gilmore caddie lookalike is firmly on the map.
But here's where it got a little bit weird. Despite a great year and an impressive world ranking inside the top 50, Zalatoris was not a fully exempt PGA Tour member. His stellar play had earned him only temporary Tour membership through 2021 and even though he is now guaranteed to be a member for the 2021-22 season, he needed a win at the regular season-ending Wyndham Championship to qualify for the season's membership – and therefore the FedExCup playoffs. Unfortunately he could only manage a tie for 29th.
Nonetheless, he's come a long way in a relatively short space of time and the past 20 months have shown he's clearly got what it takes to mingle with the best of them. At the start of 2019, Zalatoris was ranked outside the top 2,000. At the end of August he was ranked 32nd. That all-important fun element seems to have returned and he appears in good health, despite his Open withdrawal in July. He's not going away.
Interestingly, Zalatoris' grandfather was a commercial pilot.
'He flew the last 747 American Airlines ever flew,' he says, barely able to conceal his pride. His father and uncles also flew, albeit not commercially. Aviation is in their blood and Zalatoris says he'd like to get behind the controls one day too.
'When you're in the cockpit you have to be fully present and mindful of where you are,' he says. 'It's a bit like that on the golf course.'
Fair to say he's living in the moment right now and if the current trajectory continues, the sky will be his limit. It might be worth mentioning that Arnold Palmer was also a pilot. And we all know how that worked out for him.
– This article first appeared in the October 2021 issue of Compleat Golfer magazine.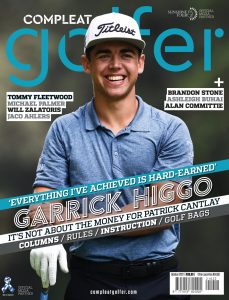 Photo: Keyur Khamar/Getty Images