Most golfers are aware of the competitions within the sport, but there are a number of sports that have emerged as derivatives of golf, writes BRENDAN BARRATT.
FootGolf
As the name suggests, this game is a hybrid of football and golf, with players using their feet and a soccer ball in lieu of clubs and golf balls. Like golf, players need to get the ball into a hole, in this case a larger one, over a significantly shorter distance. The game has become very popular and has even attracted some big-name former pro soccer players, including Argentinian legend Roberto Ayala. The Federation for International FootGolf has an annual World Tour across 34 countries. It also has the FootGolf World Cup, where France won the men's team event in 2018. 
Disc golf
Also known as 'frisbee golf', this version of the sport we love has players throwing a disc at a target, as they would hit a ball in golf – on courses made up of par threes, fours and fives. Players use different types of discs for different shots and, incredibly, the sport is played in over 40 countries (including South Africa), with more than 70 000 registered players.
Long driving
Social media – and Bryson DeChambeau's appearance at the 2020 World Championship – is helping long-drive golf become more mainstream. It's easy to see why – it's an exciting package with a fast-paced, entertaining format that is ideal for a stadium-like live set-up and television. Golfers hit eight shots per round within a three-minute time period and they need to land the ball within a roughly 50m-wide zone. The distances hit are impressive; golfers regularly drive in excess of 400m with equipment that is not too different from that used by regular players. The difference comes in the long, powerful swings made by the rippling beasts and their low-launch drivers. Club speeds exceed 150mph (240km/h) and ball speeds regularly pass 220mph (354km/h). Kyle Berkshire is the new face of long-drive golf, having won the 2021 World Championship, and is a sight to behold. Berkshire's stock yardages include a 9-iron that carries 175m and a 3-iron that carries 290m – at sea level.
Speed golf
A game for the energetic involves players attempting to complete the course not only in the fewest possible number of strokes but also the fastest time. Professional golfer Christopher Smith holds the Guinness World Record for speed golf after shooting 65 in under 45 minutes at the Chicago Speedgolf Classic at Jackson Park Golf Course in 2005.
Miniature golf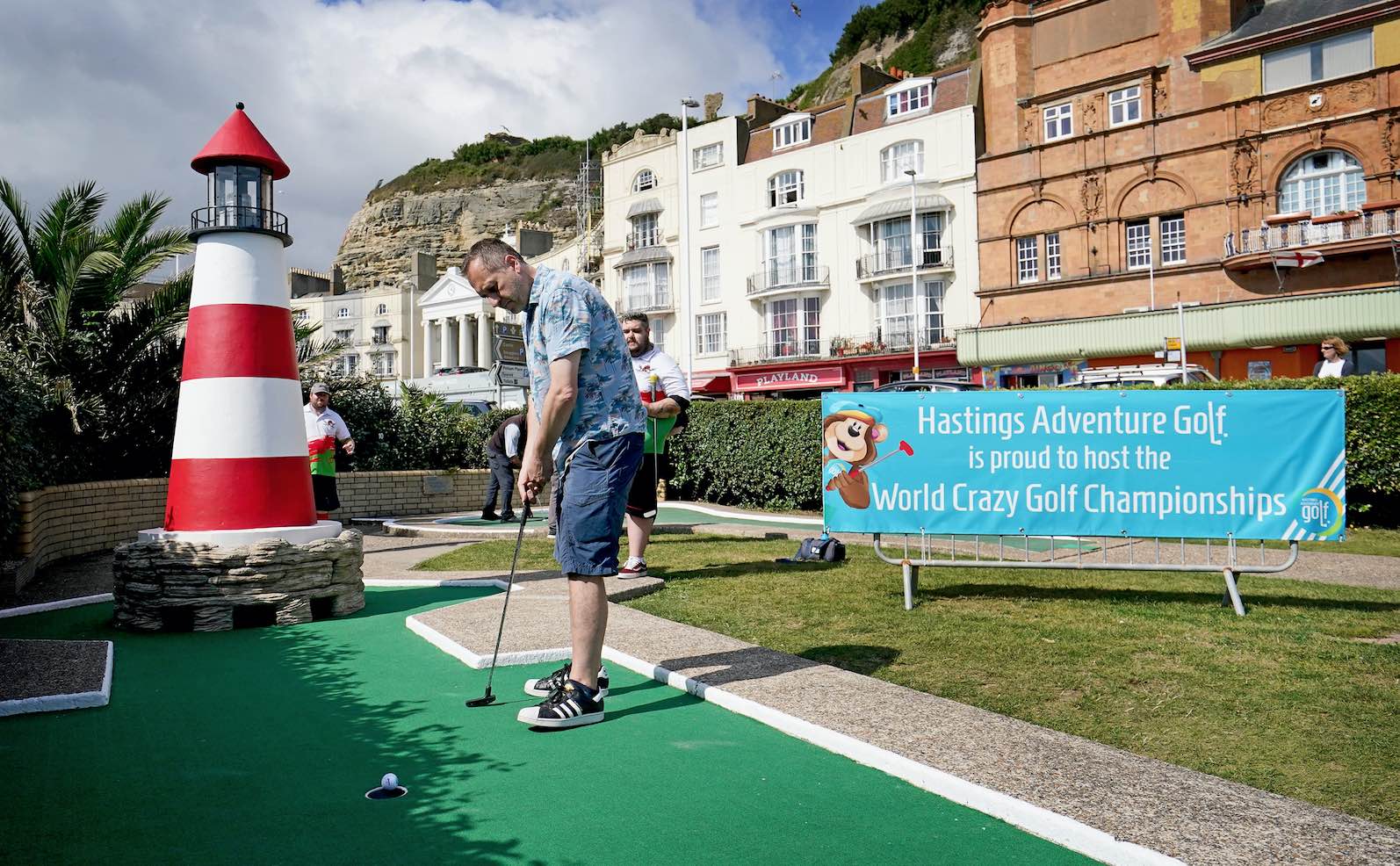 We all know about mini golf – or putt-putt – but it is a real sport played across the globe and has an international governing body. The Holy Grail of mini golf is a perfect score of 18 – a bit like a perfect break in snooker. To date more than 1 000 players have recorded the perfect round, although never in official competitions, of which there are many, including the US Masters, US Open, British Open, World Crazy Golf Championships and World Adventure Golf Masters. Crazy golf is a variation of miniature golf, where players must negotiate obstacles and swales on the course, rather than angles.
Snow golf
Played in the same way as regular golf, the only difference, as you might expect, is that the golf courses are made up of snow and ice, rather than grass. Players use regular golf equipment and coloured golf balls on purpose-designed courses, with the ultimate tournament being the annual World Ice Golf Championship in Uummannaq in Greenland. Other interesting versions of the game include target golf, where players try to hit targets on a large net in front of them, beach golf, which is a variation of the game played on sandy beaches, and urban golf, where players take on courses within urban environments like city centres, using regular clubs but soft balls.
Simulator golf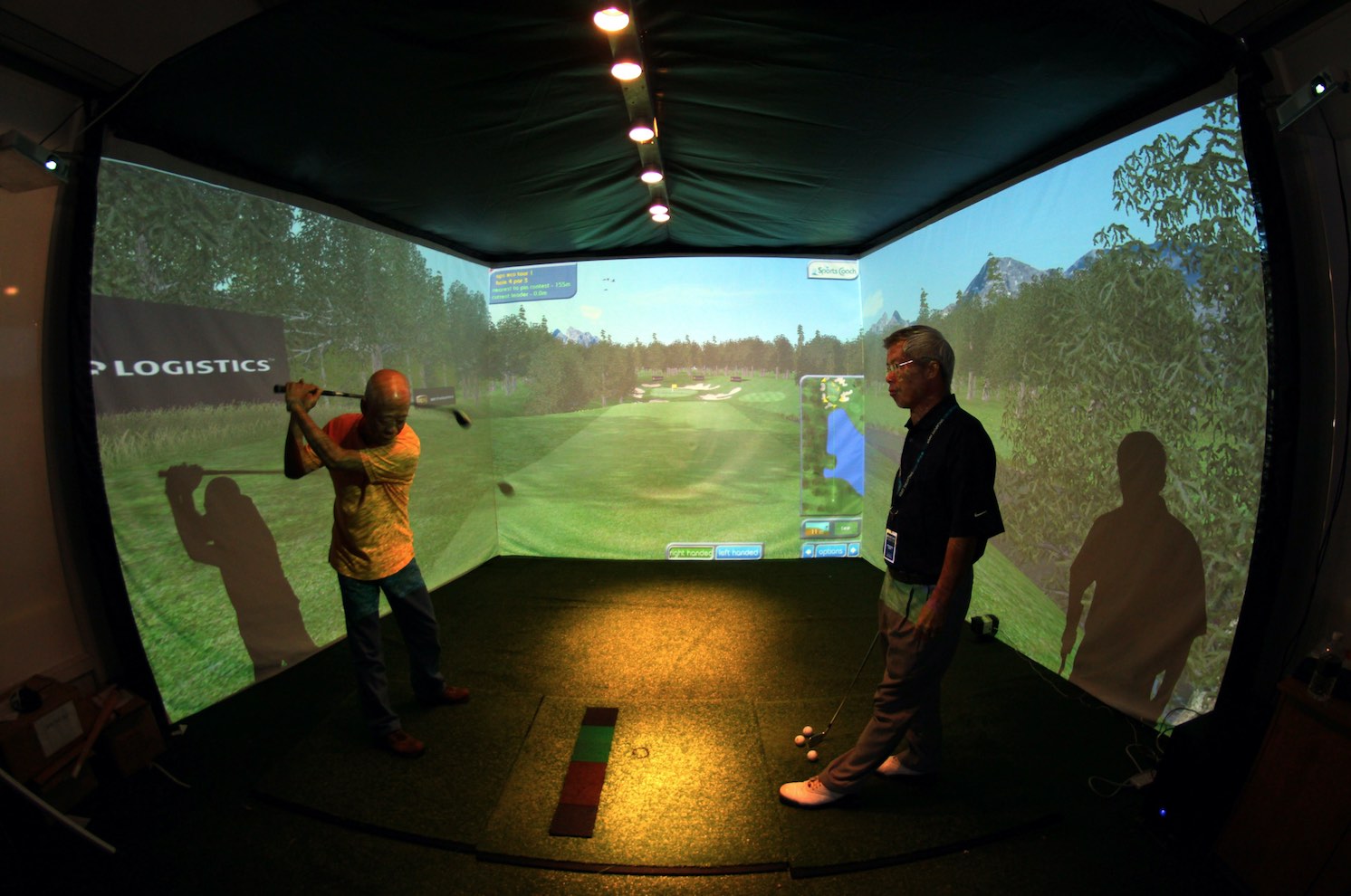 Ideal for cold, wet winters, modern simulators are remarkable pieces of machinery. Players hit into a screen, on which the golf course is projected. Ball-tracking technology then predicts the ball's flight and shows it on the screen as it enters the virtual world. Players can choose from over 100 golf courses, including some of the most famous layouts in the world. The only downside to playing on the simulator is the putting which, as one might expect, can be far from the real thing.
Pitch and putt
Originally developed in Ireland, this format of the game has golfers playing holes that are generally under 100m in length. Players typically use only two or three clubs and they have their own pitch-and-putt handicaps.
Hickory golf
Although the 2021 event was cancelled due to Covid-19, it is all systems go for the 2022 World Hickory Open Championship, an event dating back to 2004. As the name suggests, players take part with hickory-shafted golf clubs, and former Open and Masters champion Sandy Lyle is a two-time champion. The 2022 World Hickory Open Championship will be held at Royal Dornoch, Castle Stuart Golf Links and Nairn Golf Course, which should place this event on your golfing bucket list.
– This article first appeared in the January 2022 issue of Compleat Golfer magazine. Subscribe here!