Golf can be rather an expensive sport to play. From the equipment to the courses, apparel and even golf club membership, the sport can be a serious drain on your wallet. BRENDAN BARRATT takes you through golf's most expensive list.
Greenfees
While some courses are just about impossible to get onto unless you are tight with a member (think Augusta National), others are open to the general public provided you shell out a hefty fee.
And the model works, as the principles of supply and demand determine that the Old Course at St Andrews, for example, can charge visitors around £270 during the high season, which equates to around R6,500 for 18 holes at the iconic links course. Even at that price it's tricky to get yourself a tee time.
Across the Atlantic, however, things get a bit more interesting. Pebble Beach Links, for example, is open to the public, but will set you back over $600 for a round. Right now that's in the region of R11 500, which is pretty steep for five or so hours of fun.
For those looking to really splash out, you could book a round at Shadow Creek in Las Vegas. Golf here will cost over $1,000 (almost R20,000), but that's before you shell out for the hotel fee. You need to stay in one of the resort hotels to qualify for a tee time.
Clubs
The tools of your trade can get rather expensive. I mean, just kitting yourself out with the latest range of clubs can take your spending upwards of R50,000.
However, that would be a bargain compared to the Honma BERES range. Rumoured to be used by the likes of actor Jack Nicholson, the Japanese range typically sells for around $40,000 (R770,000).
The top-of-the-range set, however, will set you back a cool $58,500 – which is well over a million bucks.
The clubs are so revered that the Japanese prime minister used to give them as diplomatic gifts to foreign heads of state.
Membership
The next time you complain about the 5% increase in your subs, spare a thought for the members of The Vintage Club in Indian Wells, California, which is considered to be one of the most exclusive – and therefore expensive – clubs in the world to be a member of.
The joining fee alone is $250,000 (R4.8-million) and then you'd be expected to chip in around $32,000 (R620,000) each year for your subs.
For that price, you'd be able to tee it up alongside the likes of Bill Gates on one of the two Tom Fazio-designed layouts.
No Show
When Rory McIlroy withdrew from the RBC Heritage earlier this year, the Irishman fell foul of the PGA Tour's new playing requirements for designated events.
Since players are only allowed to miss one designated event, and McIlroy had already skipped the Sentry Tournament of Champions, he was fined 25% of his Player Impact Programme winnings. The amount: a whopping $3-million. Ouch.
Hole-In-One
Korea's In Gee Chun aced the 17th hole during this year's Chevron Championship to secure one of the biggest single-shot prizes in the world of golf – a huge $1-million.
However, the money didn't go to the three-time Major champion, as tournament sponsor Chevron had pledged to donate a million bucks for the first hole-in-one on the hole towards their partners in diversity, inclusion and education.
Whiff
In the 1983 Open Championship at Royal Birkdale, Hale Irwin played one of the most expensive air shots in history. Already a two-time US Open champion by that stage of his career, Irwin should have known better than to casually attempt to tap a short putt into the hole using the back of his putter. Unfortunately for the American, he completely whiffed it, and since he was attempting a stroke, the rules say the shot counted. To make things worse, Irwin ultimately finished one shot back of champion Tom Watson. Although it made a significant difference of around €21,000 in prize money, it robbed Irwin of the chance to add another Major to his résumé .
Shoes
Surprisingly, the price of golf shoes has tended to come down over the past few years, as manufacturers find cheaper ways to develop your spikes, while competing in a broad market.
However, according to GolfWRX, the most expensive golf shoe currently on the market is the limited-edition Jordan 11 Retro Low Golf Masters, which would set you back almost $6 000. In rand terms, that's around R115,000 for a pair of golf shoes.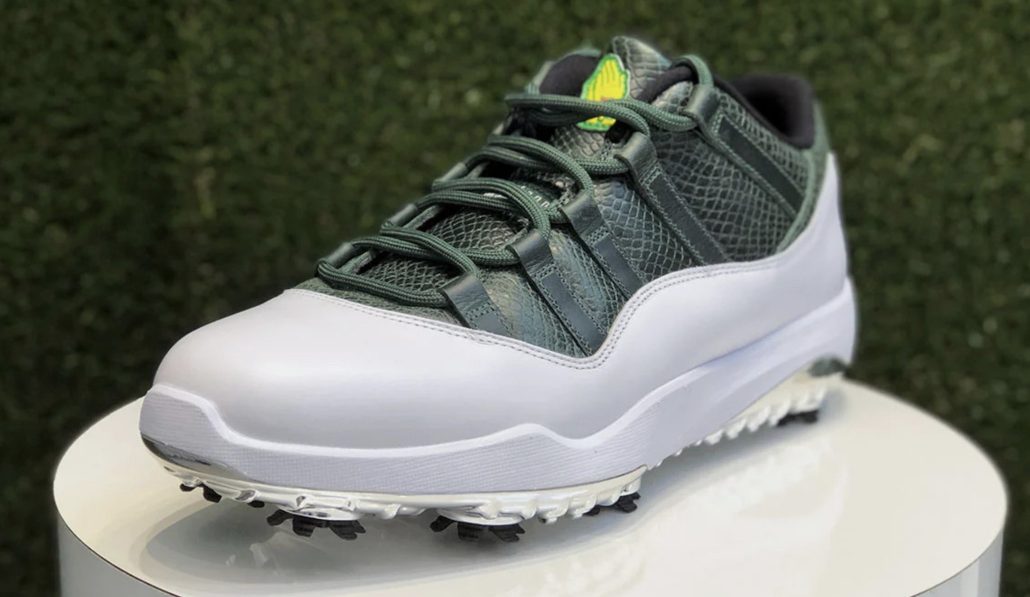 – This article first appeared in the July 2023 issue of Compleat Golfer magazine.