Many golfing prodigies have gone on to achieve fame and fortune. Sadly, there are just as many who were unable to fulfil their potential, writes BRENDAN BARRATT.
Tiger Woods
It goes without saying that arguably the greatest golfer of them all was once one of golf's greatest prodigies. At two, he made his first television appearance, alongside Bob Hope. At eight he won the first of his six World Junior Golf Championship titles and at age 15 he won the first of his three US Junior Amateurs. By the time Woods had wrapped his third consecutive US Amateur title – a feat unlikely to be matched – he was one of the most talked-about golfers on the planet. In a professional career that has seen him dominate like no other player, Woods won 15 Majors and 110 tournaments and thrilled us to our cores.
Ty Tryon
Golfing phenom Tryon's career is a cautionary tale for those parents who think their talented kids are destined for success. Winning junior events from the age of four, Tryon was spoken about as the next big thing. At 16, he qualified for the Honda Classic and made the cut, and the following year he got through Q-School to earn his full PGA Tour card before he had graduated from high school. Illness and poor form saw him lose his card and the former sensation was relegated to the mini-Tours, never to return to the big leagues.
Michelle Wie
What a talent the Hawaiian was. At 12, she won the Hawaii State Women's Open by 13 shots, at 13 she shot 66 in the third round of the LPGA Kraft Nabisco and played in the final group on Sunday. Barely a teenager, she made the cut at the US Women's Open and won the US Public Links. Then, at age 14, she played at the PGA Tour's Sony Open, against the men, and shot 68 from the men's tees. She turned pro at 15 and cashed in on massive endorsement deals as the next star in women's golf, but it's fair to argue she did not quite live up to the hype. In total, she won five LPGA Tour events, although the 2014 US Women's Open is among them.
Ryo Ishikawa
The 'Bashful Prince' burst on to the scene in 2007 when he became the youngest winner of a Japan Tour event at age 15 years and eight months. At a time when the Japanese were crying out for a superstar golfer, Ishikawa stepped up and seemed destined to be the first Japanese male to win a Major. Yet, like many before him, the results simply did not match the hype and despite winning 17 Japan Tour events, Ishikawa has faded into relative obscurity.
Ashleigh Buhai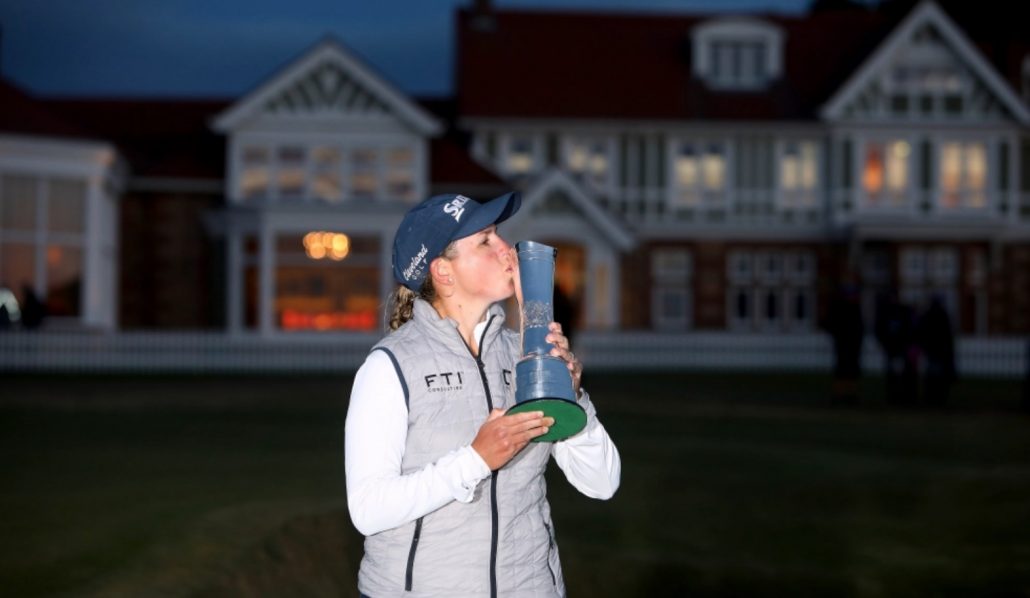 Young Ashleigh Simon, as she was known then, was our own child prodigy. As a teen she broke just about every amateur record in South Africa, including becoming the youngest player to win the Ladies South African Amateur Stroke Play and Match Play double, and the first player in 101 years to win the South African Open title three times. She turned professional when she was 18 and, despite an early win on the Ladies European Tour, she struggled to transform her amateur dominance into international success until recently winning the Women's Open, her first Major title.
Lydia Ko
New Zealander Ko burst on to the scene by winning two LPGA Tour events as an amateur, aged just 14. At 18 she won her first Major title, the 2015 Evian Championship, which kick-started a remarkable Major run where she finished first, tie-third, first, tie-third and second. Now with 17 LPGA Tour wins, including success in 2021 and 2022, Ko has come out of a bit of a slump to once again be a force to be reckoned with in women's golf.
Lexi Thompson
Thompson won the Junior PGA Championship at 12 (below) and later that year went on to become the youngest qualifier for the US Women's Open. Accustomed to breaking records, Thompson turned professional at 15, and won an LPGA Tour and Ladies European Tour event at 16. At 19, she claimed the 2014 Kraft Nabisco Championship and while many expected her to gather a collection of Majors, it remains her only one, despite many desperately close calls. Remarkably, she is only 27 and could yet fulfil her immense potential.
Honourable mentions: Sergio Garcia, Bobby Jones, Jack Nicklaus, Young Tom Morris, Guan Tianlang, Brooke Henderson, Jordan Spieth and Lev Grinberg.
– This article first appeared in the August 2022 issue of Compleat Golfer magazine. Subscribe here!