This former Western Province and Stormers rugby player talks about some of the things that make golf such an enjoyable pastime.
How long have you been playing golf? 
I have been playing since 2017 if I remember correctly. I was pretty much just thrown into the game when we played in a Stormers golf day back then. That was my first introduction to the sport.   
What do you enjoy the most about the game?
It keeps making you come back for more. It really grips you. Every round is different and you badly want to get it perfect. Just when you think today is going to be your day, golf throws you a curveball so you never truly know what to expect. 
What is your handicap?
Currently it is a 19 – we are working very hard to bring it down. 
You look like you can hit the ball a mile. What is your favourite club in the bag?
Definitely my 7-iron! I feel the club is quite versatile; it can give you a bit of distance, a bit of loft and you can use it to get out of dangerous situations.

What brand do you play with?
I play with Srixon and I absolutely love it. I play with it because Hideki Matsuyama does so. 
You stay in Cape Town. Name your three favourite courses in the area. 
It must be Pearl Valley, Pinnacle Point and Erinvale. Those three are my absolute favourites.  
Any other courses you would like to play one day, in SA or around the world?
I would really love to play Leopard Creek some time – it looks like an incredible opportunity. And then obviously courses like Augusta and St Andrews are on my bucket list.  
Your favourite golfer?
Definitely Brooks Koepka at the moment. I like the way he goes about his business, especially this year. 
What other rugby players are good golfers who you have played with?
Juan de Jongh is very good. Guys like Jano Vermaak, Steven Kitshoff and Neethling Fouché are all very handy golfers who I have played with over the years. Justin Phillips and EW Viljoen are also pretty decent.  
Who would be in your ideal fourball? Any celebrities?
I will have to go with Michael Jordan, Tom Brady and then my brother, Damian Willemse. That would be awesome. 
– This Q&A first appeared in the October 2023 issue of Compleat Golfer magazine.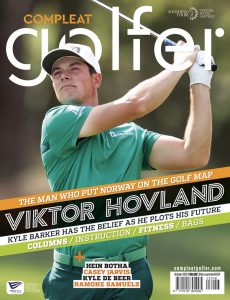 Photo: Ashley Vlotman/Gallo Images/Supplied