This racing personality and entrepreneur tells of his love for golf, some of his best moments and of golf's inclusivity.
How did the golf bug bite?
When I was 10, my best friend Grant Winter and I found a set of my uncle's left-handed Bobby Locke irons in the garage. We took the 7-iron to the garden, dug a hole 20 feet away and on my second shot I knocked it in the hole. We were both hooked. My first job was as a caddie at Milnerton Golf Club at age 11. I took a morning and afternoon bag on a Saturday and Sunday. I started my career at Mowbray Golf Club under the pro Robbie Chapman, and later taught golf as one of the head professionals at the River Club for almost eight years. 
How often do you play?
I play once or twice a month. This is usually in a fun day with friends and accompanied by a beer or two, usually at my local course Milnerton, which I still rate as one of, if not the best course in Cape Town.
What is your handicap?
I play off a four, and I was a scratch handicap at age 15. Things went downhill when I turned 18 and I acquired the chipping yips after a round with Robbie Chapman and Dale Hayes who both had the yips with their wedges. Dale was chipping one-handed and Robbie was chipping left-handed. They explained to me what the yips were. I used to be able to chip off a tar road, but after seeing this shambles I went on to chunk the very next chip and it's stuck with me for 25 years! Thanks guys. 
You're known as being competitive and also not short of banter. Does this extend to the golf course?
I live for sport and love the competitiveness and banter on and off the pitches. There are a few victims whose number I have had for years and vice versa, but nothing that isn't settled over a beer after. It's all about friendships and banter. Sport with my friends is my happy place!
Do you have any views on the PGA Tour and the LIV breakaway?
I try not to be too controversial on this as I am still a PGA member, and I see both sides pretty clearly. Part of my love for golf is the tradition of the game, and it's never easy for purists to let go of that sometimes and I respect that. I am also a believer of the term 'yolo' and controlling your own destiny. Those guys have earned their candy and I think they should be able to decide whatever they want with their own careers. Competition is good. Besides, I am a fan of playing with music and a few beers.
What are some of the best courses you have played?
I am a huge fan of links golf and played all the major courses in Ireland and Scotland. My best experience: Tralee in Ireland. My most memorable: the Old Course at St Andrews and the best golf: Kingsbarns.  Bear's Best in Atlanta was amazing, too.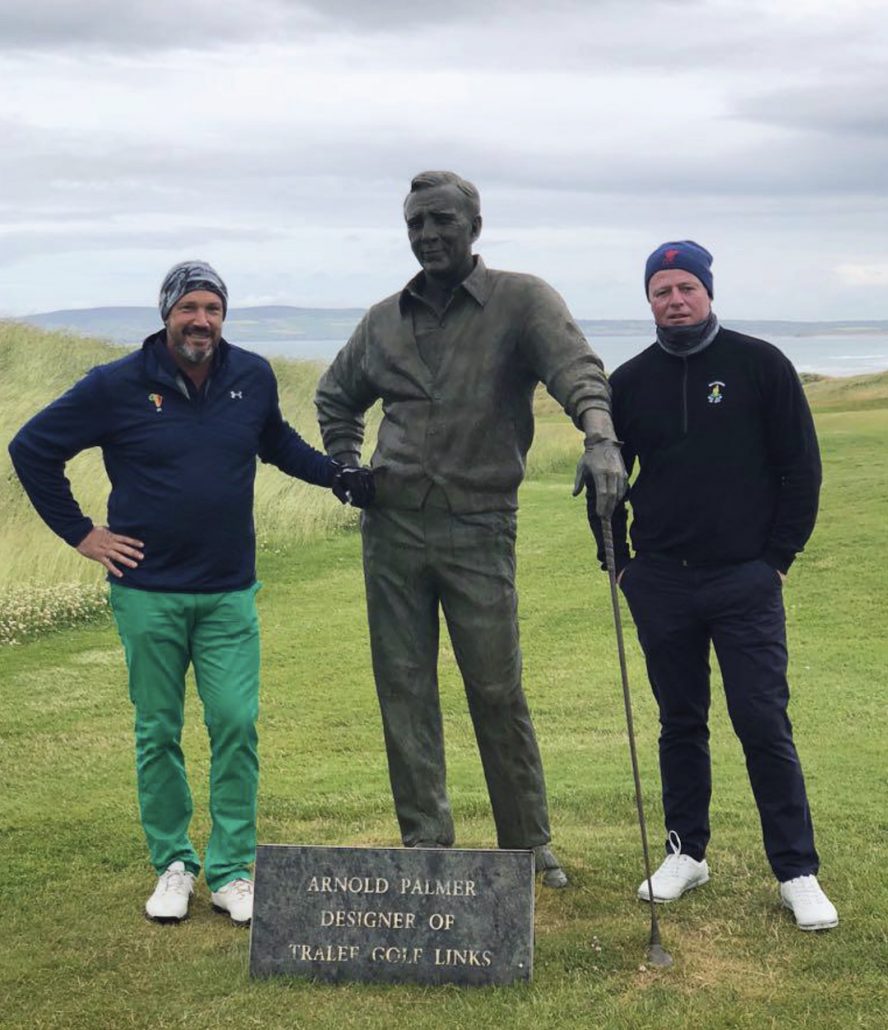 You are the racing manager for the leading women's trainer in South Africa. Have you had many owners who have played golf at a serious level?
Gary Player is a huge fan of Candice and the stable. Candice wasn't a bad golfer herself. I have fortunately got to know Gary, who was one of my idols, and not only is he one of the greatest, he's an incredible human.
In racing there is a lot of banter between rival stables and jockeys. Have you found someone to take money off on the golf course?
Mike de Kock won't love this. But I am six from six with him on the course. We always have a great game together. He is a very good golfer, and we are both competitive on the course and the race track, so it's made for some great games. Craig Kieswetter and I love a game together and have had some good ones, and Brett Crawford is always fun to play with. 
Have you ever trained a racehorse that has had a name connected to golf or a famous golfer?
I have tried to name a few after golf courses. One that springs to mind was Hogans Alley. He was hopeless in Cape Town. We sent him to Namibia and he won nine on the trot including their Vodacom Durban July equivalent by nine lengths. Augusta Green was average. I have just reserved the names Amen Corner, Walter Hagen and Swilcan Bridge. Hopefully they will buck the trend.
What is the strength of your game and what is your weakness?
My strength is probably my distance, but it's also my weakness. I have always been a long hitter. My iron play is always pretty solid too. I feel like I'm on a murder trial with a wedge in my hand, so that's a clear winner for the worst club.
How has your swing changed since you were in your 20s?
I have definitely shortened it, and slowed it down over the years. Injury has played a big part. But I actually prefer my swing now to when I was a wild teenager. I don't enjoy the aches and pains my knees have brought me of late, though. When you are a young lad trying to make it on Tour the pressure is terrorising. My swing is a lot more relaxed and my tempo is better now knowing that I don't have to chip it close to put food in my mouth!
If you could choose a fourball to spend the day with, who would they be?
First up, Ernie – the love never dies! My dad Mike, because he's a legend and a demon under pressure. And Shakira, I wouldn't mind giving her a golf lesson or selling her a horse and she's now single so she's got the time to play golf.
Who would be the best golfers that you have played with – and the worst?
Most talented? Andrew Plunkett. Those who knew, know. Ernie, Gary Player and Trevor Immelman are the best. Worst? Myself the first time I played with Gary. The moment was too big for me and I hit it three yards off the first tee with a three-deep crowd!
– This Q&A first appeared in the May 2023 issue of Compleat Golfer magazine.