PGA professional GRANT HEPBURN demonstrates how to create a smoother putting stroke.
Putting can be one of the most frustrating or rewarding parts of the game – depending on how well you have done with the shortest club in your bag. To improve as a player, you need to become more consistent on the greens, rather than rely on a 'hot putter'.
This month's instruction is centred around creating a smoother putting stroke, which is a great way to improve your strike off the putterhead and therefore the control of your pace and line.
To improve your putting strike, it is important to understand how crucial it is to keep your head and knees still during your stroke. Amateurs often try to steer the ball with their eyes – coming out of the stroke quickly to see where the ball is going. Unfortunately, this moves the body out of position and often ends up causing the putterface to close or open at impact – a sure way to miss any putt.
Getting it right
In the correct sequence, you can see how my head and my lower body remain still during the putting stroke. There is a small amount of wrist action during my putting stroke, but mostly the stroke is created through the rocking of my shoulders as I look to create a pendulum-like swing.
Keeping things smooth and steady during the putting stroke goes a long way towards keeping my body square and my head still through the stroke. In other words, I stay in my posture until well after the putter has made contact with the ball.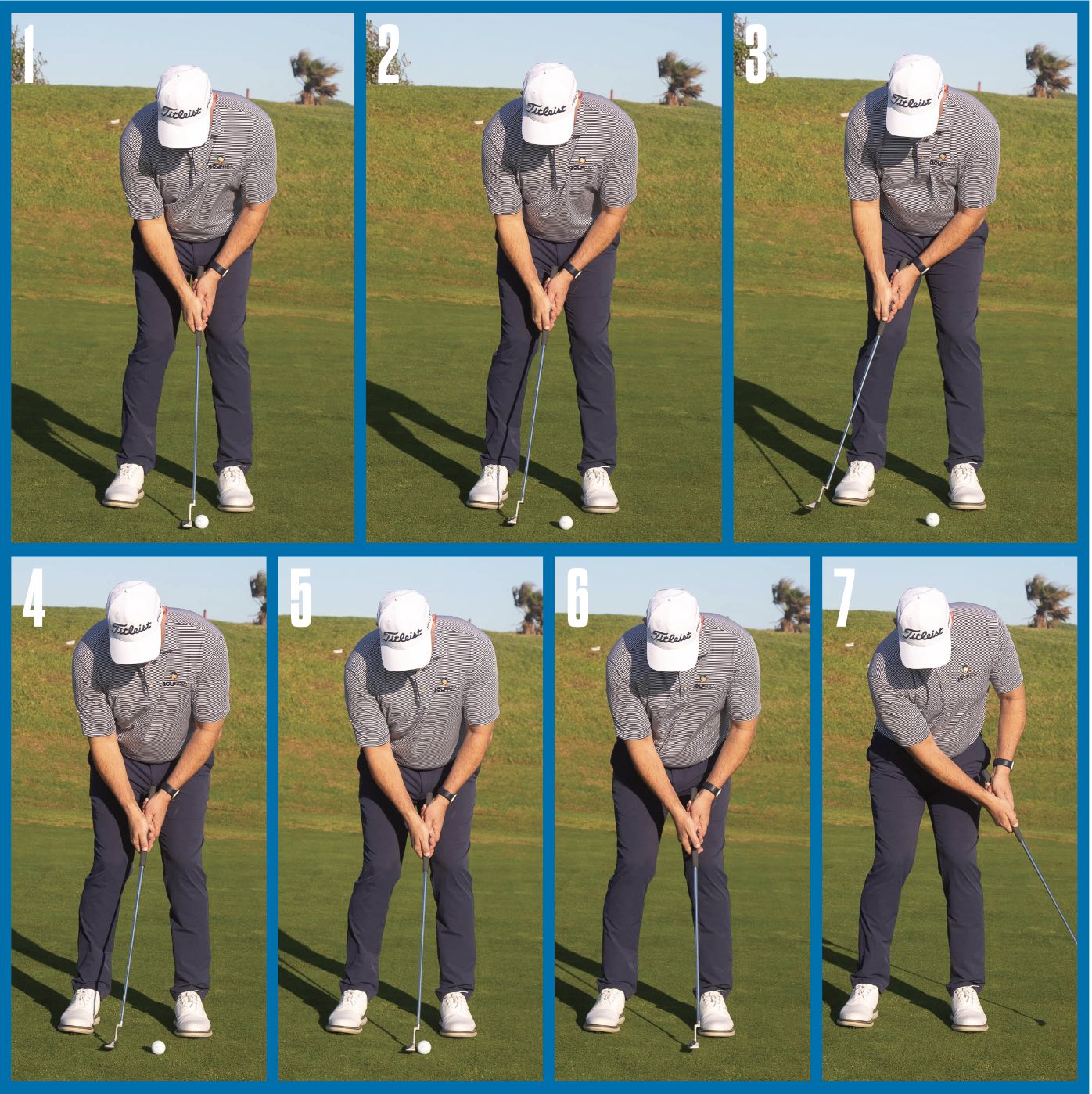 Getting it wrong – head movement
Moving your head – in many cases lifting it early to see where the putt goes – is a very common fault with amateur golfers. When you do it, you tend to come out of your stance early, which throws your putt off.
In this sequence, notice how my head has moved early to follow the ball. More often than not, that causes your upper body and chest to change position and that easily throws the putting stroke off into a different direction, causing putts to start on a different path to what was intended. That invariably leads to inconsistency.
Getting it wrong – lower body movement
Another common fault I see in ammies is an overactive lower body during the putting stroke. Ideally, you want to keep your legs and hips still, so as to encourage the natural pendulum stroke of the shoulders.
As you can see in the sequence, I have driven my legs forward in the swing, resulting in a change to the direction and strength of the putting stroke. The result is likely that the speed that you were planning to hit the ball at is changed and the path of the stroke will be altered.
Putting is an action that requires precision and not power so leg movement is not ideal. To eliminate leg movement, try to keep your knees still, as this is the area that causes the most movement in the legs if they are not rock solid.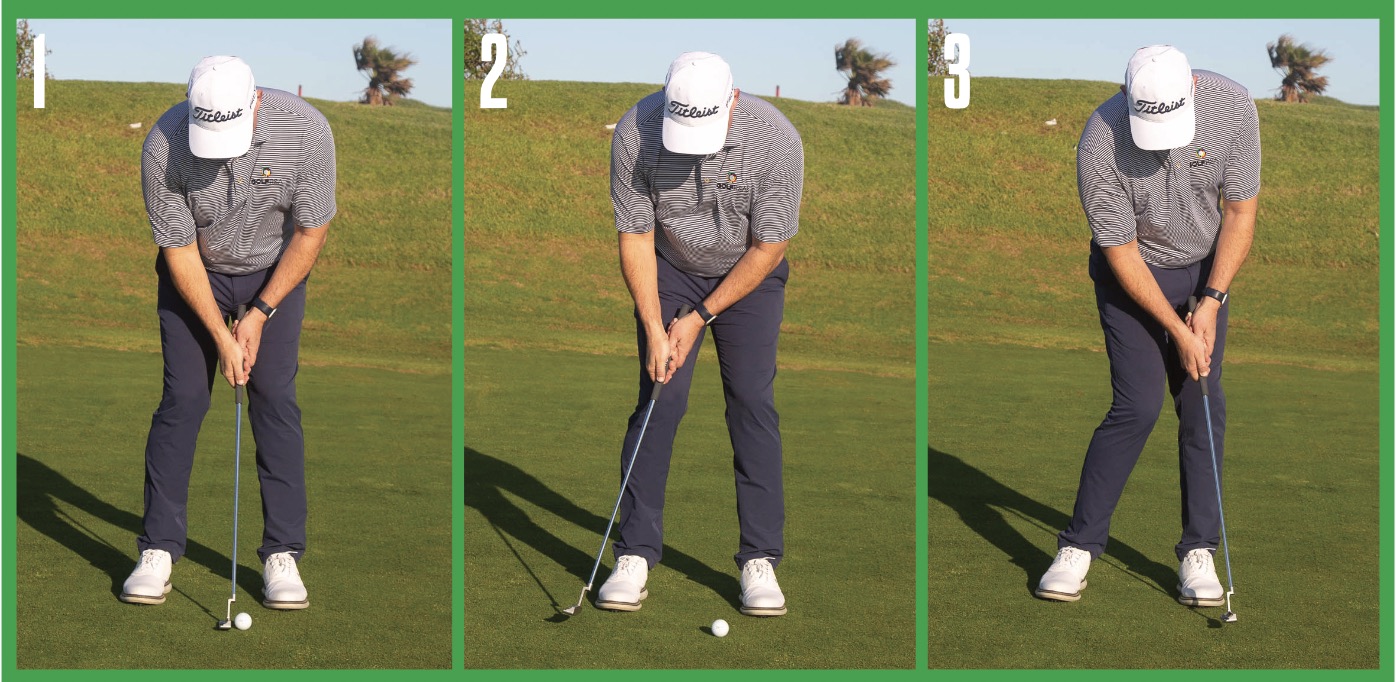 The drill
In this drill I want you to get a feel for a quiet head and absolutely still lower body during the putting stroke. Start by placing a club under your arms, tucked under the elbows, as I have done in the sequence.
With your hands together – you could even hold on to a putter to simulate a putting stroke here – complete the forwards-backwards motion of a putt on repeat, ensuring that your head and knees stay perfectly still.
All of your focus while doing this backwards and forwards motion should be on how still you can keep your head and knees.
Once you have mastered this, it is time to practise your putting and incorporate this into your putting stroke.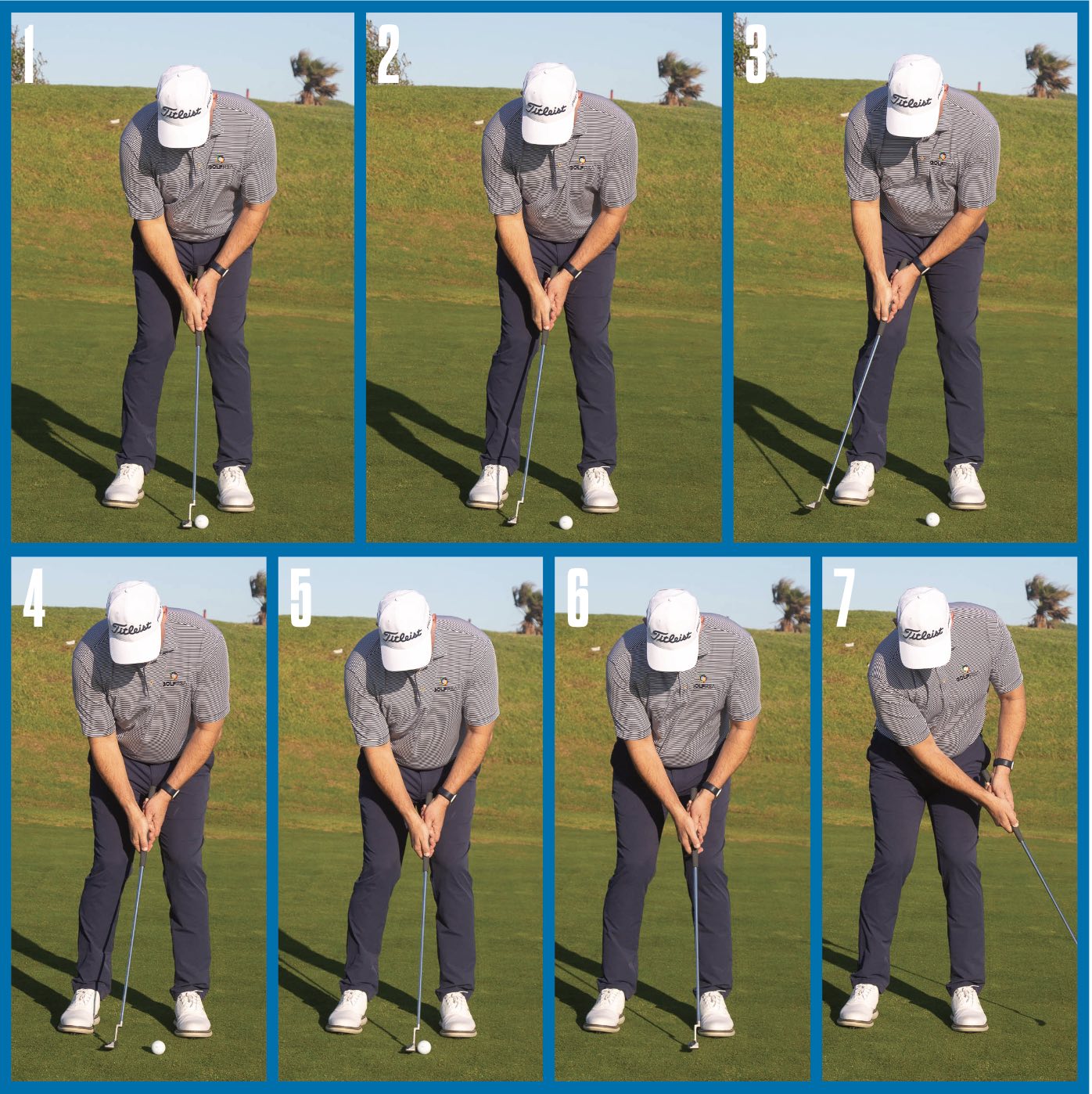 – This article first appeared in the October 2023 issue of Compleat Golfer magazine.