Former Miss World Rolene Strauss speaks about her enjoyment of golf, the best courses she has played on and why golf is a sport that can be played late into life.
How and where did your love for golf start?
I come from a very sporty family. My mom, my father and my brother all play golf so we basically never went on holidays without going to a place where we could all play golf. At first, I was just the one who drove the golf cart and then I realised if I really want to be part of this family I would have to start playing. Then it all started very socially every now and then but when I moved to Paarl and I joined Pearl Valley Golf Estate, it started to become more regular. I want to play more than I do but I really love it and I think it is something that I will be able to do with my two boys as well.
How often do you get to play golf?
For the past couple of months I try to do it at least twice a month, which is sometimes difficult, but I keep my golf gear in the boot of my car so if I have some time I can just go to the driving range. Funny thing, I saw that an hour in the gym equals an hour on the driving range according to my Apple watch. So it is such a lovely thing to do, you know, to get a bit of a workout in and to practise those clubs that you struggle with.
What is it about golf that you enjoy the most?
I think it is the fact that you have something in common with whoever you play with and that opens a lot of doors for communication. It's almost like you get a hot relationship and a cold relationship. With golf, it immediately becomes a hot relationship and it is something you can do until you are 80 years old if you want to. With the handicap system, the playing field is level and you can play against anyone. If you are competitive you can do it in a competitive way. There is just so much about golf that is to be enjoyed and that is beneficial through so many different areas of your life.
What is it about Pearl Valley that you like the most?
The course is just paradise! Obviously, I don't like all the bunkers and all the water but it is just so beautiful and it is a way of getting closer to nature as well, to appreciate the environment that you're in. If you take in the view of the mountains and everything around you, even if the golf is bad, you are still in a good mood after you play Pearl Valley.
Have you been able to play any other courses across South Africa?
I have also played Paarl Golf Club a few times. I have played De Zalze as well in Stellenbosch and then we usually go to Mossel Bay for the December holidays so we often play Mossel Bay, Pinnacle Point and Oubaai as well.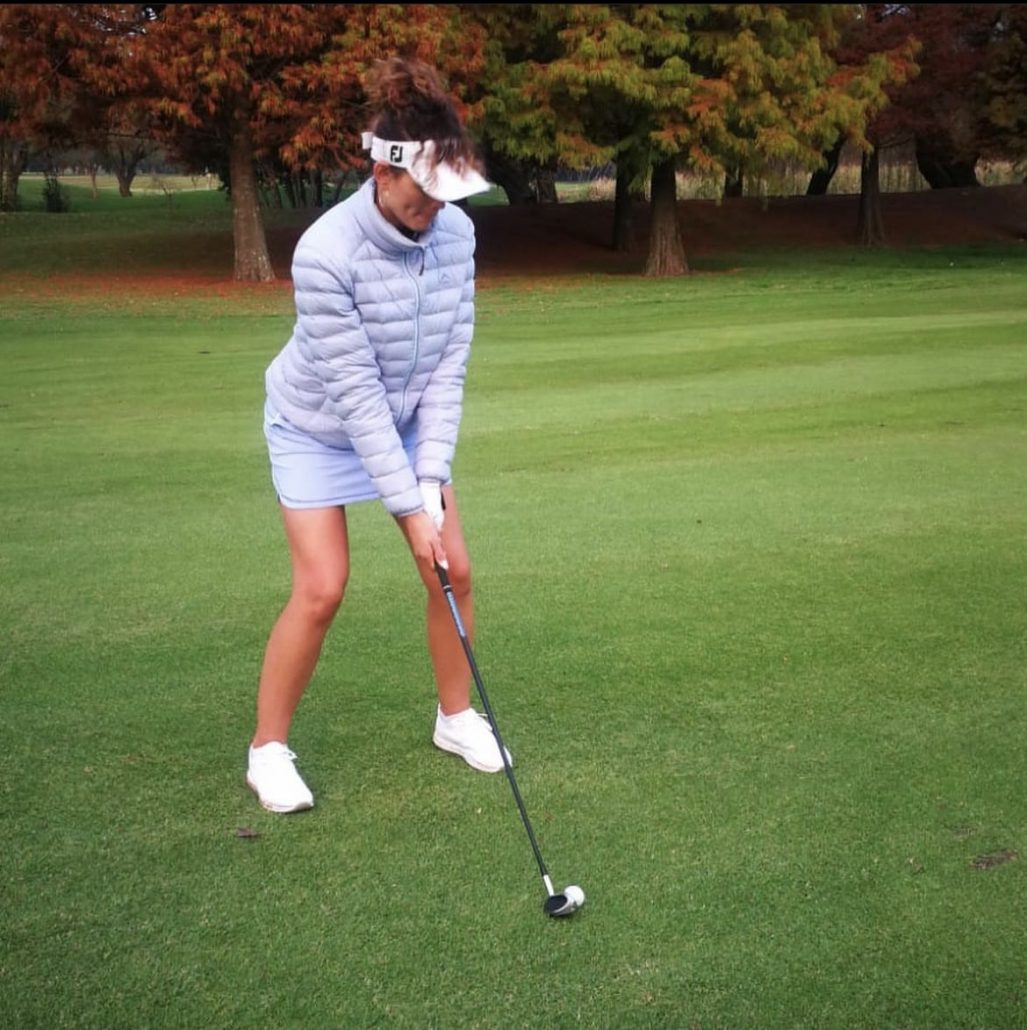 Which one of the courses has been the most challenging?
Pinnacle Point! Especially if the wind is strong on the day.
If you have to pick your ideal celebrity four-ball, who would be in it?
Obviously, Ernie Els would be an amazing one to play golf with. I also played at a golf day with Lee-Anne Pace once at Pearl Valley but we weren't in the same fourball. If Oprah Winfrey played golf, that would be great. Kate Middleton would be another one.
Which of the international golf courses do you want to play?
My dad loves travelling and playing golf. One of his favourites is the Old Course at St Andrews and he has quite a lot of St Andrews shirts and things so I would love to play there with him, my brother and my mom. That would be a very big dream come true.
What is your favourite golf club in the bag?
I have a handicap index of around 20 to 21 and my go-to club is my 7-iron. I can do anything with my 7-iron; I can punch it out of the woods and basically use it as any recovery. I also like to use my driver. I hit a long ball so it is nice when it comes right with my driver.
Any special golf days that you have been part of?
Earlier this year I played at the Standard Bank Ladies Pro-Am Series, which was such an incredible day with amazing women playing golf together. My husband and I also enjoy playing a late nine on a Sunday afternoon when the kids are taking naps. Usually, it is much quieter then and the field isn't as rushed.
– Strauss is a model, author and public speaker and in 2014 she became only the third South African to be crowned Miss World. She is also the chairperson of the non-profit organisation The Strauss Foundation.
– This article first appeared in the January 2023 issue of Compleat Golfer magazine.