The newly-crowned Nedbank Junior Challenge champion and the reigning Nomads SA Boys U19 Match Play and Nomads SA Under15 Challenge champions are among 10 players who have been inducted into the Men's National Squad as GolfRSA continues to identify and develop the country's most promising amateur golfers.
Joining the Class of 2023 are Altin van der Merwe, Jordan Burnand, Simon du Plooy and Ivan Verster, who campaign on the Open Amateur circuit, and juniors Keagan Crosbie, Pearce Lewin, Bryan Newman, Devon Valentine, Benjamin Weber and Roelof Craig.
The highly successful National Squad programme is aimed at producing players capable of representing South Africa and to ensure that when players opt to turn professional, they are adequately prepared for the challenges or pro golf.
"We are incredibly excited to welcome this new crop of very talented golfers to the National Squad and we look forward to giving them the tools to further their careers," said GolfRSA CEO Grant Hepburn.
Ernie Els and Fancourt Foundation member Van der Merwe recently triumphed with back-to-back victories in Boland Stroke Play and Western Province Amateur Championships, while fellow Western Province golfer Lewin lifted the prestigious Nomads SA Boys U19 Match Play title at Pecanwood in March.
Burnand, who captained Ekurhuleni to three successive SA U19 Inter-Provincial victories, has racked up six top 10 finishes this season, including third in the Northern Cape Open at Sishen Golf Club, where Du Plooy from Central Gauteng finished in the winner's circle.
Former Louis Oosthuizen Junior Golf Academy member Verster from Southern Cape – a two-time winner on the GolfRSA Junior circuit in 2022 – won the 2022 Bobby Locke Open and quicky rose into the top 20 of the Open Amateur Rankings.
Three of this year's junior inductees hold No 1 positions in the various GolfRSA age-group Junior Rankings.
Crosbie from Gauteng North leads the U19 standings, while Weber from Border, who won the 2023 Nomads SA U15 Challenge, tops the U15 standings. Newman won the 2023 Scottish Boys U16 Championship in April and two weeks later, the 15-year-old from North West lifted the 2023 Nedbank Junior Challenge title with a new tournament record of five-under-par 211 at the Gary Player Country Club. He tops the U17 rankings.
Valentine was the top scorer for victorious Eastern Province in the promotion battle at the 2022 SA U19 Inter-Provincial. The South African Golf Development Board member finished third in the Nomads SA Junior International in March and is 15th in the U19 Rankings following a tie for 13th at Sun City.
Former U15 No 1 Craig from Gauteng North has made a seamless transition into the U17 age group and is currently ranked fourth.
"The National Squad system is a conduit for talented golfers to further develop their skills and test themselves through local and international competition," Hepburn said.
"Since the national squad system launched in 2015 members of both squads have excelled on the national and international stage, and beyond in the pro ranks.
"Thanks to the funding of businessman and GolfRSA board of directors chairman Johann Rupert, players in the GolfRSA National Squad system are supported in all facets of the game as they progress through the amateur ranks, including funding, fitness and dietary guidance and training, mental fortitude counselling, and playing opportunities at home and abroad.
"We are extremely privileged to have such depth of talent coming through the system in South Africa. Thanks to the comprehensive groundwork laid by our golf clubs, unions, coaches and academies, we are able to bring the next wave of rising stars on board as older members of the squad graduate out of our squads."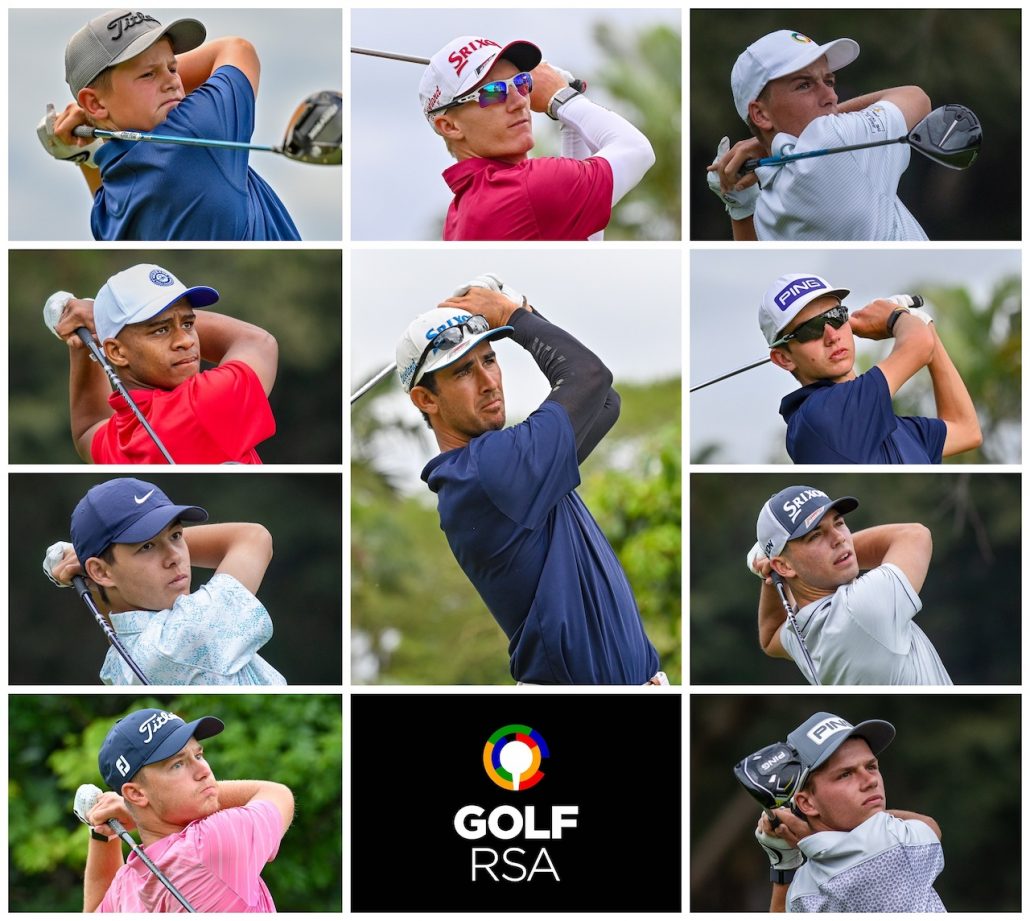 2023 National Men's Squad (*2023 inductees)
Aldrich Potgieter (Pinnacle Point Estate)
*Altin vd Merwe (Bellville Golf Club)
Amilkar Bhana (Country Club Johannesburg)
*Ben Weber (East London Golf Club)
*Bryan Newman (Pecanwood Golf & Country Club)
Christiaan Maas (Pretoria Country Club)
Christo Lamprecht (Pinnacle Point Estate)
Christopher Bagnall (State Mines Country Club)
Cole Stevens (Parkview Golf Club)
Daniel Bennett (Silver Lakes Golf & Wildlife Estate)
*Devon Valentine (Wedgewood Golf Club)
Dylan Kayne (Pearl Valley Golf Estate & Spa)
Fabrizio de Abreu (Woodhill Estate & Country Club)
*Ivan Verster (Pinnacle Point Estate)
Jack Buchanan (Milnerton Golf Club)
Jaden Deltel (Bryanston Country Club)
Janko vd Merwe (Magaliespark Country Club)
Johndre Ludick (Uitenhage Golf Club)
*Jordan Burnand (Ebotse Golf & Country Estate)
Jordan Wessels (Mooi Nooi Golf Club)
*Keagan Crosbie (Centurion Country Club)
Kieron van Wyk (CMR Golf Club)
Marno Lange (Serengeti Estates)
Nash de Klerk (Pecanwood Golf & Country Club)
Pascal Gunther (Bryanston Country Club)
*Pearce Lewin (Steenberg Golf Club)
*Roelof Craig (Silver Lakes Golf & Wildlife Estate)
*Simon du Plooy (Krugersdorp Golf Club)
Tyran Snyders (Durbanville Golf Club)
Vuyisani Makama (Country Club Johannesburg)
Zinan Maimane (Silver Lakes Golf & Wildlife Estate)