Sunshine Tour professionals Callum Mowat and Martin Rohwer challenged Sharks flyhalf Jordan Chait to a golf-vs-rugby competition on the hallowed turf of the Kings Park on Wednesday.
From various positions on the field, the golfers had three opportunities to chip through the rugby poles and Chait had to match this with a place kick. Then the golfers had to chip one-handed while Chait had to drop-kick from the same position.
It was a challenge the golfers won, with Mowat scoring a flawless 6/6, and Chait and Rohwer sharing second place with scores of 4/6.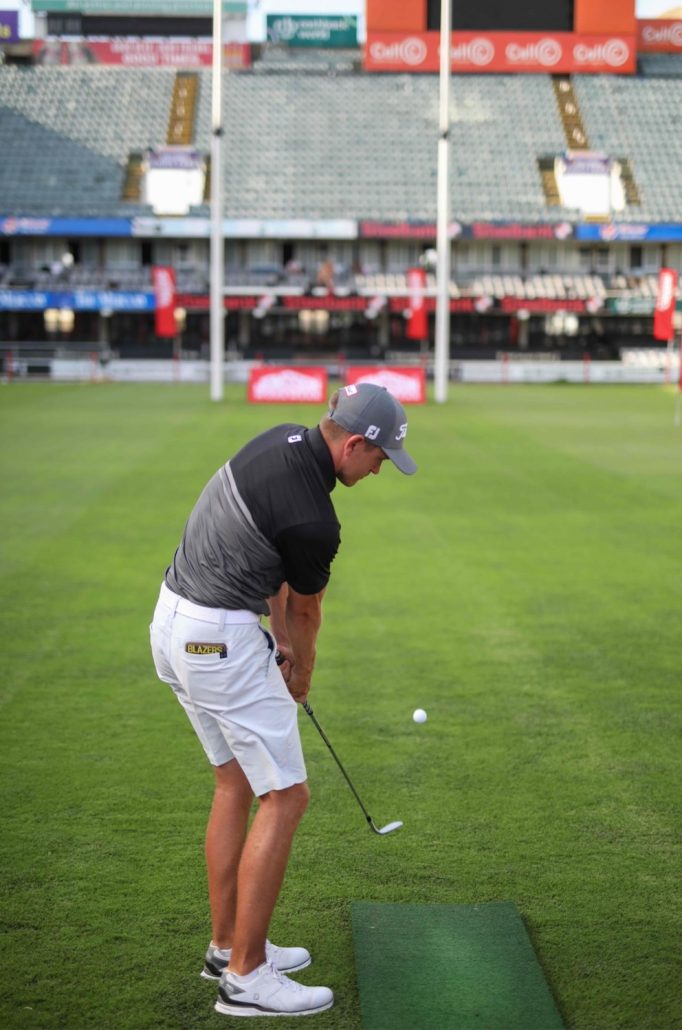 "It was an unbelievable experience," said Chait. "I love my golf and I follow most of these Sunshine Tour professionals. It's unbelievable what these guys can do with a golf ball. You know, we've got to kick a ball around on a rugby field, but the mental side in professional golf is a whole other ball game. I've got a lot of respect for that."
And in his opinion, the approach of both place-kickers in rugby and professional golfers is very similar, especially when it comes to the different styles, techniques and mental strategies.
"In rugby, place-kickers all have a different kicking style. I think it's just about finding what is right for you, drilling that in and making it the best for you. Some kickers are very straight on, while others like a Dan Carter come around the corner and almost kick like a soccer kick.
"You see some very funny run-ups while others are very simple. At the end of the day, it's about what works for you and being very consistent with your technique. I think golf and place-kicking are very similar in that it is very mental and you've got to believe that you can put the ball where you want it to be."
However, it appears a lot easier to move from rugby to golf than the other way around. In a friendly competition after the main challenge, Chait outscored the golfers with his chips, and then was kind enough to give them a few pointers on place-kicking and drop-kicking.
The $250,000 Jonsson Workwear Open is a Sunshine Tour and Challenge Tour co-sanctioned tournament that will be played at both the Durban Country Club and Mount Edgecombe Country Club golf courses from Thursday to Sunday, with the final two rounds played solely at Durban Country Club.