Jon Rahm, Justin Rose and Sergio Garcia share their thoughts after the call was finally made to delay the playing of the Ryder Cup by a year due to the coronavirus pandemic.
READ: Harrington okay with Ryder Cup delay
READ: Ryder Cup postponement confirmed
Rahm, who famously beat Tiger Woods in the Sunday singles at Le Golf National, thinks that the right call was made for all parties to only play the biennial event with fans in attendance.
'I'm not that disappointed, because I've said it right away, when the quarantine and the whole outbreak started, if you can't play the Ryder Cup with fans, I don't want to play,' he said.
'It's not the Ryder Cup, it's something else.
'So, I believe the Ryder Cup being as big of an event as it is, being one of the biggest sporting events in the world, being such a big influence in the community of golf and hopefully making golf reach different people and getting new players in the game, it's important that it's done the way that it's supposed to be done. I think the venue deserves it, and both the European Tour and the PGA of America deserve to have the Ryder Cup run the way it's supposed to be.
'And the fans deserve it.'
Justin Rose echoed those thoughts even if he wasn't entirely against playing the blockbuster Europe vs USA match without fans.
'I think for the Ryder Cup the fans do make that tournament,' he said.
'I wasn't against playing without fans just based on the fact that I still think there could have been a lot of intensity between the players, but the Ryder Cup is about the crowd.
'It's the right call. As a European I think it would have been an advantage clearly to have played with no crowd, but I think it's not about that, right. The Ryder Cup isn't about that. I think it's about a spectacle and I think the Ryder Cup is actually one of the events that we do have that's bigger than the game of golf, attracts sports fans, so therefore I think it's important to do it the right way.'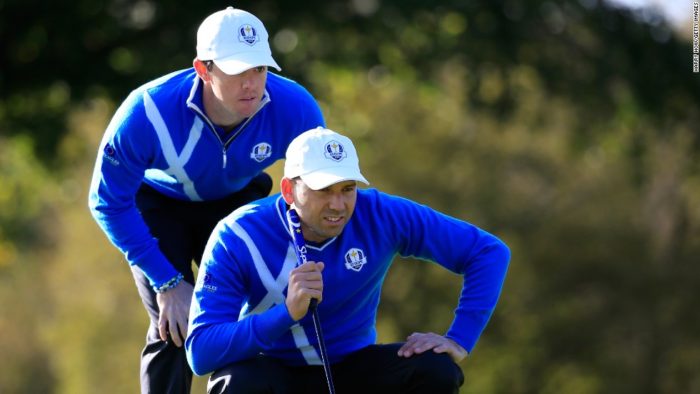 While disappointed, Spain's Sergio Garcia thinks the reasons behind the postponed validated the decision.
'It's a shame,' said Garcia.
'It's obviously disappointing, but at the same time, it's obviously understandable. There are some things that are more important than Ryder Cups. You have to respect this decision. There are a lot of bad things happening in the world and you have to settle everything down or you're putting more people at risk. And a Ryder Cup without crowds is not a Ryder Cup. And a Ryder Cup with fans would potentially create a dangerous spike.'