The 43rd Ryder Cup gets under way on Friday at the Whistling Straits Golf Course in Wisconsin. These are the holes to keep an eye on …
4th
Par 4, 489 yards
Large mounds down the left side might entice players to favour this side, but shots in that direction face bunkers and dunes and a drop-off to Lake Michigan. The fairway tumbles left out of view right where most shots would land. The windy hole along the shore teases you with sightlines to grass when the better play often requires aiming elsewhere. It's a mid-iron or long-iron into a slightly elevated green hanging on the edge of a bluff. Par could win the hole.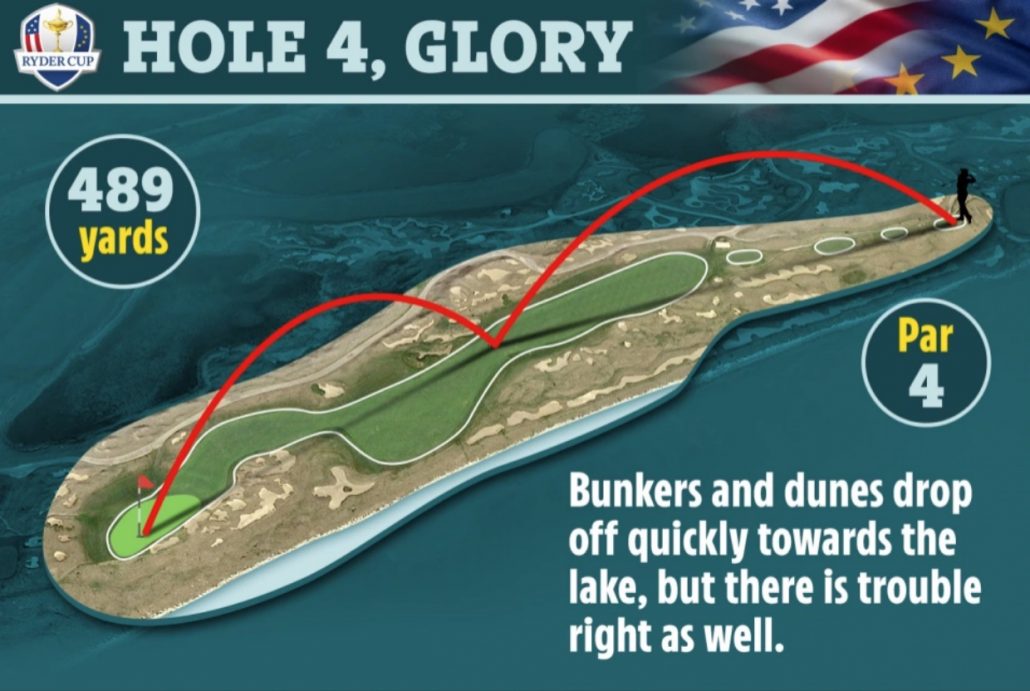 13th
Par 4, 404 yards
Fairway slopes left to right and downhill for the final 125 yards, so a downwind blast off the tee could reach the green and US captain Steve Stricker could shift the tee location to make it more possible. Trailing teams might take a chance here. The safer play is left to set up a short approach into a narrow green on a cliff above Lake Michigan, with anything right lost to the steep bluffs above the water.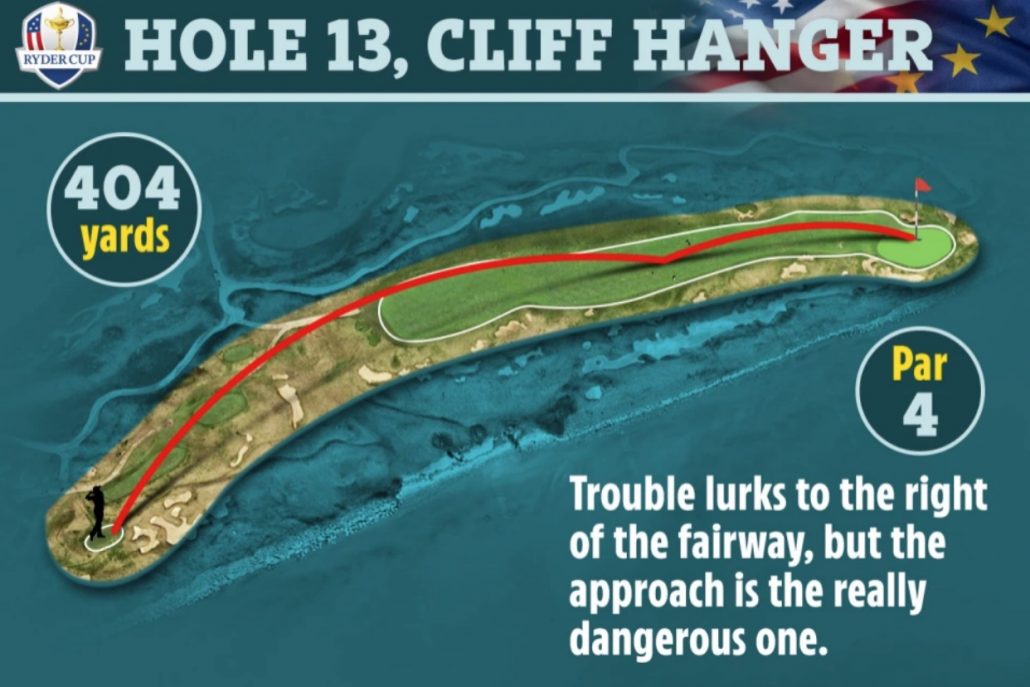 14th
Par 4, 396 yards
Severe dogleg left. The brave could avoid the bunkers and try a 315-yard blast to somewhere near the green, but it would likely take a Bryson DeChambeau, Dustin Johnson or Rory McIlroy to pull it off. Stricker could move up the tee area to make the risk-reward more enticing. The far right side offers deep fescue. The shortcut left has a huge bunker to try and clear. The undulating green offers no likely escape for those who miss it and a back left drop-off. Could see major moves here even if all play it safe.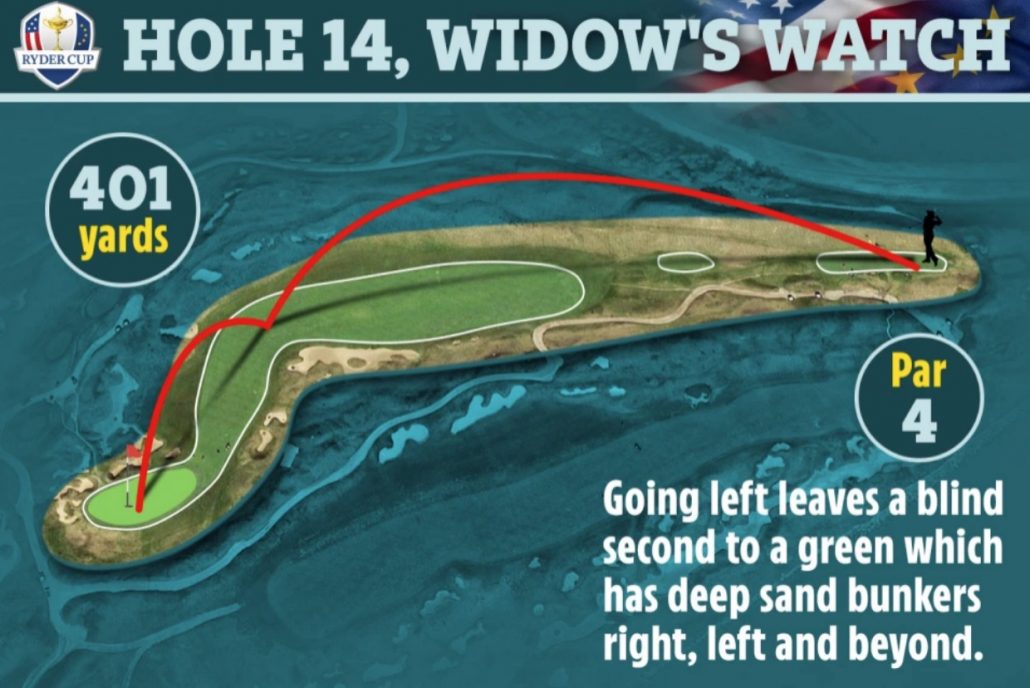 16th
Par 5, 569 yards
The shortest par-five hole could be reachable in two if one is willing to risk the driver off the tee. But the fairway is pinched by a long drop-off to Lake Michigan to the left and bunkers to the right. There's a forced carry-over dunes and bunkers to reach the green in two with a bail outright. That leaves a short wedge to an elevated green with sky and water awaiting the errant long blast.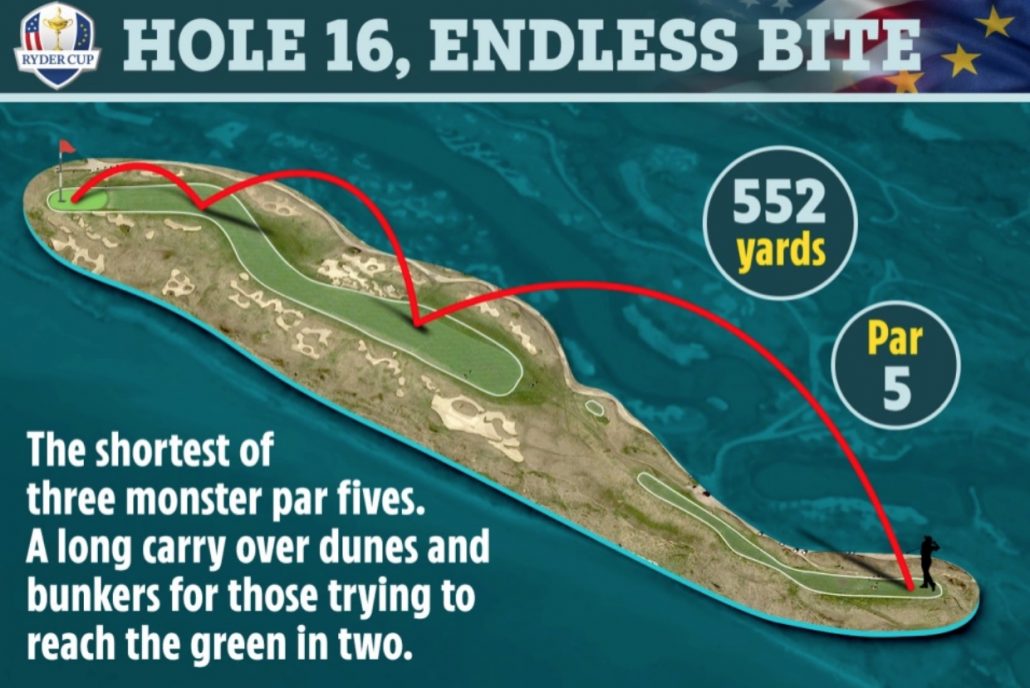 17th
Par 3, 223 yards
If a match gets this far, players get a green on the edge of a cliff above the lake. Misses left get huge bunkers and sand dunes 20 feet below. If players go right they must clear 40 yards of sand dune and face a hillside full of bunkers. Great view. Great challenge.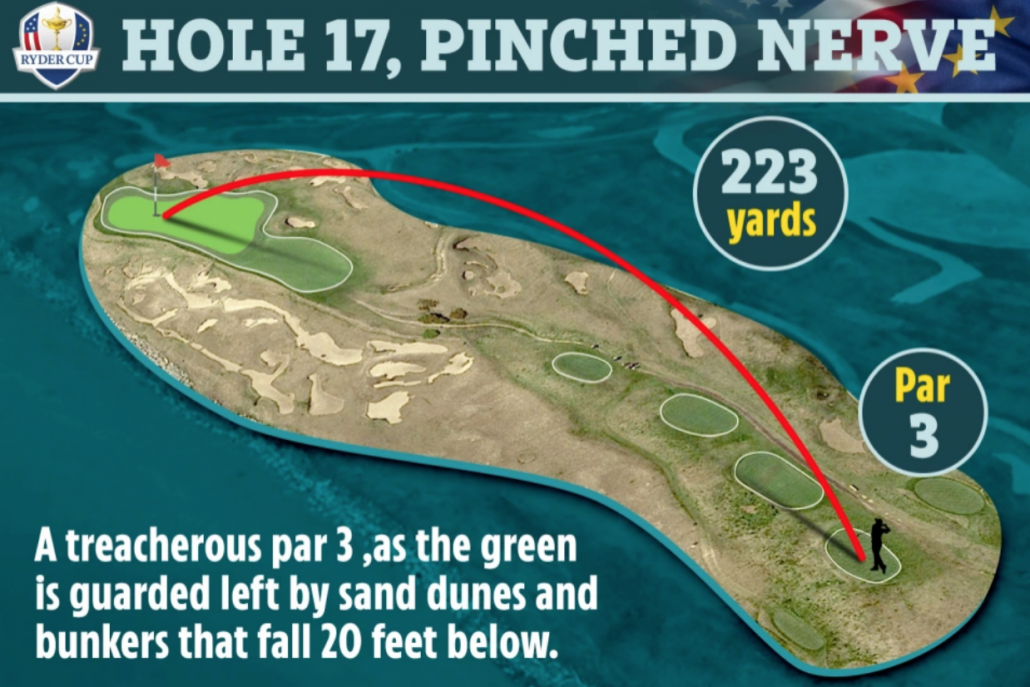 Graphics: The Sun