The second men's Major of 2019 has come around quickly, and New York plays host to a rescheduled PGA Championship.
The sign bolted to the railing in front of the 1st tee adds to the intimidation factor. 'WARNING: The Black Course
Is An Extremely Difficult Course Which We Recommend Only For Highly Skilled Golfers,' it reads. Welcome to Bethpage State Park Golf Course, one of the most popular golfing destinations in the US, situated in New York's Long Island region.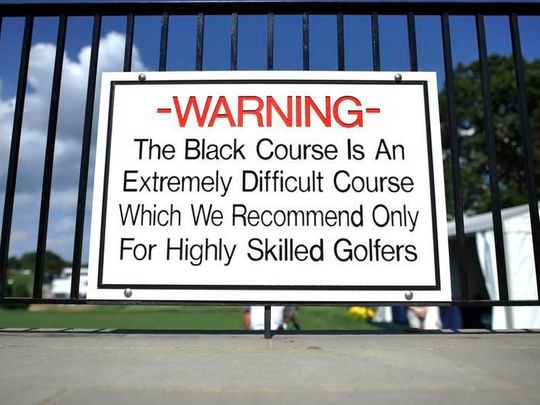 There are five 18-hole courses that fall under the Bethpage State umbrella, all of them open to the public, but the Black Course is unquestionably the toughest, and always makes the annual list of most difficult courses to play in the US. It will also host a Major for only the third time in its history when the 101st PGA Championship is staged there, having seen two previous US Opens.
In terms of scoring, when Tiger Woods captured the 2002 US Open, the eighth Major of his career at that stage, he was the only golfer to finish in red figures on three-under 277 (par 70). Seven years later, Lucas Glover claimed his only Major title when he put together a four-under 276, in a week where five golfers broke par.
That was mainly because of the rain that lashed down around the event, taking it into the Monday, and leaving Sports Illustrated to report, 'For most of the week, heavy rains softened the course and robbed the championship of definition. In fact, Bethpage was so defenceless that 60 under-par scores were posted, 34 more than the field registered in 2002.' Despite that, only Glover, Ricky Barnes, David Duval, Phil Mickelson and Ross Fisher broke par.
One expects normal service to be resumed for the 2019 PGA Championship. This means patience will be the watchword, and anyone who goes under par over the 72 holes should have a chance of taking home the Wanamaker Trophy, the biggest of all four men's Major trophies at 71cm and weighing 12kg.
The course is not for the faint-hearted, as John Moore wrote on golfadvisor.com. 'You know what you're getting here… go with proper expectations, expect to take six hours, expect to have your golf game made to look like a beginner's, and expect to feel beat up when you leave.' In his bio, the reviewer says, 'I play courses and I write about them. I've played 286 golf courses in 23 US states and Ontario, Canada'.
Sometimes it takes the opinion of an 'Ordinary Joe' to bring home to the casual golfer just how good the professionals are.
A course playing 7 468 yards (6 829m) from the tips, where a handful of pros will break par, is going to test the best games – and the best mindsets.
When it comes to South Africans at this Major, it hasn't been the most profitable down the years. In fact, it's 47 years since Gary Player won the second of his two PGA Championship titles in 1972 (the other being in 1962), and that matches up against five Masters, five US Opens and 10 Open Championships won by South Africans. However, Louis Oosthuizen finished in a tie for second in 2017 after making a bogey at his last hole, leaving him only the third golfer in history – alongside Jack Nicklaus and Greg Norman – to have the 'Grand Slam' of second-place finishes at the Majors.
However, Oosthuizen, who is again back in the top 20 of the World Rankings, does have one Major victory to his name – the 2010 Open Championship. After adding to his collection of near-misses, he made light of the situation by lip-syncing Andra Day's version of 'Rise Up' on the flight back to Florida with his family, a clip that was uploaded to Twitter where it went viral in a matter of hours.
Apart from Oosthuizen's heroics that week two years ago, there were celebrations around Mickelson and Ernie Els playing at their 100th Majors, although neither made the weekend, with the former shooting 79 and 74 for 153 and Els going 80, 70 for 150 to miss the cut by three strokes. In 2018 at Bellerive Country Club, Brandon Stone emerged as the top South African in the 156-man field, closing with a 68 for an eight-under 272, one shot away from what would have been his first top-10 finish at a Major.
But the big talking point from last year's event was the resurgence of Tiger Woods, who closed with a 64 to finish alone in second, just two shots behind winner Brooks Koepka, and within touching distance of a 15th Major title. The fact that Woods shot a 64 was remarkable, considering he didn't hit a fairway until the 10th hole. In his first nine holes, though, he needed only 10 putts and turned in 32.
'I had a hard time with my warm-up. I was hitting it left, I was hitting it right. I just had to pick a side. I could miss it way right, or way left,' he said afterwards. 'It was a struggle, until I found a little something on the back nine. I was hanging in there with my mind, basically, and it kind of got me through it.'
A few weeks later, and victory at the Tour Championship – which, given his history of injuries and back surgeries had made swinging a club doubtful, let alone competing again – resulted in the sporting comeback of 2018. It also reignited the inevitable chatter around when, not if, Woods would add to his list of Majors. Given that he has already conquered Bethpage State Park's Black Course and knows what it takes to defy adversity, many will be suggesting that this year's PGA Championship is one where Woods might just write the biggest fairytale of all.
NUMBERS THAT COUNT
2 – Occasions that a South African has won The PGA Championship. Gary Player did the trick both times, in 1962 and 1972.
8 – The tournament's largest winning margin, by Rory McIlroy in 2012. He finished on 13-under 275, followed by England's David Lynn on 283, with a four-way tie for third.
11 – It's not always a good thing to win the week before a Major. Since 1934, only 11 players on the PGA Tour have won the week before winning a Major, let alone The PGA Championship. Last year Justin Thomas won the WGC-Bridgestone Invitational before going on to tie for sixth the following week.
12 – The number of years since The PGA Championship last had a repeat winner: Tiger Woods in 2006-07. Before then it had been Woods in 1999-2000. This year's defending champion is world No 4 Brooks Koepka.
35 – Since becoming a stroke play event in 1958, the third-round leader/co-leader of The PGA Championship has gone on to win 35 times in 61 events, including four of the past five champions. It augurs well for whomever is on top of the leaderboard after 54 holes this time, too.
63 – The record low score of 63 has been achieved by 16 players, from Bruce Crampton in 1975 to Charl Schwartzel and Koepka in 2018.
265 – The 72-hole scoring record (15-under par) was set by David Toms in 2001 at the Atlanta Athletic Club. Don't expect anyone to challenge that total this year.
– This article first appeared in the May issue of Compleat Golfer, now on sale!