Taking a trip down memory lane, I reflect on watching some of the world's best go about their business in Abu Dhabi.
Fowler joins Matthew Wolff against Rory McIlroy and Dustin Johnson on Sunday at Seminole for the TaylorMade Driving Relief skins match.
Ahead of Sunday's match, we at Team Compleat have dug up plenty of footage of great moments featuring three of the players' players – Matthew Wolff is a newbie and hasn't yet established a content library.
But one moment stands out for me when it comes to Fowler – his Abu Dhabi win 2016. Why? Because I was there.
Barely a few months into my new role, I was offered a place on a media trip to play golf and enjoy the hospitality of Abu Dhabi. As someone new to the industry, it was a wild experience.
We arrived at the hotel that houses Abu Dhabi National Golf Course and ate breakfast with many of the European Tour players. For added 'wow' factor, I could see the range from my hotel room. Media pass in hand, I got to see Henrik Stenson hit his 3-wood up close and personal (and was quite astounded by his work on the range one morning), had quick chats to Branden Grace and Brandon Stone, even experienced Ian Poulter's grumpiness first-hand. Something that stood out was the banter between players when out of contention; Andy Sullivan, in particular, was having a great time. Danny Willett enjoyed a rather over-18 discussion, too, at a point.
Round one had Rory McIlroy, Jordan Spieth and Rickie Fowler in a marquee three-ball. We watched them briefly before being whisked off to try some neighbouring courses. In all, we played three rounds of golf in the mornings and then followed some golf in the afternoons.
Fast forward to Sunday and, after our last round of golf, we motored back to the course. I quickly scouted for Fowler's position on course and ran to follow his progress.
It was a thrilling conclusion and somehow managed to find myself in some perfect spots watching Rory chip in as well as Rickie's bunker hole-out on 8 when it looked like his bid was about to be derailed after a double at 7 undid his birdie-birdie start.
Ultimately, he held off Rory who made an eagle at the last and Thomas Detry, who birdied the last, with a par on the 72nd hole.
It was quite something to watch the scenes unfold around the 18th green and my own relief when he converted his par to avoid a playoff.
My own story deviates from Rickie's private-plane ride home.
Instead, some strange mix-up at the airport left me stranded in Abu Dhabi for an extra night. What to do with an extra day in Abu Dhabi? Head to Abu Dhabi National to play it like Rickie, Rory, Henrik etc did the day before. It was a memorable experience, one hard to top looking back, as I got to play one of the world's best courses with some of the quickest greens I've ever putted on. And pins tucked into corners making for terrifying results if you took them on.
Just don't ask about my pitching wedge into the last with the grand eagle clubhouse watching on.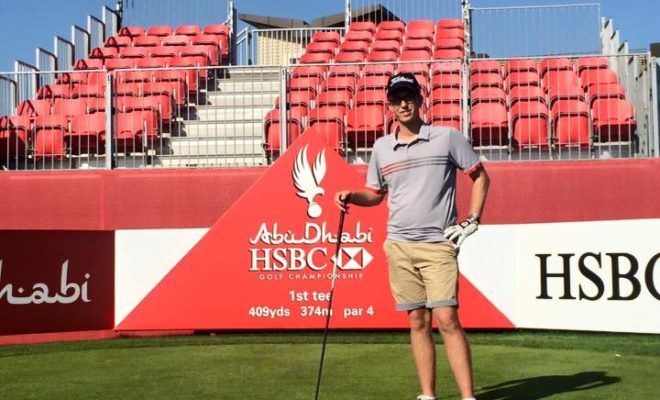 Back in 2018 I wrote this in a piece called: Rickie Fowler: Fan favourite
I don't know when I started following Fowler's progress but a quick Twitter search tells me it's back to at least 2011. I've taken a lot of abuse since then for his full Sunday orange gear and those flat caps that marked his early style years. 'Rickie Fowler has earned almost $4 million on Tour this year. Well done, Rickie, you're more than just your clothes and cap!' I tweeted in August 2014. More than enough justification of his talent.
He's refined his look since then and in the process almost single-handedly moved Puma Golf to the next level and kept Cobra Golf in the news with each passing year and positive growth in his career. Now he's founded his own media company, Main Event Productions, and will produce a documentary on the golf rivalry in Oklahoma. He's done a bunch of TV ads and made a hole-in-one on an urban golf course during a publicity event.
While refining his look, the now 29-year-old has continued to produce strong results and reap the financial rewards for his consistency. He had a big year in 2014 as he ended all four Majors in a share of fifth or better. He earned almost $1 million more in 2015 than he did in 2014 as he took home $5,773,430 after his sensational finish at The Players Championship, where he played the final six holes in six under par, to get into a playoff against Sergio Garcia and Kevin Kisner. He showed his nerve to land golf's unofficial fifth Major.
In 2016, I was part of a media trip to the Abu Dhabi HSBC Golf Championship that traditionally features a strong field. It was there that I managed to enjoy a sports dream come true as Fowler holed out from the bunker late in his final round before holding off Thomas Pieters for the win.
Fowler duly handed out champagne in the press room, spoke at length afterwards, answering many questions, signing pin flags and doing live TV for the local channels before being handed a headset for a radio chat with the Golf Channel back home. I hung around and watched as he smiled and waved and entertained any and all requests, including mine for a selfie; I'd just broken the 'golden rule'. Zero regrets.
Would you hold it against anyone for taking a photo with Roger Federer or Usain Bolt? I was a sports fan before I signed up for this job, not some holier-than-thou character, and I'll be a sports fan when I'm finished.