Playing editor Brandon Stone pays tribute to the career of Ernie Els and looks at what lies ahead.
With 'The Big Easy' turning 50 this month, the burning question must be, 'What's the next chapter for South Africa's great golfing giant?' But before we answer that, it's only fair we take a quick trip down memory lane.
Let's start with a simple statistical summary of the legend's career.
If you ever needed evidence as to why Ernie is a member of the World Golf Hall of Fame, look at these incredible numbers: four Majors, 70 worldwide professional wins and world No 1 for nine weeks. Perhaps more indicative of his success is the fact he has played at over 100 Majors and is the only golfer to have more than 300 top-10 tournament finishes. He also holds the European Tour record for most consecutive cuts (82) and the record for most consecutive weeks in the world's top 10 – 758 weeks.
That is simply astounding. However, a man's legacy is not altogether defined by his statistics, but rather by what he does with those results.
Growing up in South Africa, there was never a shortage of sporting heroes to look up to. Posters of Francois Pienaar, Lucas Radebe and AB de Villiers have been on the walls of nearly every youngster who loves sport. However, in my life, none of them have been as iconic as Ernie Els.
My old man has been telling me stories of Els since I can remember – the first being when they both went to the Junior World Championship at Torrey Pines.
The then 'Little Easy' had dominated his age group, which included Phil Mickelson. After he collected his trophy, he joined my old man at the pool and in his usual understated way, simply said, 'Jis Kev,but these okes are kak, hey.'
It is safe to say that Ernie has never had much doubt as to his own ability. I could tell you another hundred stories, many of which you will know, so let's rather turn to something else.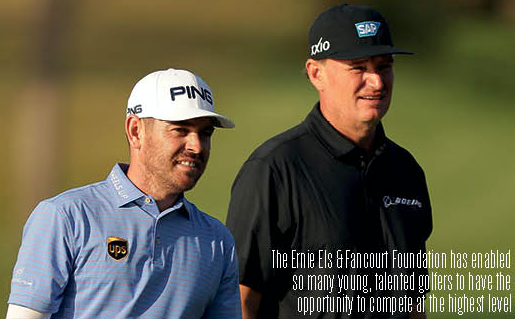 Off the course Ernie isn't going to be remembered only for his achievements. Few sporting icons have changed the world the way Mr Els has. Setting up the Ernie Els & Fancourt Foundation has enabled so many young, talented golfers to have the opportunity to compete at the highest level. Many of them have gone on to have successful careers, in business and golf.
Then we have the way he has changed how the world views autism. The Els for Autism Foundation has built schools that are paving the way for institutions around the world. I've been privileged to spend a lot of time with the Els family and seeing the way Ernie is with his son Ben is cute, to say the least. He's also extremely proud of his daughter Samantha, who is studying at Stanford University, near San Francisco. The big man struts around the gym in his Stanford colours all the time, as though he went there himself. He's just a 'normal proud dad', after all.
But now it's time to have a look at what the future holds. The first thing on the list is The Presidents Cup. Not only does Ernie have an incredible record at the competition, he also played a full part in that unforgettable moment in the event's history, at Fancourt in 2003. But this year sees him take his first shot as team captain, following in the footsteps of fellow southern African golfing legend Nick Price.
I've spoken to him about the event and he's looking forward immensely to the challenge. He feels the team is shaping up nicely with many of his top players finding form in recent months. The toughest part of his tenure as captain will be the captain's picks. He will be faced with the age-old dilemma of experience versus form versus raw talent. It's a decision that will give him sleepless nights.
Like you, no doubt, I am eagerly waiting for December. With a strong South African showing in the squad almost guaranteed, the event will have many local golf fans sacrificing sleep to catch all the action from Royal Melbourne. I wish the event would come back to our country again – it would be brilliant for our golf.
Then, once The Presidents Cup is done, Ernie will face an even bigger challenge – the Champions Tour. The 'seniors' is my favourite Tour to watch. With players like Fred Couples, Vijay Singh and John Daly, there are true characters, unlike anything we have today.
How will 'The Big Easy' fare? I'm confident he's going to do extremely well. We have played a couple of rounds over the past few months and I haven't seen his game this sharp in years. He's motivated and determined and with that combination, the sky is the limit for him.
They used to say life starts at 40, but in Ernie's case it might well be that it's all about to begin (again) at 50.