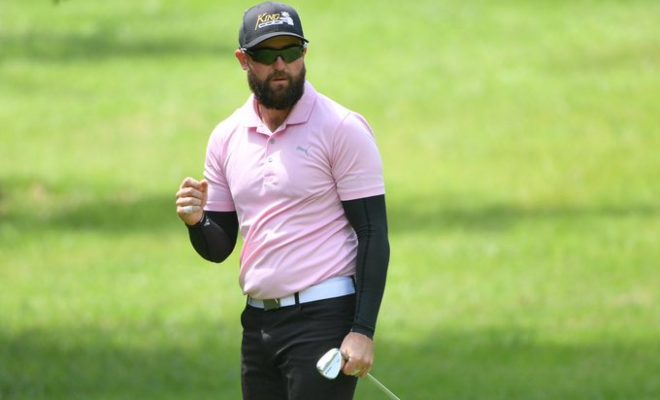 In a fashion similar to the previous two rounds where he picked up back-to-back birdies on the first few holes, the Zimbabwean made three birdies on the row after making a par on the first hole.
Those were followed by two more pars before making an unwelcomed birdie, thanks to a three-putt on the par-three seventh. He would not make another birdie or bogey on the front nine as he turned in 34.
Two pars after the turn were followed by a birdie on the par-five 12th and another one on 14.
Another bogey, this time on the par-five 15th, made its way onto his card before he went par, par and birdie in the last three holes of the round.
'I felt like I was running because it was a bit too pacey for me, you know, obviously, it being a two-ball,' he said after the round. 'But the round went decent. I played really solidly; just two silly bogeys; two little three-putts but other than that, I hit the ball great and putted well despite those two little three-putts.
'It was good fun going head-to-head with Toto (Thimba Jnr). He putted brilliantly and made putts left, right and centre. I think we kept each other going. It was good fun out there.'
In another exhibition of great confidence and fine form, Thimba carded an untainted six-under-par 66 to total 19-under and narrow the Zimbabwean's lead to just a single stroke. On the front stretch, the member of the Gary Player Class made gains on the second, the fourth and the eighth hole. Homewards, he picked up consecutive birdies on 11 and 12 before making another on that par-five 15th before closing with three pars.
'I was so relaxed,' said Thimba
'I actually play very well under pressure and today I stuck to my game plan and didn't change anything. I was putting really well so I can't complain.'
With an exciting final round anticipated in Nairobi where both he and Ferreira have a real chance of winning – and that's not discounting the charge being made by JC Ritchie (14-under) and Garrick Higgo (13-under) – Thimba was bullish about his prospects in the capital of Kenya.
'I'm not playing against him (Ferreira),' Thimba clarifie.
'I'm playing against the course and my goal is always to beat the course. If I do that I will win. I want to win it and I feel good about myself.'
Third round leaderboard: 
196 – Stephen Ferreira 62 66 68
197 – Toto Thimba 68 63 66
202 – JC Ritchie 69 64 69
203 – Garrick Higgo 67 67 69
205 – MJ Viljoen 69 69 67
206 – Keith Horne 70 69 67, CJ du Plessis 69 67 70
207 – Steve Surry 71 70 66, Greg Snow 67 74 66
208 – Estiaan Conradie 69 72 67, Callum Mowat 70 70 68, Jacques P de Villiers 68 69 71, Michael Palmer 69 67 72
209 – Kyle McClatchie 74 67 68, Peetie van der Merwe 69 71 69, David Wakhu 69 70 70, Deon Germishuys 71 67 71, Merrick Bremner 70 68 71
210 – Thriston Lawrence 73 69 68, Keenan Davidse 71 71 68, Kyle Barker 71 70 69, Ockie Strydom 71 70 69, Philip Eriksson 72 68 70, Andrew Odoh 69 70 71
211 – Dismas Indiza 70 73 68, Lyle Rowe 72 71 68, Pieter Moolman 73 70 68, Jaco Prinsloo 70 72 69, Chris Cannon 69 67 75
212 – Daniel van Tonder 73 71 68, Jean Hugo 72 71 69, Jack Harrison 73 70 69, Trevor Fisher Jnr 69 73 70, Heinrich Bruiners 68 73 71, Chris Swanepoel 70 69 73
213 – James Allan 71 73 69, Rizwan Charania 73 71 69, Joe Nawanga 73 70 70, Keelan van Wyk 70 72 71, Madalitso Muthiya 72 70 71, Jake Redman 71 69 73
214 – Fredrik From 73 71 70, Simon Ngige 72 70 72, JJ Senekal 70 71 73, Jaco Ahlers 68 70 76
215 – CJ Wangai 70 74 71, Ruan Korb 74 70 71, Martin Rohwer 68 74 73, Rhys West 71 71 73, Bennie van der Merwe 72 68 75
216 – Ryan Tipping 71 72 73, Aubrey Beckley 71 72 73, Dayne Moore 73 69 74, Ruan de Smidt 71 70 75, Anton Haig 72 69 75
217 – Simon Njogu 74 70 73, Tyrone Ryan 69 75 73, Teaghan Gauche 75 68 74, Wallie Coetsee 71 72 74, Jeff Kubwa 70 71 76, Neil Schietekat 67 73 77
218 – Thabiso Ngcobo 67 75 76
219 – Clinton Grobler 71 72 76
220 – Darin de Smidt 73 69 78
224 – Jastas Madoya 70 74 80