Patrick Cantlay brings a refreshing perspective to counter the ugliness of golf capitalism, writes MICHAEL VLISMAS.
Thank goodness for Patrick Cantlay.
At the end of a PGA Tour season and a FedExCup that is golf capitalism at its finest, and nearing the end of a year in which Premier Golf League capitalism is buying its way into the game, Cantlay won over R200-million in one week. And reminded us all that it's not about the money.
Sure, that's easy to say when you've just had R200m deposited into your bank account, won for the fourth time this year, beaten Jon Rahm down the stretch once again, resurrected your career, made yourself a Ryder Cup banker, earned the nickname 'Patty Ice' for your cool demeanour and even had the Atlanta Falcons football team present you with a jersey with your nickname emblazoned on the back of it.
But it's not so easy to say when a spinal stress fracture forced you out of the game for three years and you were considering a life away from golf. Or when your caddie and best friend was hit by a car in 2016, and died in your arms in the street.
Perhaps this is exactly what makes golf so different from other sports. As much money as there is in the game, men like Cantlay and their journey reminds us that the money never balances the scales of the trials and tribulations it took to be able to bank that cheque.
In essence, Cantlay is the exact antithesis of everything the FedExCup and even the PGA Tour has represented this season. He is not driven by money. He's into Led Zeppelin more than Linkin Park. He'll only say something if he feels he has something to say. He doesn't do e-books, preferring the real thing. He won this year playing with clubs that some have referred to as 'relics' in terms of how equipment has moved on. And despite being the hottest player in the game this year, he doesn't contribute much to the Tour's controversial new Player Impact Program that aims to reward those players who 'move the needle' on social media. Instead, he actually speaks out on the dangers of social media.
For this, he's labelled an enigma.
But, as Cantlay has revealed, all of this combined has given him something infinitely more valuable than R200m. Perspective.
'For a long time, everything just went great, growing up. I felt like I got better and better at golf, and life got better and better. And then, it got as bad as it could've been. I felt as low as it could've been for a little while. So coming out on the other side of that, I feel like I am a better person having gone through those dark days.
'It gives me great perspective and it makes me very grateful to be where I am … I'm definitely a different person than I was before I went through any of those troubles. During that time I realised that you can put in a lot of good work and good things still might not necessarily happen. That stuff changed me as a person. It was so much bigger than golf was. It's not even in the same league.'
Cantlay's coach, Jamie Mulligan, revealed to the PGA Tour that the player has hit on the trifecta of being relaxed under pressure, seeing the bigger picture and being practical. According to Mulligan, many golfers achieve one of these qualities. But Cantlay has achieved all three.
When Cantlay wanted to learn and grow, he didn't go to Tiger Woods. He went to John Cook and other veterans on the PGA Tour Champions. He said the biggest piece of advice Cook ever gave him was, 'Golf's just golf. If you're playing with your buddies at the mini putt, your three-footer there is the same as your last three-footer at The Masters. You've still got to put a good stroke on it.'
He even went to Bjorn Borg. Or rather, to the tennis legend's autobiography.
'I connected a little bit with Bjorn Borg's mentality of "all I do all the time is focus on the point or the shot in front of me, and everybody else can worry about what's going on in the match or what everything is like or the people or the referee they don't like, or whatever it is. But that's not important."
'Really, if I just focus on the shot or the point that's in front of me I'm going to end up ahead more times than not. And as long as you stay in the moment and realise that you're competent enough to move the golf ball around from wherever it is, I think that's really what the game is when you break it down. And everybody tends to get lost in the bigger stuff that is not that. I try to really dial it down to that.'
When he's asked about the look he exudes and showing very little emotion, Cantlay comes up with more than just
a stock-standard answer.
'I understand that's my look. I try to be natural … that's how I am all the time … I don't even realise that that's the look on my face. I definitely am focused and intent on what I'm doing and I think that's part of me and that's part of why I have success … I will tailor my process and fall almost into a trance to get into the process as much as I can because that gives me the best results. The way I look is a by-product of that trance-like feeling I try to get into.
'I don't know how Tiger was able to trance himself before the shot, and then the minute the putt was going toward the hole he turned into the most animated character you've ever seen in your whole life. I have the first part, I just never leave the trance mode. It's very hard for me to get into that second part.'
So you can believe Patrick Cantlay when he says it's not about the money, because he's been to places where not even R200m can help or save you.
'As silly as it sounds, the money is not what's really important for me. The money is not what drives me to play this game. Winning golf tournaments, playing golf under pressure and hitting quality golf shots under the gun, that's why I practise and that's why I practised my whole life, and that's the best feeling in the world for me: winning golf tournaments. The money is just a consequence of that.'
For this, golf should be very grateful. And perhaps it explains why the FedExCup Playoffs just seem to not stick with many fans, and even some of the players. The most compelling thing about all of this is not the money. It's still the golf. It's still the people. It's still their stories.
And that's where the real pot of gold will always remain.
BEST FINISHES
2013: Colombia Championship (1st)
2017: Shriners Hospitals for Children Open (1st), Valspar Championship (2nd), RBC Heritage (T3rd)
2018: Shriners Hospitals for Children Open (2nd)
2019: The Memorial Tournament (1st), BMW Championship (2nd), Shriners Hospitals for Children Open (2nd), The PGA Championship (T3rd), RBC Heritage (T3rd)
2020: Zozo Championship (1st)
2021: BMW Championship (1st), The Memorial Tournament (1st), The American Express (1st), Tour Championship (1st)
– This article first appeared in the October 2021 issue of Compleat Golfer magazine. Subscribe here!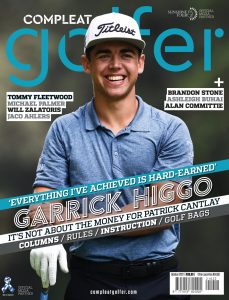 Photo: Adam Hagy/Reuters/Gallo Images