Golf's sub-section of disabled golf, also known as all-abilities golf, has no shortage of heroic stories from players who not only beat the odds but would beat you, too, writes BRENDAN BARRATT.
Now in its second year, the G4D (Golf for the Disabled) Tour is made up of nine events, giving the world's leading players with a disability the chance to compete in the new Order of Merit.
Eight of the tournaments coincide with a tournament on the DP World Tour, with players taking on the same course during the same tournament week.
Similar to the main Tour, the G4D Tour culminates in the G4D Tour @ DP World Tour Championship, which is a Rolex Series Event.
But who are these golfers who are plying their trade among their able-bodied colleagues? And just how good are they?
1 Kipp Popert (England)
Popert is the current world No 1 disability golfer and the winner of last year's G4D Tour Order of Merit. The 24-year-old is a superb golfer, who plays in both disabled and able-bodied events – he qualified for last year's British Amateur Championship and plays off a +3 handicap.
Last year Popert won four of the seven events on the G4D Tour and he opened his 2023 season with a seven-stroke win at the Australian All Abilities Championship. Popert has a form of cerebral palsy called spastic diplegia, which affected the growth and mobility of his legs as a youngster.

Growing up, he endured 10 surgeries on his feet and legs and would need to tweak his swing after each recovery period, some of which lasted up to a year. The Englishman has set himself the goal of playing at Majors against able-bodied players.
2 Brendan Lawlor (Ireland)
A former world No 1, Lawlor turned professional in 2019 and made history by becoming the first disabled golfer to compete on the DP World Tour when he teed it up at the ISPS Handa UK Championship in 2020.
Although Lawlor was born with the rare bone disorder Ellis-Van Creveld Syndrome, which is characterised by a shorter stature and shorter limbs, he had never really considered himself any different from his golfing peers growing up.
When he was introduced to disabled golf, the Irishman truly flourished and has been breaking down barriers ever since.
3 Chris Biggins (USA)
Biggins is the top-ranked disabled golfer in the US – where it is known as 'adaptive golf' – and, when not competing, he spends his time teaching the game, as a qualified PGA professional.
Chris was born with a form of cerebral palsy that affects his leg muscles and has produced a spinal curve in his lower back.
The Birmingham County Club assistant professional has nevertheless risen to the peak of the game and finished runner-up three times in 2022.
4 Juan Postigo (Spain)
A superstar in the world of disabled golf, Postigo is the most visibly disabled golfer on Tour.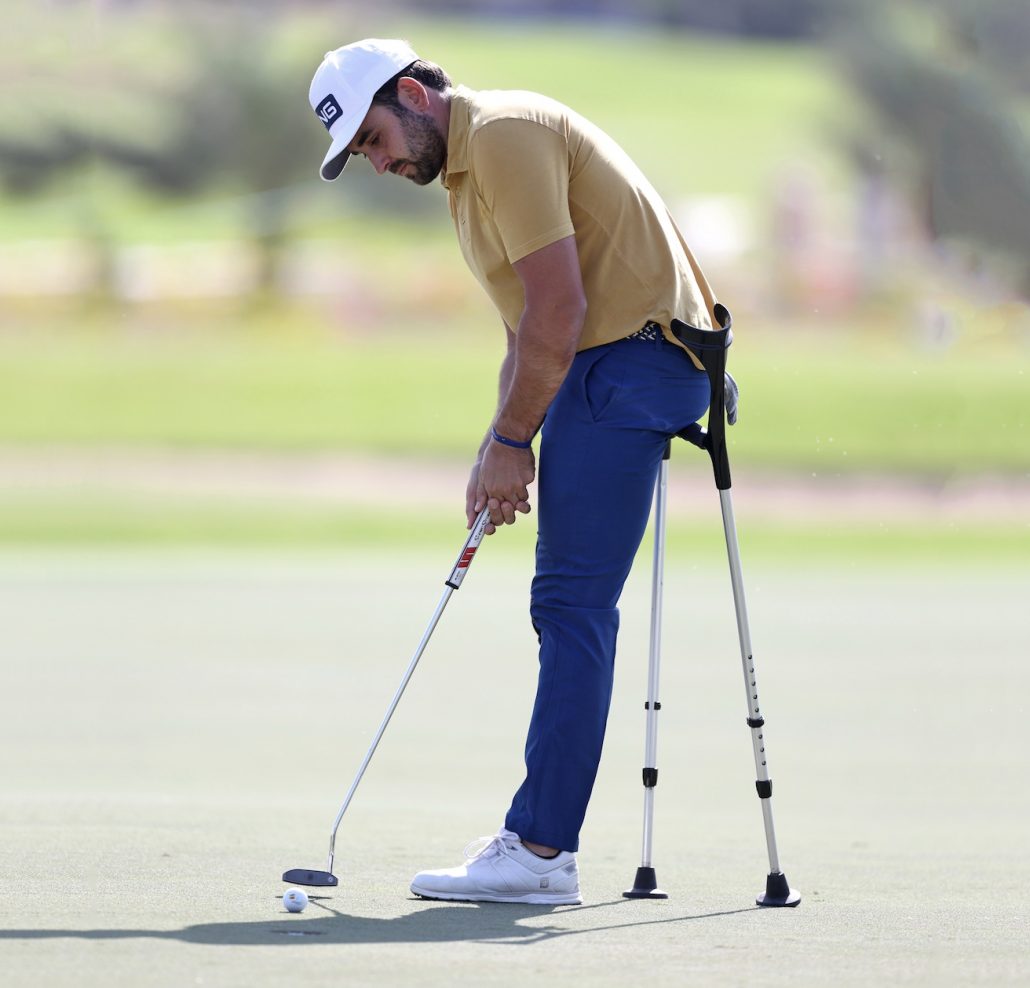 The Spaniard was born without much of his right leg, but started playing golf using a prosthetic leg – and he managed to get down to a 4-handicap. Doctors suggested amputating more of his right leg to aid his walking, but they hit a nerve during the operation and Postigo has been unable to wear a prosthesis ever since.
Using crutches to walk between shots, the 26-year-old now plays off one leg, unleashing drives of over 250 metres and never seeming to lose his balance. He won the G4D Tour @ Hero Cup this year.
5 Kurtis Barkley (Canada)
One of two Canadians in the top 10, Australian–born Barkley has now racked up three runner-up finishes on the G4D Tour, pushing him to fourth in the world ranking. A maiden victory can't be too far off.
Born with severe scoliosis that meant that seven of his vertebrae fused, Barkley stands only five feet tall, which puts him at a real disadvantage against his big-hitting opponents, particularly on the longer courses used by the DP World Tour.
6 Rasmus Lia (Sweden)
7 Jesse Florkowski (Canada)
8 Michael Browne (England)
9 Tommaso Perrino (Italy)
10 David Watts (South Africa)
Watts burst into the top 10 after somewhat surprisingly winning the G4D Tour @ Singapore Classic earlier this year. The SA Disabled Golf player from KwaZulu-Natal shot rounds of 70 and 69 to hold off world No 1 Popert and grab his first international title.
Born with fibular hemimelia, where the calf bone in his left leg failed to develop, Watts underwent three surgeries before the age of 16 to lengthen his leg by a total of 23 centimetres.
Naturally right-handed, Watts had to learn to swing left-handed to accommodate his weaker leg.  
– This article first appeared in the April 2023 issue of Compleat Golfer magazine.