There's an expression that goes, 'The more things change, the more they stay the same'. That may apply to Compleat Golfer for this month, and to tee off 2019, we are proud to introduce a new playing editor.
After three years of taking you into Louis Oosthuizen's world as playing editor, which has been a tremendous privilege and wonderful experience, all good things must come to an end, and as we say goodbye to Louis – from a playing editor perspective only – we say hello to Brandon Stone.
Stone is one of the emerging stars of the South African – and dare we say, world – game. He has come on board to add his infectious enthusiasm and knowledge to the project. It's something we are excited about and hope that you, the reader, appreciates getting to see his world, as a professional golfer on the course and an all-round great guy off it, too.
He is our cover feature for this issue and in his column he introduces himself in his own words. We are certain the journey ahead is going to be a memorable one.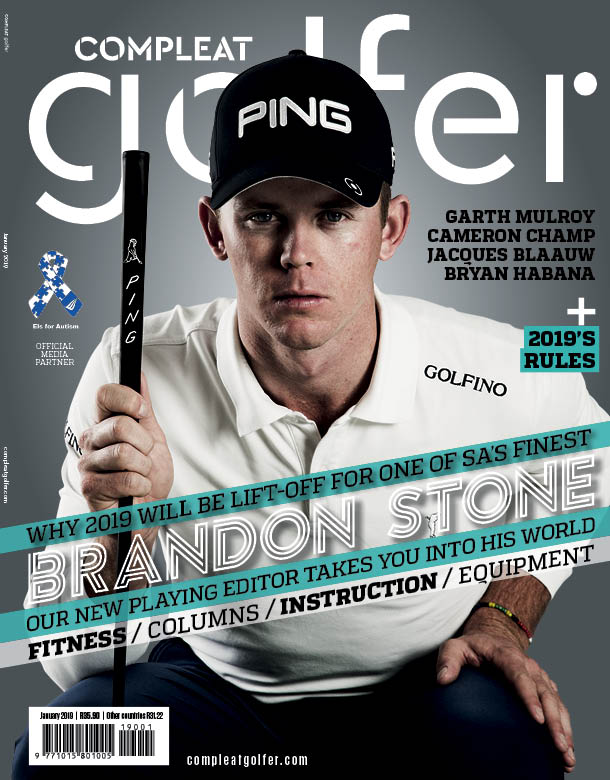 There are plenty of changes we have made to enhance your reading experience. As mentioned, the quality you have come to expect from this magazine remains and we thank you for the trip we've all taken to make this South Africa's best-read golf publication.
We sat down with five Compleat Golfer influencers to get their input on 2019 and one or two other subjects, and we hope you enjoy the diversity of views it offers.
From this issue, we've introduced a monthly look at the amateur rankings in the country after many readers felt it would add to their magazine experience; we're only too happy to help. Thank you for the feedback and we encourage you to keep sending it.
Another new regular feature we have introduced as we open the year is one where we chat
to the PGA professionals at golf clubs around the country, and we start with Louis Destroo, based at Stellenbosch GC.
The year 2019 also marks the start of the R&A and USGA's new Rules of Golf and we asked our Rules contributor, Reinard Kilian of the Sunshine Tour, to take you through the major changes so you can have your game ready.
We also carry our usual collection of instructions and columns, and a fantastic competition – where we have partnered with Oosthuizen's '57' brand – and continue our great partnership with Els for Autism.
Jacques Blaauw is the subject of our monthly Sunshine Tour focus. This popular pro is another who is chasing a dream, and we chat to him about what was a challenging time  on the Web.com Tour, returning to SA and now looking to tee up on the Japanese Tour.
For our Course of the Month we stopped off at one of the grand old ladies of the South African scene, Glendower Golf Club in Johannesburg. If you haven't played there yet, you're definitely missing out.
From a United States perspective, we introduce you to the most talked-about youngster on the Tour, as Cameron Champ's prodigious driving has set tongues wagging in his rookie year as a professional.
Plus, there's so much more inside. Visit us on compleatgolfer.com and on all our social media platforms to keep updated with developments here and abroad. Until next time, may your year be filled with birdies, laughs and memories.