Michael Palmer prepares for the next strike with renewed confidence, writes MIKE GREEN.
Golf is a game of cliches; but cliches capture an essential truth. So, regardless of how irritating it might be to hear it, you know a putt left short will never go in. And that you drive for show, and putt for dough. And that missing it on the pro side is scant consolation.
Michael Palmer is looking for lightning to strike in the same place twice.
He is looking to repeat the dose of whatever it was that brought him his maiden professional victory in July 2018. In truth, that's what all golfers look for – just another little bit of that magic that brought success.
In Palmer's case, the magic was a brilliant homeward nine at Karen Country Club just outside Nairobi at the KCB Karen Masters. Turning for home on level-par 36 with a bogey and a birdie on his card in the final round, he must have felt the presence of Merrick Bremner trying to chase him down. But Palmer responded with five birdies in the final seven holes, and his closing 67 was enough to bring him a two-shot triumph.
He almost looked bemused as the presentation – always quite a drawn-out and complex affair north of South African borders – unfolded, but, in reality, he was drinking it all in.
'The win in Kenya came after six months of missing cuts and then a two-month break,' he recalls. 'During that break, I changed my driver, 3-wood and driving-iron. With that change, along with a better understanding of my swing, thanks to my coach Ashley Roestoff, I began to build more confidence.
'During the week in Kenya, I didn't have high expectations. However, my confidence was high because I had been performing well in practice. I think the result took me by surprise and I was just so happy to finally win on Tour after not performing at my best for a couple of years.'
Palmer turned professional in 2015 and started out on the IGT Tour and the Big Easy Tour, with reasonable success. He had six top-10s on the Big Easy Tour in the space of just three months that year, including a fourth-place finish at the Big Easy Tour Championship, which got him his Sunshine Tour card.
'That first year or two of my professional career brought arguably some of my best golf,' he says. 'I played well on the IGT Tour and the Big Easy Tour, and I felt ready to compete at the next level. I also managed to secure my Challenge Tour card at the European Tour Q-School, just before coming home to better my Sunshine Tour exemption category at the Sunshine Tour Q-School that same year.
'But after that year I struggled to maintain that same level of golf and lost my status in Europe, so I focused purely on my progress in South Africa. It was a difficult time and it took a swing adjustment and a mindset change to get back to the golf I know how to play. Winning is always on my mind but you lose sight of it when your confidence is knocked.'
After his win in Nairobi, it looked as if Palmer was going to be able to kick on with some ease. Just two weeks later, at the Royal Swazi Spa Challenge, he finished second behind Andre de Decker, and a week after that, at the Sun Carnival City Challenge at Ebotse, he was fifth behind JC Ritchie.
'I continued to play great golf in Swaziland at the next event,' he says. 'The pressures of having to pre-qualify and earn your spot on the Tour were gone. The financial stresses had been lifted at the time and I was able to play with freedom. I was able to play golf just because I love competing.'
That love of competing was frustrated in 2019, with just two top-10s coming his way as he finished 60th on the Order of Merit in contrast to his 16th-place finish the year before. And then came 2020. It became desperately difficult to build momentum as the world hunkered down in the face of Covid-19.
'It has been very difficult to adjust to the new protocols of life in general,' says Palmer. 'We are required to log daily symptoms on the HealthDocs app and we are tested every tournament week.
'The breaks between tournaments due to the lockdowns have been the toughest to manage. It becomes very important to manage your game and use the time wisely to prepare for the next event. These breaks can be good and bad, depending on your form but it's something I've got used to over the course of the year in lockdown. The Sunshine Tour and the sponsors have been unbelievable during this time and I am extremely grateful and proud to be a part of the organisation.
'I like to think I am patient and I am getting fulfilment from simply competing at the best level I possibly can. Just before we went into lockdown, I wasn't in a great space with my golf. I felt I needed to get more out of my exemption and the opportunities at European Tour Q-School. I put a lot of pressure on myself to perform.
'I have learned a lot about myself over the past year and my golfing form is slowly showing that growth. I am becoming more consistent with my results and I look forward to being in contention and dealing with the excitement that comes with it.'
By the end of August, Palmer had two top-10s in 2021, as the Sunshine Tour returns to some sort of routine and rhythm, with tournaments slowly coming back and new ones being added to try to fill gaps that have been left by changes wrought by the economy and the political landscape shifting in neighbouring states.
While all that is going on, Palmer has tried to stay the same. 'I think my strengths and weaknesses have been fairly similar throughout my career,' he says. 'My iron play has always been my strength. I played college golf in Oklahoma and controlling your ball flight in the wind is crucial there.
'My driver has improved a lot over the past year and I am gaining a lot more trust with it off the tee. I feel the part of my game that has potentially held me back has been my putting. I tend to miss out on opportunities that I generate from good iron play.
'The nature of my game is borne out by the way I play on different courses around the country. I tend to perform on courses that are longer and require strong play from tee to green. My strengths are iron play and longer approach shots. I don't seem to perform that well on courses that are short and narrow with lots of wedge shots.'
Here's another cliche Palmer is also trying to show is true: the definition of insanity is doing the same thing over and over and expecting a different outcome. So while sticking to a formula that has given him one victory and taken him close enough to another is a smart move, he needed to do something he hadn't done before.
'During the lockdowns I have become fond of running,' he says. 'It's a great way to blow off steam and I believe I solve all my problems during these runs. I put some music on and get lost while I run.'
By 1 September, he's had five missed cuts in the 2021-22 season, and that's something he needs to avoid if he is to realise his potential. Palmer is aware that he's playing on a Tour that is going through one of its periodic purple patches when it comes to producing players who step up on to the world stage. He wants to be one of them.
'The Sunshine Tour is full of great talent,' he says. 'We are starting to see South Africans take charge globally, which is inspiring. I think gaining status anywhere in the world is becoming more and more difficult because players are hitting it further, they're more accurate and they have access to the best technology, like the TrackMan, to improve their game.'
Palmer has built a good system that works for him as he tries to be the next cab off the rank from the Sunshine Tour production line.
'Obviously you need people behind you to give you support during the tough times and to help celebrate the good times,' he says. 'My family is my support system and I wouldn't have even attempted a golf career without their help. I have also begun working with my sponsors, Hans and Nic Queisser, of Separations. I have already implemented some of their insight into my game and routines.'
That system needs to find a way to make lightning strike twice now!
BEST FINISHES
2016: Sun Boardwalk Challenge (5th)
2017: Lombard Insurance Classic (T12th)
2018: KCB Karen Masters (1st), Royal Swazi Spa Challenge (2nd), Sun Carnival City Challenge (5th), Vodacom Origins of Golf – Selborne (10th)
2019: Zanaco Masters (8th), Royal Swazi Spa Challenge (T5th), Vodacom Origins of Golf –  Sishen (T3rd)
2020: Investec Royal Swazi Open (13th)
2021: Serengeti Pro-Am Invitational (T7th), SunBet Challenge – Sun City (11th), Vodacom Origins of Golf – De Zalze (4th)
– This article first appeared in the October 2021 issue of Compleat Golfer magazine. Subscribe here!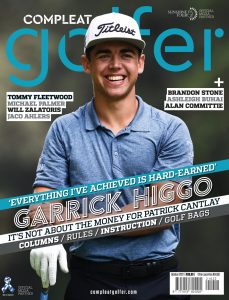 Photo: Carl Fourie/Gallo Images