The latest in our monthly series of introducing you to the faces behind the golf clubs in South Africa. This month we stop off in KZN to talk to Cotswold Downs Golf Estate's director of golf.
How long have you been involved in the golf industry, and can you give us a brief rundown of where you've worked in the past?
After a few years backpacking around Europe and the US, I decided to return to South Africa and begin a career in sport. Since a young age, sport has been my passion and I decided the PGA course seemed like the perfect way to get into the industry. I sent my CV to almost every golf course in the country and was lucky to be given an opportunity to begin my apprenticeship at Erinvale Golf Club in Somerset West. I had never been to Cape Town before I flew down for an interview with Bruce Bain, but after a few days in the Cape I decided to make the move from Durban. I was fortunate to have Bruce as my mentor for the first two years of my apprenticeship and learned a great deal about all the aspects of becoming a PGA club professional. After two years under Bruce and his family, they decided to move on from Erinvale and I completed the third year of my PGA apprenticeship under the watchful eye of Johan Piek, who is now the general manager of Leopard Creek Country Club. Johan and I formed a very close friendship and are the best of friends to this day, and I often lean on him for advice. I qualified in 2005 as the top student in the Western Cape and the second-placed student in the country, and I went on to spend another three years at Erinvale, as the head PGA professional. In 2008 I was offered the position of sales manager in the Western Cape for Golf Trends (which then became Srixon/Cleveland Golf South Africa). I spent six years learning the sales and marketing side of the industry and was fortunate to be guided by Mike Powell, who built the Srixon brand in South Africa, and we all know how successful it has become around the world. I then spent a few years away from the golf industry and moved back to Durban. After almost 12 years in Cape Town and five years after moving back to Durban, I restarted my journey in the golf industry when I joined the team at Cotswold Downs.
How did you get into golf and did you have any aspirations to play on Tour?
I started playing golf at the age of about 10 when my family relocated from Johannesburg to Durban. We lived pretty close to Kloof Country Club, so I decided to give golf a go and was soon hooked on the game. I think most youngsters have aspirations of playing on Tour, but even though I represented Natal for a few years and played competitive golf for many years I never gave the Tour a serious go.
The course has grown up beautifully. Are there any plans to host a professional (eg, Sunshine/Sunshine Ladies Tour) event at Cotswold Downs?
It is one of my goals to host a professional event at Cotswold Downs as I truly believe it would be a great test of golf. There are some logistical issues due to the nature of the course and it being cart-compulsory, but these can be overcome. I was fortunate to be involved in the 2003 and 2004 South African Opens at Erinvale and there were similar challenges that were overcome to host two successful European Tour events.
How would you classify the Cotswold Downs layout? Is it mainly a members' course or are there loads of visitors who come to play?
This is a relevant question as this has certainly changed a great deal since the onset of the Covid-19 pandemic last year. Before the virus and the hard lockdown period, visitor rounds made up 65% of the rounds being played at Cotswold. However, since the reopening of golf in South Africa, this has done a complete 360-degree turn, with members' and residents' rounds now making up 65% of all rounds played.
How do you ensure the visitor experience at Cotswold Downs is a memorable one?
When a visitor comes to Cotswold, they are a member for the day. I have an A+ team who share the same vision as me – they are always willing to walk the extra mile. We are also supported by a wonderful group of members who back me and my team, while keeping us motivated to continue to do our best. It is important to keep trying to raise your own bar for self-development and not become stagnant in what you do. That is a real challenge in itself, but it's something everyone connected with our club strives for.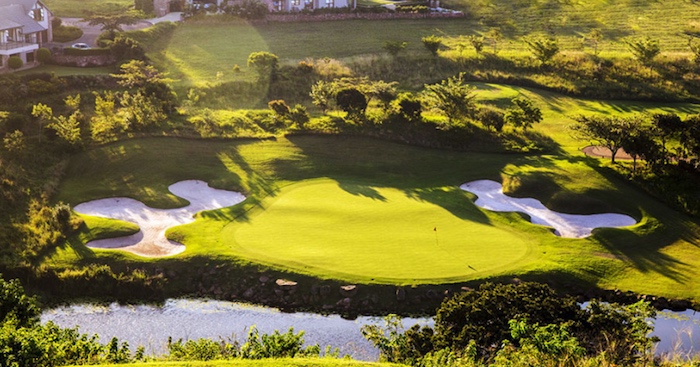 There are a number of truly spectacular holes at Cotswold Downs. Do you have difficulty picking out a signature hole?
The extreme downhill par-three 5th [above] has become the signature hole, largely due to the hole-in-one competition we run on this hole. Players can enter the hole-in-one competition by paying an additional R30, with the pool standing at an amazing R390 000. Although there are so many memorable holes at Cotswold, one of my favourites is the stroke-one 17th. The tee shot is from a spectacular elevated tee that gives you an amazing view of the course, and is then followed by a testing second shot, guarded by one of the many beautiful dams on the estate. On any given day players are able to see at least eight to 10 bird species in and around this dam and this really captures the beauty of the golf course that we are very proud of.
What would you describe as your personal strengths when it comes to the role of director of golf at Cotswold Downs?
I like to think of myself as a level-headed and organised person, which are both vital to successfully fulfil my role as golf director. Communication skills are one of the most important aspects of being successful in anything in life, but when it comes to dealing with hundreds of different people and personalities each day, communication is of the utmost importance. I love to be around people and I strive each day to make a difference, and I believe my personality perfectly suits my role at Cotswold Downs.
What would you say are the skills most necessary for the role of director of golf, whether it is at a housing estate club like Cotswold Downs or a smaller golf club?
It is important to have very good interpersonal skills as well as being able to communicate effectively with staff and homeowners/members. The word that comes to mind straight away is consistency. We must always remember that the members and visitors come to play golf to relax and enjoy the experience and it is my and my staff's job to ensure everyone visiting Cotswold Downs has an experience they will never forget.
Interview by Brendan Barratt
– This Q&A first appeared in the October 2021 issue of Compleat Golfer magazine.