Standing on a driving range for hours, hitting buckets of balls merely to tick a box is, for the most part, not the most effective method of self-improvement, writes GRANT FLAUM.
Instead, golfers need to practise with purpose, developing routines on the range that build skills and confidence.
Swing coaches normally provide golfers with these routines, including maintenance programmes to reinforce the work done on swing technique. However, where these are non-existent, there is an exercise that can greatly improve your skill if you commit to doing the hard yards on the range afterwards. The exercise may be common practice for elite golfers but it won't harm a high-handicapper wanting to improve their game.
The first step is to get familiar with the distances you hit on each club and every kind of shot with that club. Remember, these distances are not static. You may have to calibrate the distances on shots every so often to keep up to date with how far you hit the ball with the particular club.
A quick tip on getting your distances right at sea level: you will hit the ball further at altitude than at the coast.
Armed with this information, it's time to proceed on to a golf course (or a mashie course for that matter) to put this knowledge to the test.
When you're on the course, incorporate a visualisation exercise into your pre-shot routine over each shot by envisaging in your mind's eye where you want to land the ball and how you see it rolling towards the hole.
You don't have to limit this exercise to your approach shots. You can visualise every shot you are about to hit.
A good way to visualise the shot at hand is to stand behind the ball and imagine what you want the ball to do. Be specific. Identify an exact spot where you want to land the ball, see the shape of the shot to get the ball to the landing spot and, finally, picture the roll of the ball towards the hole. Prior course knowledge will help you identify the best places to be on the green for each hole.
Once you have clarity on this, get your distance to the landing spot, pick a club and commit to the shot you are about to play, then aim and fire.
But it doesn't end here. After you have hit the shot, assess how accurate you were, not only in your distance control but also how close the ball landed to the target. Even score yourself – you may be surprised at how difficult this exercise can be.
The gap between where the ball landed and where you pictured it landing is your skills gap. Something you will probably be working on for a long time as you attempt to improve your ball striking and, by inference, your scoring.
The skills gap is what you need to go back to the range to work on. If you want to improve your scoring you have to work on closing the gap as you practise dialling your shots in towards the target.
On the range, work on controlling the golf ball. For example, try hitting balls from different angles, with the wind and into the wind, from a lie in the rough to the middle of the fairway, and include cuts and draws and all the shots in between.
Tiger Woods could purportedly hit at least nine types of shots with each club. It would have taken him hours and hours of practice on the range to hone these skills.
Fine-tuning these skills on the range will help you have more options to work with out on the course, which in turn, increases your scoring opportunities. Closing your skills gap then becomes your greatest pursuit when practising.
The clients I have accompanied on course to do this exercise have found it benefited their game significantly, citing some of the following notable outcomes:
Much better levels of concentration as shots are properly thought through and prepared for.
Immediate improvement in ball striking, with more shots landing nearer to the flag.
Sustained confidence going into tournaments/rounds as self-belief in shot making becomes more evident.
Eliminating the 'noise' of self-doubt

as the specific targets become the focus

of attention.
Having fun in practice as it now has purpose.
Having a different way to score a round, with the goal of continuous improvement.
Paying closer attention to landing areas and the topography of the golf course in preparation for rounds/tournaments.
The journey to improved ball striking is not an overnight exercise. It takes deliberate, intentional practice. It takes many hours of hitting shots on repeat. But it's a pursuit worth its weight in gold if you want to play better golf.
When practice has a purpose, even if only to improve your scoring on this exercise, standing on a range for endless hours can be meaningful. And this then becomes the hallowed ground of self-improvement and self-confidence.
– Flaum is a mental-game and life coach who has worked with professional golfers on the European, South African Sunshine and Big Easy Tours, as well as with emerging amateurs. Follow him on Instagram @ignite_mental_coaching
– This article first appeared in the October 2021 issue of Compleat Golfer magazine. Subscribe here!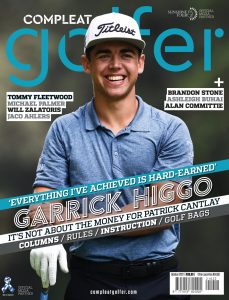 Photo: Chris Trotman/Getty Images