The rise and rise of the 22-year-old South African left-hander continues. But everything he has achieved has been down to good old-fashioned hard work, writes GARY LEMKE.
Midnight has come and gone but Garrick Higgo is sitting with his caddie in the Olympic Village dining hall. He can't go to sleep just yet, having arrived in Tokyo after a long-haul flight. Along with Christiaan Bezuidenhout, he is one of only two South Africans in the golf tournament at the Games.
That two-floor dining hall, open 24/7, was the place for many late-night conversations during the Tokyo Olympics. The Australians and Americans were rarely seen there, though – the threat of Covid saw them fly in their own chefs to look after their squad in their apartment towers.
However, Higgo and Bezuidenhout were among those who decided to embrace the Olympic spirit, albeit a more sterile one given the restrictions around Covid-19 and held in a 'bubble'.
The Kasumigaseki Country Club was only 50km outside the Olympic Village, but the Tokyo traffic meant the journey could be up to two hours each way, so many golfers booked into plush hotels nearer the course and didn't have to 'slum it' in their village accommodation.
That accommodation came in the form of shared apartments in 17-storey towers allocated to several countries – Team SA shared with India, Denmark and Norway – with paper-thin walls and single beds made out of cardboard. These millionaire professional golfers wouldn't have room service with satellite TVs (there was no TV in fact), or even separate showers with a main en-suite.
Higgo, the 22-year-old who is on a meteoric rise to the top, wasn't about to complain. 'I stayed in digs like this at college in the US in 2018. This is actually better than my dorm room, which wasn't great. This is all right, though. I can name some players who would have had a meltdown. But every week we stay in a hotel, so this is refreshing.'
Later, we were chatting after the conclusion of Saturday's 'moving day' where Higgo shot a 70 to go with his opening two rounds of level-par 71.
'I've never shot three rounds in a row of level par, so I was thankful for that late birdie! I played OK, not my best. It is so hard in golf, this game will bite you.'
The following morning he shot a 72 to end his Olympic experience on level-par 284 after the four rounds, and in a tie for 53rd. Later that night he got to experience another sport for the first time at the Games when he went to the evening session of athletics, where the men's 100m gold was decided.
Higgo's ranking graph has shot skywards since he turned pro in 2019. He had ended 2018 as an amateur ranked 2,006th in the world and two wins in three weeks soon after turning pro helped him sign off 2019 in 464. Another two wins followed in 2020 and he was up to 90th, while three victories in 2021 saw him break into the top 50.
That includes winning on the PGA Tour in only his second start on the circuit – the quickest achievement by a golfer in 33 years – when he won the Palmetto Championship in June. That concluded a streak of three wins in five events, two of them being on the European Tour and which propelled him into the international spotlight.
However, Higgo bristles when it's suggested that golf, and life, is coming easy at this point. Especially after a WhatsApp voice note doing the rounds suggested he was given a 'leg up' to be included in the final field at the Palmetto Championship, suggesting that if it wasn't for personal intervention he wouldn't have teed it up at that breakthrough week.
'I heard the voice note and I want to talk about it. I've got nothing against anyone, but it's unfortunate it did the rounds. It made people think I was lucky to get that invite. That's not true. I got an invite from the commissioner of the PGA Tour, an invite that goes to someone on the verge of the world's top 50. I was ranked 51st in the world and that's how I got in that week.
'I don't rely on handouts in life. I am a hard worker and everything I do is hard-earned. I've always done things the hard way. I was never a golfing prodigy or the next big thing. In my amateur days my mom sent me to events and she paid for everything.
'When I turned pro in 2019 people said I shouldn't do it. I was still on the Big Easy Tour. I never got invites anywhere and I worked my way up. I went from the Big Easy Tour to the Sunshine Tour, the Challenge Tour, the European Tour and the PGA Tour.'
Higgo earned his pro status by finishing tie-fourth behind Ruan de Smidt at the Sunshine Tour Qualifying School event at Houghton Golf Club on 21 March 2019. In his first event in the paid ranks he banked R112,000 for finishing tie-third at the Zanaco Masters in Lusaka. Before the middle of June he'd won twice as a pro, on the Big Easy Tour and then the Sun City Challenge for his maiden Sunshine Tour success.
There he beat Ockie Strydom by a shot but it was poetic that he'd won his maiden Sunshine Tour event at Gary Player Country Club. 'Gary Player was always my role model. I know quite a lot about golf – it's what I do. People don't understand what a legend he is. He won nine Majors in a time when travelling wasn't easy, and he'd encounter death threats because he was competing as a South African in the apartheid era. To be one of golf's "Big Three" at that time … he's our greatest sportsman. People don't appreciate him enough.
'I've known him well since I was nine. That's when my dad passed away and he lost his mother when he was nine. He had a holiday house in Plett, which is where we lived. He'd often play nine holes with me and he wrote me a lot of letters when I was young.
'The night before the final round at the Palmetto Championship he phoned me and we went through the course. Having played a lot with him, I picked his brain. I'd like to say he's been a big part of my career.'
It's a career that continues to surge. Higgo, at 22, is being tipped as a Major champion and apart from the obvious talent, what makes him a little different is that he's a left-hander and wears sunglasses when he plays. In terms of being left-handed, only Phil Mickelson and Brian Harman are ahead of him on the World Ranking.
'I've actually never thought of it like that, but that's pretty cool,' he says. 'To me I'm just normal, but I'm left. I've heard that courses are designed and set up to favour the right-handers but I'm not sure that's true.
'There are courses that suit left-handers, but it's more a case of what your miss pattern is. For lefties a push is to the left and for righties a push is to the right. Some courses have more trouble on the right, but good courses have trouble on both sides. On one hole the trouble is on the left, the next hole it's on the right. I mostly hit a little draw, but only a little one.'
For all his success, Higgo doesn't regard himself as someone who is ridiculously gifted or someone of whom golf instruction clips are going to go viral.
'Perhaps my greatest strength is that I've got a strong mind,' he says. 'I think even if you watch me play, I do a lot of things well. I'm a good iron player – not a great iron player. I'm not the straightest or longest hitter. I'm not the best with the putter, but I'm good at getting the job done. I don't get negative, I like the challenge of getting better. That's part of my game.
'Here at the Olympics I was speaking to [playing partner] Cam Smith. Our demeanours are similar, we work very hard about getting better. I'm really good at letting things go. If I make a double-bogey I don't fake my reaction. A lot of guys get down on themselves – I don't. Obviously, I don't forget the previous hole and if I lose a ball in a tree and make double, I remember it but I don't get down on myself for doing so. If I get to six over – it happens! – I think, "Wouldn't it be great if I made four birdies in a row and then I'd be two over."'
Higgo has also started working with leading golf wellness expert, Garth Milne. 'We worked hard on mobility. I'm relatively strong, but you have to be quite mobile to get a bigger turn.'
Milne elaborates on his role. 'When Garrick approached me to work with him, he was concerned that he was one-dimensional in his training and he knew there was a lot more to golf conditioning.
'After a golf-specific assessment we were able to ascertain that he lacked mobility in some key areas and upon discussion with his coach, Cliff Barnard, we agreed that these limitations may well be responsible for Garrick not attaining key positions in his golf swing. Garrick is an extremely diligent student and he's made some big improvements in his range of motion, particularly in his torso rotation, which has helped him get a bigger turn in his backswing. This allows him to load his body better and maintain his spine angle which all amounts to a more efficient, powerful golf swing.'
As for the sunglasses, also noticeable given Higgo is in the minority of players who wear shades, he says it's a relatively new thing.
'I got a bad migraine in Dubai at the DP World Championship last December and then again in the Dubai Desert Classic at the beginning of this year. I'm light-sensitive and I wear contact lenses. I found the afternoon rounds to be very bright. My eyes get dry and tired and the sunglasses have made it easier. At first things were a little strange but then it became easier and I started enjoying the sunglasses experience. It also helped me relax. Even the yardage book with the white paper and the sun, it made it quite bright and difficult to read and strains my eyes.'
Later in the South African summer Higgo is looking forward to coming home. 'I've got no playing schedule mapped out as yet. The plan at this stage is to go back to Plett in December. There my coach and I play nine holes every afternoon, late in the afternoon. I really enjoy that, that's how we work. And I'm looking forward to taking a break before the next season!'
Next season there will be more of the same. He finished off 2020-21 without his regular caddie, Nick Cavendish-Pell. 'We're very good mates. We started on the Challenge Tour and did a couple of Sunshine Tour events, so he's a big part of my success. His wife went into labour the night we won the PGA Tour event so he didn't do the past few events.'
Cavendish-Pell offers his insight into Higgo. 'You can't tell if he's shooting the lights out or playing poorly. He's just very calm out there, he's a level-headed guy.' Which is likely to help the South African produce more of the same in 2022 and beyond.
'I will play the Rolex events in Europe again next season. I'm very loyal to the European and Sunshine Tours for giving me the start, and I want to keep honouring those Tours. But obviously my main focus will be the PGA Tour. I'm dealing pretty well with life on that Tour. The fact I went to college in the US after school means it is not unfamiliar. I've got friends there. I think I'll do fine.'
So far, fine is an understatement. In fact, Gary Player himself reckons Higgo 'will win Majors. The only question is how many.'
BEST FINISHES
2019: Sun City Challenge (1st), Zanaco Masters (T3rd), Karen Masters (5th), Big Easy Challenge 3 – Modderfontein (1st)
2020: Open de Portugal (1st), Tour Championship (1st), RAM Cape Town Open (2nd), Cyprus Open (T3rd), DP World Tour Championship (T14th), Euram Bank Open (T6th), BMW PGA Championship (T27th), Northern Ireland Open (T7th), Scottish Open (T26th)
2021: Palmetto Championship at Congaree (1st), Canary Islands Championship (1st), Gran Canaria Lopesan Open (1st), Austrian Golf Open (T4th), Tenerife Open (T8th), Kenya Open (T16th), The PGA Championship (T64th)
– This article first appeared in the October 2021 issue of Compleat Golfer magazine. Subscribe here!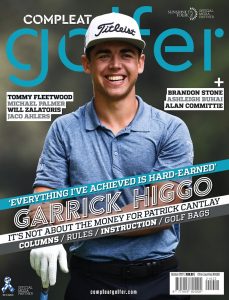 Photo: Luke Walker/Getty Images