He is an actor, film producer, fashion icon, businessman, TV presenter, model and philanthropist. Most importantly, however, he's a mad keen golfer.
When and where did you first start playing golf?
I grew up in Soweto and I loved playing all sports. We were a sports-mad family but I started playing golf only when I was about 14. I had suffered a serious knee injury from athletics and I was desperate to play some sport. My best friend's dad played golf and they invited me to the driving range. I played a lot of golf in high school and got to a plus-two handicap but I stopped playing regularly when I reached university. Then, when lockdown came and golf was one of the few sports that was open, I got back into it.
Where is your home club?
I'm lucky to be a member of Royal Johannesburg and Kensington and Pearl Valley in the Cape – they are two amazing clubs. I play off an HI of 5.6.
How do you find the time to play golf?
I've always believed – and lockdown has enhanced this – that it is so important in this rat race we find ourselves in, to find enjoyment in our day-to-day lives. We need to find a comfortable balance where we work hard but also get some time off. That comes down to good time management. Golf is unique in that it brings people together in a place where you can enjoy the activity but also conduct business. It's my alternative office!
Who are some of the interesting celebrities you've played golf with at pro-ams?
I played at the Gary Player Invitational one year and it was incredible. I played with Edoardo Molinari and he was such an interesting guy. In December I'll be hosting my charity event, the Maps Maponyane Invitational, for the second year, where we raise money for Bursary Network, my organisation for student funding.
As GQ's Best Dressed Man (2011) and Cosmopolitan's Sexiest South African Man (2013), how important is it to look the part on the golf course?
[Laughs] I'm not going to lie, it's important to me to look good. On or off the course, what I wear is very much a part of me and an expression of who I am.
You have a proper sporting pedigree, with your father Marks Maponyane having been a striker for South Africa – so how does your golf stack up against your dad's?
My dad loves his golf and is a decent player, but he's getting older and he's starting to play that senior style of golf where he seems to hit every shot with the same club – for him it's his 3-wood. My mom is actually also a very talented golfer. Since lockdown, they have been playing a lot and my mom always seems to be calling me to show off a prize she has won at a golf day.
What is your favourite thing about golf?
I'd say it's a few things … the setting, the walk, the company and the clarity of mind it brings. I'm really competitive and golf is without doubt the most mentally challenging sport I've played. You need to be present for each shot. It's you against the course, so you only have yourself to blame if things go wrong.
What is your greatest golfing achievement?
Easy. I made a hole-in-one this year and it is the best feeling in golf. I felt like this was going to be my year and it happened at the 15th at Parkview. It was 165m, with a 9-iron that hit the slope behind the pin and sucked back into the hole. We lost our minds.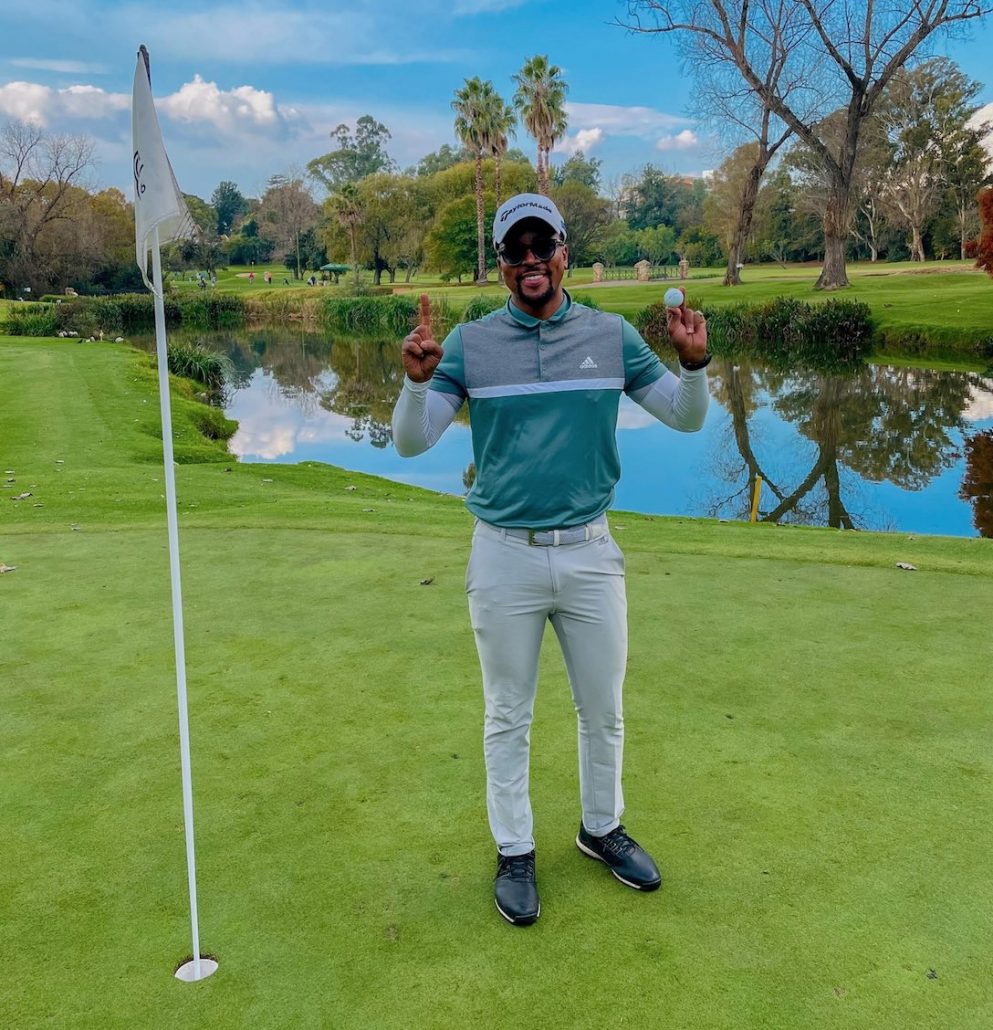 What is your favourite international golf course and where is your dream golfing destination?
I haven't played too much golf overseas yet. I was lucky enough to play Wentworth, which was a phenomenal experience. Locally, I'd say my bucket-list courses are: Ebotse, St Francis Links, Leopard Creek, Millvale, Highland Gate and Pretoria Country Club. Internationally, obviously I will say Augusta and the Old Course at St Andrews. Others would be TPC Sawgrass, Royal Melbourne and Royal St George's.
What is the strength of your game?
It's my mid- to short-irons and my short game. From 150 metres to the green I'm pretty solid. Unfortunately, my driver has its off days, so I've had to learn some course management. I guess that means I've matured?
Describe your dream fourball.
Gosh, this is harder than I thought. OK, firstly Tiger Woods. I grew up playing his video games and he is the GOAT, so that one is easy. Next, I'd pick Fred Couples. He is so cool and that golf swing is so smooth. I reckon I could watch him play all day. The last one would be Sergio Garcia. I know he and Tiger don't get on very well, but I grew up watching him and I'd love to see that ball-striking close up.
– Interview by Brendan Barratt
– This article first appeared in the December 2021 issue of Compleat Golfer magazine. Subscribe here!