Rory McIlroy and Justin Rose have come out in support of the picks made by Thomas Bjorn as Europe look to wrestle the Ryder Cup back from a powerful Team USA at Le Golf National.
The mixture of form and youth from the likes of Matt Wallace, Matt Fitzpatrick, Thomas Pieters and Rafa Cabrera-Bello appeared to cause a selection headache for Bjorn in the frenzied run-in to his Wednesday deadline.
The Dane, who saw countryman Thorbjorn Olesen become the fifth rookie to play his way into automatic qualifying, opted for an experienced quartet to supplement the team; a move supported by two of the biggest names on his team.
'I feel with the five rookies we have, experience will be a big thing, especially at home,' said McIlroy. 'I think the three, Paul, Ian and Henrik, they were certain and then it was just between Sergio, Rafa, maybe Matt Fitzpatrick, a couple of those guys.
'But at the end, I think with Sergio's record in the Ryder Cup, and I think the intangibles as well, the things people don't see what he brings to the team room.'
Rose was happy to have a long-time ally join the team albeit through the use of one of Bjorn's four picks.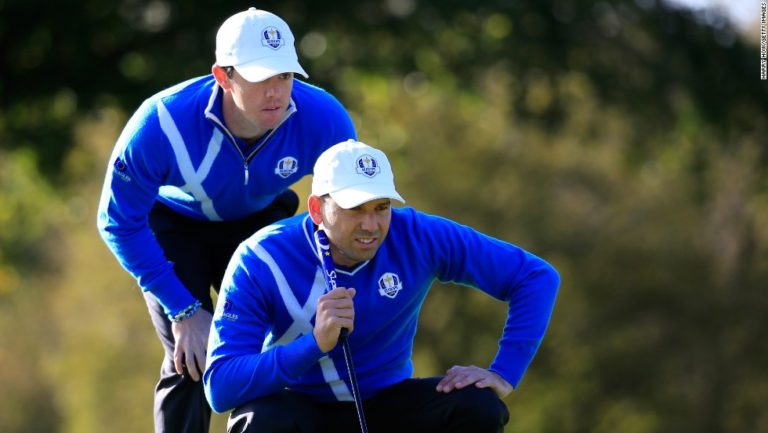 'Sergio has tons of experience in the Ryder Cup, and Thomas is banking that he's going to bring that enthusiasm that he often does to the Ryder Cup and it's all about winning points,' said Rose.
'Many players deserve a spot in the Ryder Cup team, but no one is here to do anybody favours, either. It's about how can you assemble 12 guys to put points on the board when it counts on Friday, Saturday, Sunday in a Ryder Cup and Thomas obviously felt Sergio was more likely to deliver a point when needed.
'Matt Wallace became part of the conversation and every credit to him. He's kind of new on the scene so that would have been an interesting introduction to the team, but I think he just got to keep doing what he's doing and there will be many Ryder Cups in his future.
'I also feel a bit sorry for Rafa. He fought hard the last few weeks, and the Ryder Cup is a big deal to him. He's a great competitor and obviously he's a good friend of Sergio's, so it's bittersweet for him.'