Three-time European Tour winner Hennie Otto is calling on golfers across all skill levels to get behind his Miles 2 Create Smiles campaign aimed at raising funds for under-privileged children.
Otto is one of nine cyclists who will be warming up for the 2018 Cape Town Cycle Tour by making his way from George to the starting line – a 600km warm up.
'We launched the campaign on Tuesday,' said Otto, talking to Compleat Golfer on the exercise bike on Wednesday.
'I've always wanted to do something on a grand scale, and really try to make a difference in a number of kids' lives. That's why we've gone for four charities, and we hope to make a big difference in their lives.'
Not known for his cycling prowess, Otto says the decision was between the Cycle Tour and the Comrades. 'We quickly went with cycling,' says the 41-year-old, laughing.
'It all happened quite fast. We got the idea out there and a few dads signed up, and it gained momentum nicely. Now, we've got everything in order and the training is in peak mode.'
Otto's golf is also benefitting as he juggles his playing commitments – he is in the field at the Dimension Data Pro-Am this week – and his cycling training.
'I've never been fitter. I get on the bike for at least an hour, doing some hill rides after every competitive round, or jump on before a practice round or pro-am. I hope the increased fitness will help pay off on the course too.'
Awareness for the event is picking up with a number of Otto's colleagues and golf associates keen to get involved.
'What's really been pleasing is the response so far. A number of people have called to make pledges in their personal capacity and not in the name of a company, which is nice. This week at Fancourt, I'll definitely be leaning on a few more people, so everything is on track.'
The four charities selected are: Living Ball, Diabetes SA, Moreson and Laerskool George-Suid with the charity challenge running from 4-10 March ahead of the Cycle Tour on 11 March.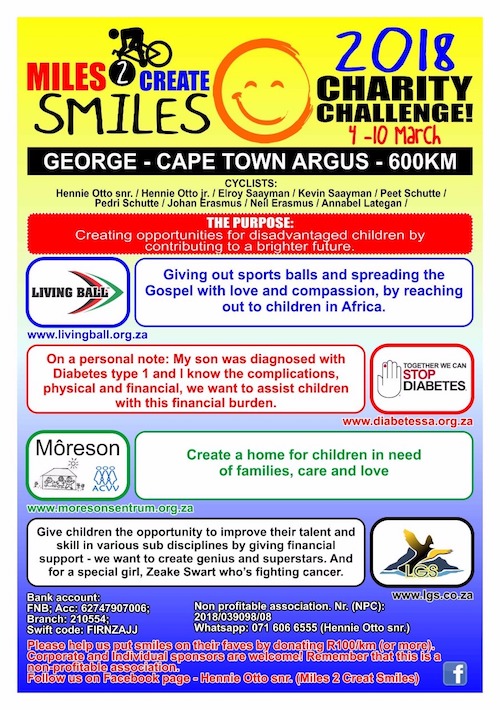 You may also like