In tribute to Arnold Palmer, Rickie Fowler will once again head to Bay Hill for the Arnold Palmer Invitational, with special plans to pay tribute to The King.
Throughout the week, Rickie, along with fellow Cobra Puma golfer Bryson DeChambeau and their caddies, will sport the iconic umbrella logo on accessories, footwear and apparel, Additionally, Rickie will wear exclusive, custom PUMA Golf Hi-Tops designed to honor the life and career of a true legend.
Only two pairs of the custom Hi-Tops were created, designed and hand-crafted by Roland Padron, also known as Nomad Customs.
Fowler will wear one pair of the Hi-Tops during tournament play, and the other, personally autographed, will be included in a giveaway that fans can enter to win.
All proceeds will go to support Arnie's Army Charitable Foundation. Last year's custom PUMA Hi-Tops raised $25 300 dollars in support of the Foundation.
Also included in the giveaway, PUMA Golf worked with Arnie's Army Charitable Foundation to create a limited number of LE Arnie's Army PWRADAPT shoes along with an Arnie's Army PUMA Snapback cap. Both the shoe and the cap display the silhouette of a young Palmer, and highlight each year that Palmer won on the PGA Tour and the number of times he won in each respective year.
To ensure all fans have a chance to win these shoes/hats, Arnie's Army is hosting a series of online auctions/giveaways that anyone can enter.
HI-TOP & PWRADAPT SWEEPSTAKES:

Through a donation to Arnie's Army, fans can win the Grand Prize – ONE pair of custom API IGNITE Hi-Tops, autographed by Rickie Fowler, the only other pair in existence will be worn by Rickie at the 2018 API Tournament
A donation will also register fans to potentially win one of 62 pairs of Limited Edition Arnie's Army PUMA PWRADAPT pairs of shoes or one of 175 Limited-Edition Arnie's Army PUMA Snapback cap
Dates: will run for 10 days, from Monday, March 12 at 10a ET – through Thursday, March 22 at midnight
MAJOR WINS AUCTION:

Arnie's Army is auctioning seven unique pairs of the PWRADAPT shoes –  these seven pairs are even more special. Each will be personally
autographed by Rickie, and highlight one of the years Palmer won each of his seven majors (i.e. Masters, 1958). All proceeds from the Auction will benefit Arnie's Army Charitable Foundation. The auction will run for 10 days, from Monday, March 12 at 10a ET – through Thursday, March 22 at midnight
GIVEAWAYS: Follow @PUMAGolf for some fun giveaways during the week of the tournament
Design Details of Rickie Fowler's Custom IGNITE Hi-Tops: 
Arnold Palmer's Signature Umbrella logo in a repeating pattern – dubbed the 'Dancing Umbrella'
Pink lining on the collar – an ode to Palmer's love of wearing pink
Green to yellow fade PUMA Formstripe; green heel, collar & strap
Palmer's signature across the strap

Back of the perfect fit strap reads: 9/10/1929 – ∞ (Palmer's birth

date/infinity symbol); The left heel reads: Long Live AP; The Right heel

 reads: The Legend Lives On (each of these messages were

 requested/suggested by Rickie)

Leather sockliners with custom laser etched details; the left foot includes

 the list of Arnie's PGA Tour wins

The custom IGNITE Hi-Tops will come in a custom wood shoe box with 

the Arnie's Army 'I am a Member' badge branded on the top
Arnie's Army IGNITE PWRADAPT Golf Shoes:
Comes in a green & white colourway
Features custom green PWRADAPT traction pods
The inside shoe bootie features a silhouette of a young Palmer
Leather accent on the back of the shoes are stamped Arnie's Army
#LifeWellPlayed displayed on the sole of the shoe
Highlights each year that Palmer won on the PGA Tour and the number

of times he won in each respective year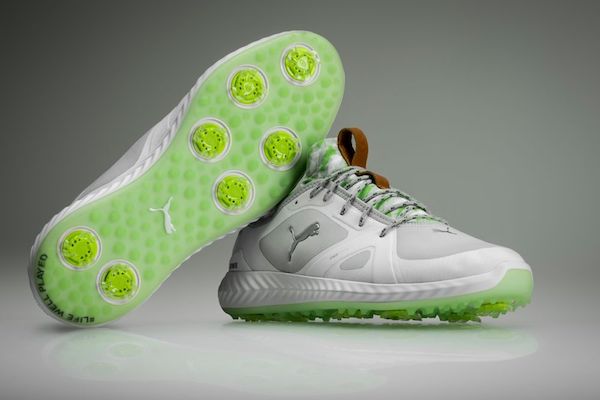 Arnie's Army PUMA Snapback:
Snapback Cap. Green & white colourway
Silhouette of a young Palmer on the front & back of the cap. The

underside of the cap highlights each year of Palmer's career wins and

 the number of wins each year